Section Branding
Header Content
White House, Experts Say Georgia Governor Isn't Doing Enough To Control COVID-19
Primary Content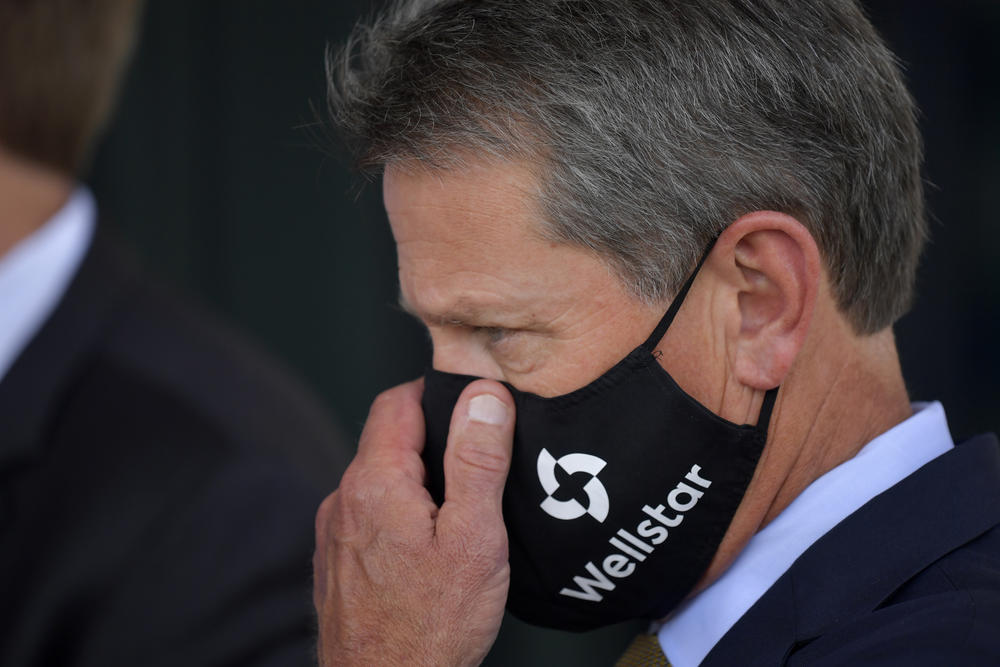 Georgia's policies are simply not enough to prevent "widespread and expanding community viral spread," and more action is needed to limit transmission of the virus, according to a recently leaked White House Coronavirus Task Force report. 
Gov. Brian Kemp's office said the most recent information showing relevant metrics from Department of Public Health disputes some of the findings in the federal report. The office also said Kemp remains in constant contact with Dr. Kathleen Toomey, the state health commissioner, and her team about the pandemic in Georgia.
The federal task force puts Georgia in the red zone for both new cases and test positivity, while the governor boasts that positivity rates are decreasing from 11.86% on July 27 to 10.98% on Aug. 3 to 9.5% on Aug. 9.
Knowing the percent positive rate gives you a sense of how well testing is doing at a community level for the state, said Amber Schmidtke, a local microbiologist who previously worked for the Centers for Disease Control and Prevention.
Georgia's new coronavirus case rate is almost twice the national average. "We've averaged around 10%, and you want to be at or below 5%," Schmidtke said Friday.
Kemp is counting his percent positivity rate as a success when we haven't been close to meeting the World Health Organization guidance for testing (<5% positive for 14 days) since mid-June, Schmidtke said.
"There is a very stark difference in the way that the White House Coronavirus Task Force sees the current situation compared to our governor," she said. "I think we all value optimism but not when we are witnessing so many preventable deaths ... deaths that warrant no mention whatsoever in the governor's report."
The second-highest origin of outbreak clusters in the governor's report are schools and school athletic teams.
"These outbreaks were predicted to happen due to widespread community transmission," Schmidtke. "I hope that this proves to be an important data point to other school systems who are weighing when to return to face-to-face instruction."
Dr. Carlos del Rio, executive associate dean at Emory University School of Medicine at Grady Health System, told the Atlanta Journal-Constitution that the White House recommendations are not political and are based on sound science.
"We're not doing anything and we're hoping magically numbers are going to go down," he said of Georgia's coronavirus response. "Hope is not a strategy."
The governor's office took issue with the task force report, releasing data it said "disputes some of the findings in the federal report." 
"Gov. Kemp continues to rely on data, science, and the public health advice of Dr. Toomey and her team in our state's ongoing battle against COVID-19," said Kemp spokesman Cody Hall. "As the governor has said many times before, this fight is about protecting the lives – and livelihoods – of all Georgians."
More than 1,100 students and teachers are quarantined as of the close of the second week of school in Cherokee County. COVID-19 infections have more than tripled in students countywide rising from 20 to 66 people with positive test results, and cases have doubled week over week, according to data updated Friday.
Two high schools in the district are closed through Aug. 31, Superintendent Brian Hightower announced, and 16 teachers have tested positive for COVID-19 since the start of school.
Cases have been confirmed in all six of Cherokee County's high schools, but only two have been closed as a result.
Secondary Content
Bottom Content