Section Branding
Header Content
Etowah High School Temporarily Closed After COVID-19 Cases Surge
Primary Content
Etowah High School in Cherokee County will close temporarily after classes Tuesday due to a surge of coronavirus cases, Superintendent Brian Hightower said.
"It is our hope to restart in-person classes at Etowah HS on Monday, Aug. 31," Hightower said. "This decision was not made lightly; it was made with the support of School Board Members, and was determined, as all of our quarantine decisions are made, in consideration with the Department of Public Health."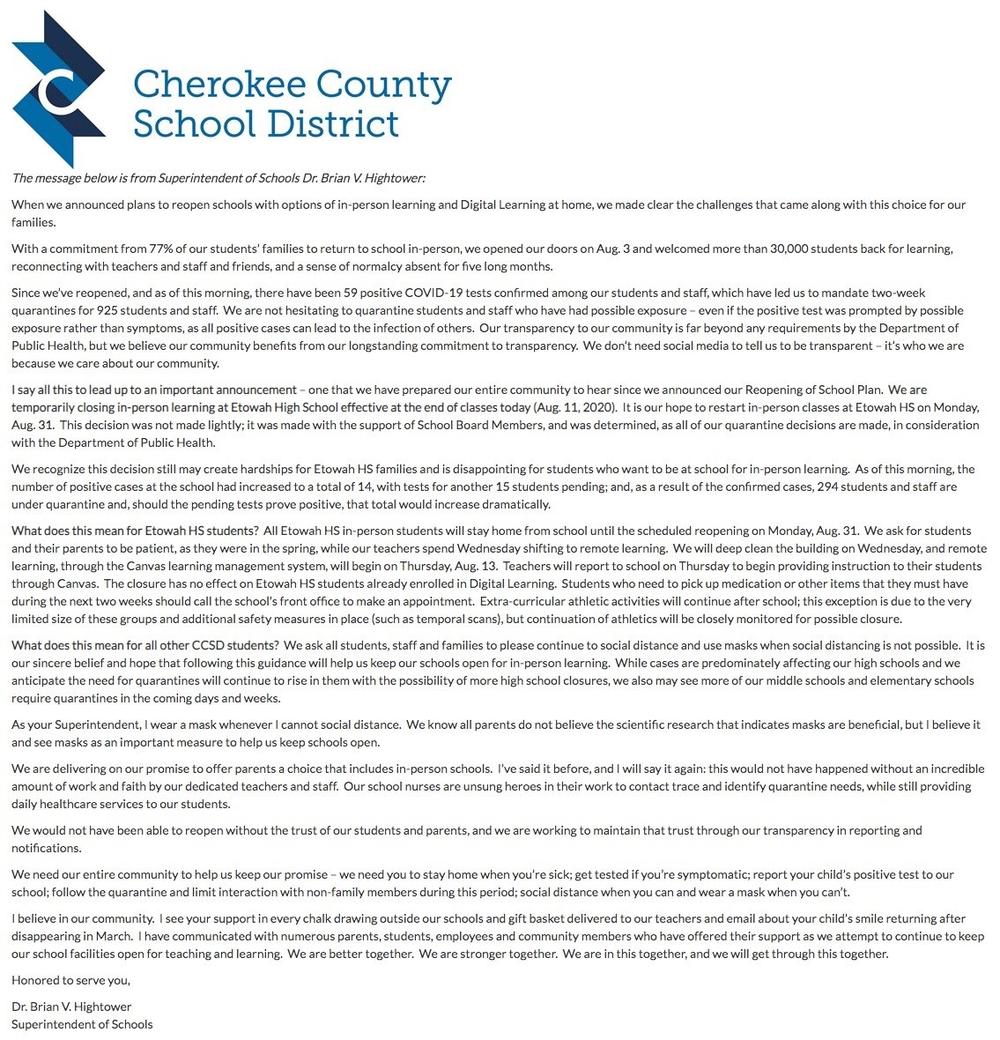 As of this morning, the number of positive cases at the school had increased to a total of 14, with tests for another 15 students pending; and, as a result of the confirmed cases, 294 students and staff are under quarantine and, should the pending tests prove positive, that total would increase dramatically.
Etowah was one of the high schools last week where photographs went viral after dozens of students crammed together in front of the building without masks to celebrate their first day of school.
Despite a small group of parents and self-described supporters of the school board's plan who say masks aren't effective and should be left to personal choice, Hightower said masking is strongly encouraged.
"As your superintendent, I wear a mask whenever I cannot social distance," he said in his statement. "We know all parents do not believe the scientific research that indicates masks are beneficial, but I believe it and see masks as an important measure to help us keep schools open."
MORE: Parents Rally In Support Of Cherokee County Schools In Face Of Growing COVID-19 Cases
The decision to implement and enforce a school district mask mandate is left to the local school boards, state Superintendent Richard Woods said.
"While the use of face coverings/masks is not mandated by the state, it is strongly recommended in settings where social distancing is difficult to accomplish – including hallway transitions," Woods said. "Local school districts do have the authority to require face coverings as part of their dress code policy."
Secondary Content
Bottom Content