Section Branding
Header Content
Nikema Williams, State Senator And Party Chair, Will Replace John Lewis On Ballot
Primary Content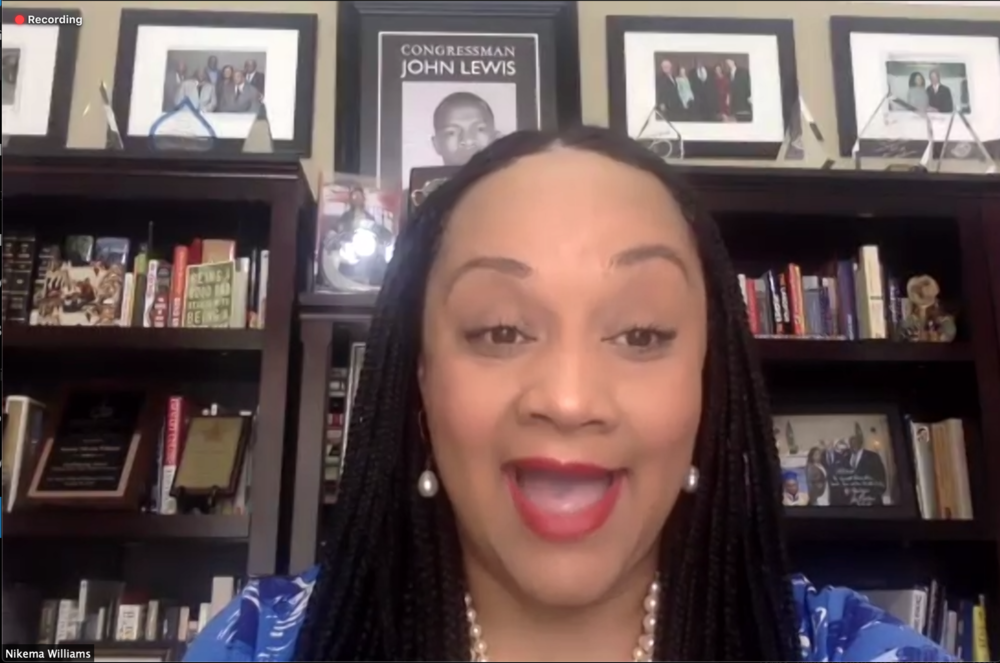 The executive committee of the Democratic Party of Georgia has selected the party chairwoman, state Sen. Nikema Williams (D-Atlanta), to serve as the nominee for the 5th Congressional District contest in November following the death of Rep. John Lewis last Friday.
The near-unanimous vote that led to the nomination all but guarantees Williams will serve as Georgia's next congresswoman after this fall's general election in the heavily Democratic district.
Two votes in the non-binding poll were for Rep. Park Cannon, one for Georgia NAACP president James Woodall and Sen. Williams abstained from voting. Morehouse College president emeritus Robert Franklin and Atlanta City Councilman Andre Dickens were also finalists.
"It would be the honor of my life to serve as the voice of the 5th Congressional District," Williams said in her speech to the committee. "I have a long career in activism, advocacy and policy to serve as a strong fighter for our communities and values nationally."
Williams has served as a state senator since 2017 for a wide swath of Fulton County that runs from Buckhead to College Park, and became the first Black woman to chair the Democratic Party of Georgia in 2018.
"I believe it is imperative that we choose someone with a long track record of fearlessly standing up for what is right, and someone who will take on the endless attacks on our rights that we've grown accustomed to seeing from the Republican Party," she said. "We need someone who is not afraid to put themselves on the line for their constituents in the same way that Congressman Lewis taught us to."
The committee also narrowly voted 21-19 to hold deliberations on the ballot replacement outside of executive session, allowing reporters to stay on the Zoom call to hear discussion leading up to the final decision.
After more than an hour of debate over the format of the discussion and the vote for the nominee, each committee member was allotted one minute to speak about the committee's choices.
Party leaders said they had to act quickly to appoint a new candidate to replace the venerable civil rights leader on the ballot because of state law § 21-2-134(b)(1)(B), which requires the secretary of state's office be notified by the end of the next business day if the party wants to name a new nominee.
Lewis died late Friday after a battle with pancreatic cancer at the age of 80.
Secondary Content
Bottom Content