Section Branding
Header Content
GPB IS YOUR HOME FOR HIGH SCHOOL SPORTS
Primary Content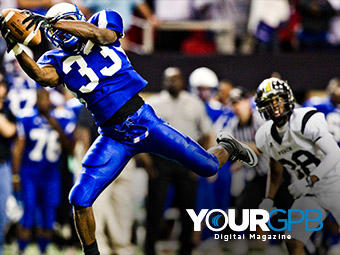 The following Article is from Your GPB Digital Magazine. Download the iPad App or Click here for a preview of the latest edition.
GPB Sports is a lot of fun, and we're proud to be the "home for high schools sports," covering the high school sports scene like no other. We have a great crew bringing you all of the action of the current high school football season. Trey McDaniel is at the controls calling the play-by- play, along with former University of Georgia standout Kelin Johnson. Jon Nelson strides the sidelines when he is not taking the opportunity to direct a high school marching band, which adds to the fun of being a member of the GPB Sports team.
We strive to make our sports programming informational and entertaining by highlighting the communities we visit. Each of our weekly "Football Fridays in Georgia" broadcasts begin with the "All Access Pass" pregame show at 7 p.m., a live variety show broadcast from the stadiums we visit each week. Segments range from school spirit features, to Jon's Georgia, which highlights high school sports from around the state.
Kat Carney and I host the show, and Grace Olson is in charge of social media – sending out Tweets and Facebook updates, while still finding time to interview revved up fans and very proud parents. Claire Simms kicks off our pregame shows with a school spirit story, and also mans the microphones with interviews with local politicians and other celebrity movers and shakers.
Our pregame show also showcases an Ultimate Tailgate Party, with all kinds of great ideas to improve your tailgating techniques, from wings, to hot dogs, to hamburgers to delicious desserts. Kelin Johnson also takes us back in time with his "Blast from the Past" segment, which challenges current teenagers to figure out how past technologies like typewriters, film cameras, and other tools worked back in the day of their parents and grandparents.
The GPB Halftime shows include interviews with both schools' principals, highlighted performances from both schools bands, along with scores from around the state, and a hilarious check-in with a player's parents. Jon Nelson is always on hand with a story from around the state--top running backs and prom queen field goal kickers get equal treatment! Jon finds great Georgia stories everywhere.
Behind the scenes are talented producers like Sammy Jones (who has been known to literally burn the midnight oil – sometimes not leaving until midnight before game nights), Kevin Gerke (our operations and logistics guru), Lisa Clark (seasoned veteran of Atlanta TV), and Steve Graham (a football producer with thousands of games under his belt). John Cherok calls the shots as our pregame show and halftime director, with Mark Bradway, Chris Ballard and Rashad Christopher making the broadcast come alive with terrific and colorful graphics. All of this happens under the very watchful eye and great tutelage of GPB's Vice President of News and Sports, Bob Brienza.
We kicked things off with the 22nd Corky Kell Classic in the Georgia Dome on August 24, bringing together 10 of the top high school football teams in the state of Georgia. The action got under way bright and early at 9 a.m. with the Kell Longhorns taking on the Chattahoochee Cougars and wrapped up some 15 hours later, as the Brookwood Broncos tangoed with the McEachern Indians.
The next week, on August 30, GPB Sports shifted into high gear with our "Football Fridays" in Georgia coverage, and we're not slowing down. Viewers can look forward to the state football playoffs beginning on November 15, and the GHSA Championships at the Georgia Dome on December 13-14.
In addition to our football coverage, GPB Sports will also televise the 21st Georgia High School Association (GHSA) Cheerleading Championships, where 120 teams and over 1,900 boys and girls hit the mat for a great day of cheers, flips, tucks, and tumbles. When it's all over, eight teams are crowned state champions. And next March, GPB Sports will spend three days in Macon for the GHSA Basketball Championships featuring 15 girls' and boys' teams.
GPB Sports will also feature stories on gpb.org/sports and our social media outlets on a variety of topics from girls gymnastics, to track and field, to the state championships in soccer and riflery, along with a preview of high school football. It's all part of GPB Sports Now on gpb.org/sports.
Secondary Content
Bottom Content