Section Branding
Header Content
Diary Of A Bad Year: A War Correspondent's Dilemma
Primary Content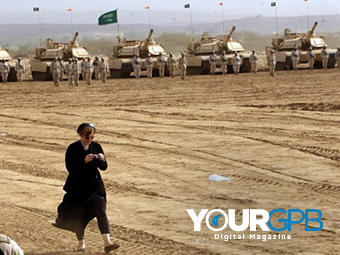 The following Article is from Your GPB Digital Magazine. Download the iPad App or Click here for a preview of the latest edition.
In 2011, award-winning journalist Kelly McEvers was an NPR international correspondent in the Middle East. Based in Beirut, Lebanon, she began covering the Arab uprisings in Syria, Bahrain and Yemen in early 2011.
 The next year, 2012, was the deadliest on record for journalists worldwide. As McEvers learned that colleagues and friends who were members of the "tribe" of foreign correspondent that she was a part of were being kidnapped and killed, she began to wonder why people risk their lives for a job when they don't have to and questioned her own personal motives for staying in the region.
McEvers talked with producer Jay Allison about the idea of making a radio documentary on the subject and kept an audio diary about her experiences on the job. She also spoke with doctors, scientists, and fellow conflict journalists like Sebastian Junger, Jon Lee Anderson, and Christiane Amanpour, asking them about how they've kept going, or why they've stopped, or if they could stop even if they wanted to. "I have to say this documentary wouldn't have happened if it hadn't been for Jay Allison," McEvers concedes.
"I never would have sat down and said all these things to myself. The fact that Jay was asking the questions, and I knew that he was listening enabled me to say 'Oh wow. Maybe there's something to talk about here.'
" When the documentary was released, McEvers says there was a pretty intense response. "People were saying 'I was thinking about quitting, and now I'm going to quit.' Others were saying 'I'm not going to quit now. I'm young. I want to do this. How do we do it better? '"
One of the most poignant parts of the documentary features McEvers reading a letter she wrote to her husband Nathan and young daughter Loretta. "It became clear to me that whether I was going to make a documentary or not, I had to write it," McEvers confides. "I wrote it when I was going on a trip to Syria. I put it in a little children's book, and I told my colleague about it. It was very emotional, but to me, that was the most responsible thing I could do if I was going to keep going to Syria."
When McEvers spoke about the documentary in a September interview with "Your GPB," the debate over whether the U.S. should use military force aimed at the regime of President Bashar Assad because of the alleged use of chemical weapons against civilians had been dominating the news.
"We threatened to bomb Syria because of this horrific chemical attack against civilians, but I have to say this regime has been killing innocent people for two years," McEvers asserts. "They've just been doing it with conventional weapons like scud missiles, morters and bullets. We've documented it every single day. To know that the world is paying attention is gratifying because it means that our work was not in vain."
Ultimately, McEvers decided to leave the region and has relocated to Los Angeles, California to work as an NPR national correspondent. "I think one of the things about being a war correspondent or at least a Middle East correspondent is that you start to feel that nothing could be more interesting than what you're doing," McEvers admits. "It's the center of the world literally, the Middle East , and when the stakes are so high you think, 'How could anything be this important?' It's been nice to come home and realize there are some really important stories to tell here."
Though she knows there are important stories to tell in America, McEvers says she left a part of her heart in the Middle East and hopes someday to be able to return. "I think to stay sane, you have to do it in shifts. I got out while I was still sane. The guilt I feel about being able to walk away from Syria when millions of people are not able to walk away is huge. But I know that if I walk away now, I will be able to recover, and I will be able to go back in a few years and tell their stories."
Once she learns that GPB documentary will air on Veteran's Day, McEvers wants to be very clear about the role of journalists versus that of those serving in the military. "I don't pretend to be anywhere near the caliber of human being that they are. I think we have some similar issues in that coming home is really hard, but I think it's also very different. I'm sort of a volunteer in this business. They are too. But once they are in, they don't volunteer how many tours they have to do. They don't volunteer the amount of danger, and they certainly don't get the recognition that we do. We get awards, and a lot of times they don't. They do anonymous work."
Secondary Content
Bottom Content