Section Branding
Primary Content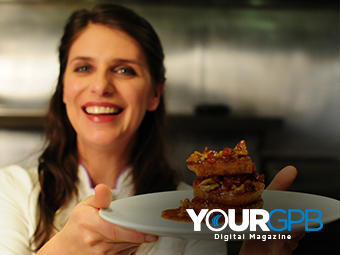 The following Article is from Your GPB Digital Magazine. Download the iPad App or Click here for a preview of the latest edition.
Each Saturday at 12:30 p.m., "A Chef's Life" gives viewers a glimpse into the life of Chef Vivian, who, with her husband Ben Knight, left New York City to open a fine dining restaurant back in her small hometown in eastern North Carolina. A true exploration of Southern cuisine and farm to table food, "A Chef's Life" follows Chef Vivian as she takes viewers out of the kitchen and into cornfields, strawberry patches and hog farms to track down the ingredients that inspire her seasonal menus.
Candied Sweet Potatoes with Pecan Bacon Syrup 
Serves 4–6
Ingredients
3 sweet potatoes, peeled and sliced into
1½-inch-thick rounds 
Canola oil for frying
 Salt
Preparation
In a large pot, boil sweet potatoes until just tender. Allow slices to cool completely. Then press them between 2 pieces of parchment paper or foil, working in batches, so the slices flatten slightly and the edges spread. This can be done up to 2 days ahead. To finish, fill a deep skillet with an inch of canola oil and heat until shimmering. Fry sweet potatoes for about 4 minutes on each side, or until browned and crispy. Drain on paper towels, and season generously with salt. To serve, stack sweet potatoes, top with syrup, and garnish with sliced scallions.
Pecan Bacon Syrup
Ingredients
2 cups bacon, cut into small dice
2 cups pecans, chopped
²⁄³ cup sliced scallions (white part primarily), plus more for garnish
²⁄³ cup lemon juice
¼ cup molasses
2 ¹∕³ cups maple syrup
¼ tsp. chile flakes

1 tsp. salt
¼ tsp. nutmeg
½ tsp. cinnamon
2 tbsp. plus
2 tsp. butter
Preparation
Heat skillet over medium and render bacon until almost crispy.Add pecans and scallions, and toast for 1 minute. Add remaining ingredients. Simmer until mixture has reduced by about one-third. Whisk in butter just before serving.
 For more recipes, check out "A Chef's Life's" official website and like their Facebook page for a behind the scenes look into what goes into the show. We'd also love to know about your favorite holiday recipes, so "Like" our Facebook page and share your favorite recipes with us.
Secondary Content
Bottom Content