Section Branding
Primary Content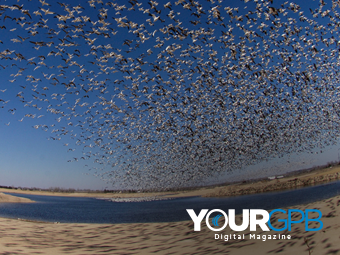 The following Article is from Your GPB Digital Magazine. Click here to download the iPad App.
The human desire to fly has been well documented over the centuries, and now state-of-the-art technology and sophisticated camera techniques are bringing us closer to that dream in "Earthflight," a Nature Special Presentation. The six-hour series takes viewers on breathtaking aerial adventures that include riding on the backs of bald eagles and snow geese and flying alongside a flock of brown pelicans as they scan and dive for fish in the ocean below.
Nature executive producer Fred Kaufman explains that "Earthflight" producer John Downer, who spent four years filming more than 100 bird species in 40 different countries, wanted to make a real global series. "The whole point was to make a hallmark series around these very iconic and familiar birds that you see and profile them in a way that's never going to be done again," Kaufman says.
WYSIWYG: EMBEDDED VIDEO
Whether retracing the North American flight paths taken by thousands of migrating wild snow geese traveling to their Arctic breeding grounds or witnessing, for the first time, the aerobatics of devil rays as they somersault and splash back into the sea, the goal was to show the world on the wings of birds. Though the series was originally produced for the BBC and Discovery Channel, the entire six hours did not air. Instead, a two-hour compilation was broadcast. "When I heard about it, I thought it was exactly the kind of series that would work well on Nature and for public television," Kaufman says.
To capture a view of the greatest gathering of wild flamingos seen in 20 years, the production team employed a variety of spycams. Remote cameras were buried at a favorite drinking spot by Kenya's Lake Bogoria, while another camera was disguised as a mini-flock of floating flamingos.To film scenes from above, a radio-controlled drone was used with great success to silently infiltrate masses of the skittish pink flamingos.
The team also garnered remarkably close flying shots of wild vultures in South Africa. Cameramen on paragliders piloted by biologists utilized the same updrafts and thermals as the birds they were there to film. To get even closer to the vultures, a full-scale replica of the bird was launched with a radio-controlled pan and tilt camera on board which was able to transmit pictures as it flew among the real birds.
"It's amazing how much time they spent out in the field," Kaufman says. "John was able to capture some extraordinary behaviors that are very difficult to get. It just shows you how astonishing these animals really are. In this culture of superheroes, how is there not some sort of Bird Man? To look at these birds and what they are able to do is pretty astonishing, like the speeds they can reach and the heights they can fly."
Episode six of "Earthflight" takes viewers behind the scenes to show how it was made. "I'm really glad they did that," Kaufman says. "It's hard to watch this and not think 'How did they do that?'. It's an incredibly visual series, and it's going to get your attention."
Secondary Content
Bottom Content