Section Branding
Header Content
The Jazz Spot: Providing Inspiration Through Music
Primary Content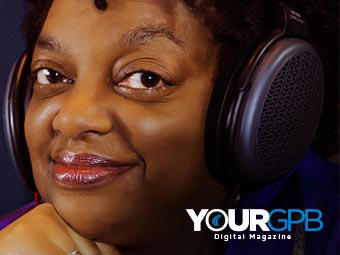 The following Article is from Your GPB Digital Magazine. Click here to download the iPad App.
Although April has been officially declared as Jazz Appreciation Month, to  Masani, host of The Jazz Spot Fridays at 8 PM on GPB Radio, each day is a time to embrace the music.
"Doing this show has helped me to expand my knowledge," Masani says.  "I learn something every week. When I close the show, I encourage listeners to be inspired by jazz history and culture. Jazz is really the soundtrack of American history. It follows the major events that have happened in this country along with the ebb and flow of upheaval and change. To me, jazz is inspiring. Totally inspiring."
Now on the air a little over 11 years, The Jazz Spot premiered on GPB Radio November 1, 2001. GPB's former deputy director approached Masani about training to be a backup for one of the jazz program hosts at the time. She trained with the host for about a month and began programming part of his show. Shortly thereafter, he left, and Masani launched The Jazz Spot. 
"I decided to make it a show that I would want to hear if I was the listener, with the latest music, classic music and tidbits you might not know about  artists," Masani says.
Exposed to jazz at an early age, Masani cites music as a constant force in her life. Among her musical endeavors, she's written publication reviews, and she founded Itutu, a small non-profit jazz organization. In addition, she served as the organization's artistic director from 1995 to 1998. 
Even with these credentials and Masani's desire to host a jazz show, The Jazz Spot was a bit daunting for her at first. "I would never have imagined that I would be on the air for 11 years," Masani says.  "I couldn't even see past to the first year because I was so petrified to know that I was on the mic talking to people across the state and beyond." 
Now that she's been on the air for over a decade, she is much more relaxed and counts nationally renowned artists such as Dianne Reeves, David "Fathead" Newman, David Sanborn, George Duke, Al Jarreau,   Gladys Knight, Jill Scott and Take 6 among the guests she's featured on the show. The Jazz Spot has also featured interviews and the work of local and regional talent like The Spelman College Jazz Ensemble, Gary Motley,  Gwen Hughes, Rob Foster,  Cliff Chandler and Oscar Sheppard & Friends,  just to name a few.
Masani does extensive research for each show in order to commemorate milestones in jazz history that have taken place during the coinciding calendar week.  She also recognizes the many diverse contributors to jazz music and culture by highlighting events like Asian American and Pacific Islander Heritage Month, Black History Month, Latino History Month and Women's History Month, among others. 
Masani notes Women History Month as an example of one of her favorite topics to cover because she can really trace the development of artistry though the generations of performers.
"Most of the men were at war in the '40s, and with women moving into non-traditional roles during that time, the door was opened for women in music, as well," she says. "It allowed women to come from behind the microphone that was designated for the 'girl singer' and get on those instruments. These brave ladies forged a path for today's women of jazz…who do it all."
Masani mentions Dorothy Ashby as a great example. " She is the coolest jazz harpist. I mean who would know you can make those sounds with the harp?  She was a trailblazer, and a lot of people don't even know about her.  She set the stage for other women.  I received this CD titled 'Moraga' a couple of months ago in the mail from an artist named Carol Robbins. She's taken Dorothy Ashby's model and expanded it today. It's very ethereal. It's New Age, but it's also soulful at the same time."
In addition to focusing on the work of national and international artists, Masani recognizes the wealth of talent in Georgia.
"There is so much rich talent here that people are not fully aware of," Masani says. "Saxophonist Will Scruggs is such an amazing young man. He graduated with honors from Emory, and he took part in Teach For America for a year. Now he's focusing on his music. He did this amazing holiday recording about the story of Christ called 'Song of Simeon: A Christmas Journey,' and he performed a beautiful concert at the First Congregational Church in downtown Atlanta. What a beautiful rich experience. This recording was chosen as one of the top five for the holidays by NPR." 
Masani welcomes feedback about the show, and she loves the anecdotes that listeners share, such as the one from the man in Savannah, Georgia who told her that he and his wife make The Jazz Spot a part of their special Friday date night. In response to a specific request he made, she featured a set with classic male jazz vocalists on a show that aired shortly after she received his note.
Other listener notes, such as the one she received from a lady in Columbus, Georgia, provide assurance that listeners are becoming inspired by The Jazz Spot. "The listener wrote to me about a recent show, a show that started with a live recording of Bobby McFerrin and Chick Corea performing 'Spain,' Masani says. " She said, 'I was always intimidated by jazz.  I love this song so much. You have opened doors to me because I thought I couldn't enjoy jazz and you make it enjoyable and welcoming.'" 
For Masani, that's what it's all about. "I think public radio is about opening doors to experiences that you may, otherwise, not have access to," she says. "Each edition of The Jazz Spot is truly fulfilling for me. I don't ever want to give the audience less than what they have come to expect."
Secondary Content
Bottom Content