Section Branding
Header Content
Fig Heaven
Primary Content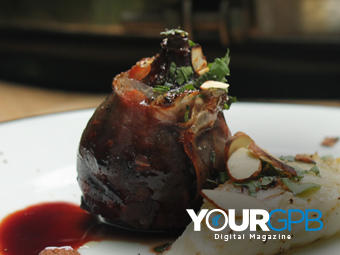 The following Article is from Your GPB Digital Magazine. Click here to download the iPad App.
One bite into a ripe fig is worth worlds and worlds and worlds beyond the green of Eden. -Erica Jong
Chef Sean O'Keefe greets us at the door of his 103 year-old house and ushers us in to a glassed-in porch that was added in the 1950's.
We head to the kitchen where we meet a filmmaker from L.A.,  Chef Sean's assistant who holds an MBA and a well-known Atlanta publicist, simultaneously banging away on her laptop and her iPhone.  
Impressive entourage, but we came in search of a fig tree. 
It would be hard to miss – a quick look out back and the entire sky is obliterated by the massive Brown Turkey fig tree, which will yield over 8,000 figs at the height of harvest in  late July.
We'd been told about this spectacular fig tree, native to Georgia and were intrigued. Figs have enjoyed celebrity through the ages: figs are mentioned frequently in the Old Testament; during the Renaissance they are the subjects of Raphael's paintings and today they are celebrated universally in small-plate salons, and of course, on the high alter of the Food Network. Chef Sean explains the allure: "Figs are sensual, they're exquisite.  They are a dessert with ice cream and cake, or a sauce on duck, they offer a sweet tone and texture---figs are simply sumptuous."  Sexy stuff, for a fruit called Brown Turkey.  Chef Sean chooses to prepare mission figs, as the treasure trove of figs on his tree won't be ready to eat until late summer.  The figs we'll grill are lusty and plump – Erica Jong's ode to figs continue:
Mandolin-shaped fruit feminine as seeds, amber or green and bearing large leaves to clothe our nakedness. -Erica Jong
Chef Sean believes that food should be a dialog – the marriage of flavor and texture.  So he's chosen Halloumi cheese to pair with the prosciutto-wrapped figs he's preparing to grill. 
Halloumi is a local cheese from Cyprus that looks a bit like Feta, but much heartier.  Chef Sean likens it to a steak. "It's a meaty and dense cheese and easy to prepare.  Simply marinate it for several hours in fresh garlic, cracked black pepper and lemon juice and it becomes a perfect compliment to the chewy and lithe fig."
We follow Chef Sean to his ethereal garden.  There's a picturesque creek gurgling by as he prepares the grill under the massive fig tree, heavy with new growth.  He chooses his Grill Dome smoker to grill, filling the charcoal chimney with wood briquettes, which will then cook over grape stalks.  Glasses of Chardonnay from the Santa Maria Valley are served as the grill temperature mounts.  Chef Sean has wrapped each fig in paper-thin slices of prosciutto and begins to layer the grill with the figs and Halloumi. The humid summer air mixes with the scent of the wood briquettes and the lemony garlic smell of the cheese marinade – I thought this was Wednesday, but now I wonder if we've been transported to paradise? Seems that way.  
The figs are grilled at 325 degrees for 3-5 minutes on each side.  We talk while "we" cook.  Chef Sean spent his youth in rural Newfoundland, about two hours outside of St. John's.  He spent much of his time on his grandfather's farm "growing food, eating food, pairing food with wine," and sharing meals. "Ironically, as I look back, it felt very much the way Southerners share time, at table, creating conversations around food and drink," Sean shared.  Not often do you hear Southerner's compared to Canadians, but it's that rural sensibility, that sense of community that Sean is describing.  That same sensibility we're about to experience. We gather around the grill — joined by another organic foodie who has arrived, and Chef Sean pours a new wine, Vouvary Domaine Le Peu de la Moriette, a Chenin Blanc as he begins to plate the figs and cheese.  The figs are drizzled with a glorious balsamic reduction and the plates are garnished with fresh chopped basil and mint, to bring out the flavor of the grilled Halloumi.  Glorious.  The cheese is chewy and the prosciutto is crisp and the figs are sweet and salty, bathed in the rich balsamic mist. I was right – this isn't Wednesday, this is heaven.
Download the App here for Prosciutto Wrapped Figs Recipe. For more information about Chef Sean visit his website: seanokeefeevents.com
Secondary Content
Bottom Content