Section Branding
Header Content
"Youth Voices" Poem Describes Experience Of Former Foster Child
Primary Content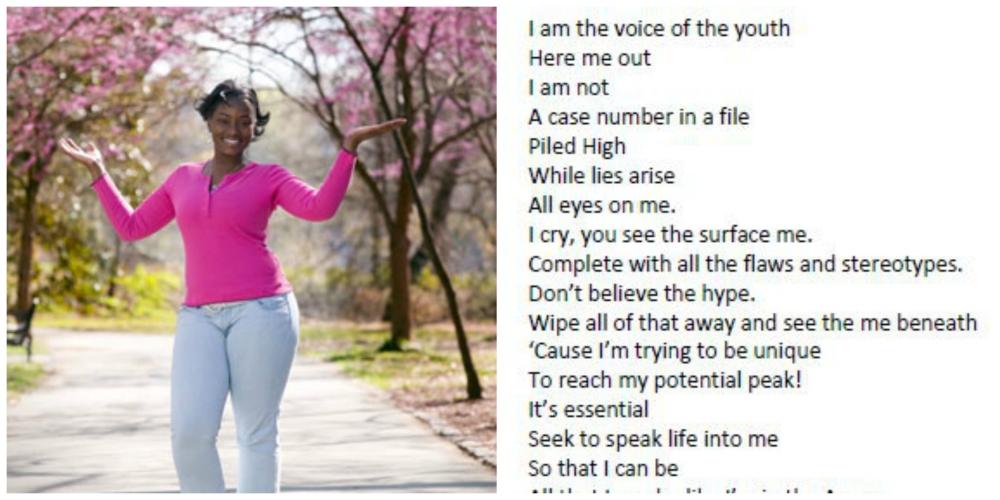 Crystal Williams is a former foster child who graduated from Emory with a B.A. in Creative writing and Theater.
Crystal is speaking with On the Story on Wednesday, March 5 about the Georgia Assembly's efforts to reform the child welfare system and keep more of the state's most vulnerable children safe.
She wrote the poem below about what it was like to be a foster child.
Youth Voices
I am the voice of the youth
Here me out
I am not
A case number in a file
Piled High
While lies arise
All eyes on me.
I cry, you see the surface me.
Complete with all the flaws and stereotypes.
Don't believe the hype.
Wipe all of that away and see the me beneath
'Cause I'm trying to be unique
To reach my potential peak!
It's essential
Seek to speak life into me
So that I can be
All that I can be like I'm in the Army.
But don't forget to arm me
With the weapons that I need
To seek the lead
And be successful in this fight
Called life.
'Cause the battle's my mind.
To redefine my mental.
And my credentials don't exactly qualify me
To be labeled as essential to society.
But you can help me
Change me
Raise me up!
Cause this phase is up
Yeah, I was a foster child, so what!
At some point I must grow up.
And show up at graduation where I wear the cap and gown.
While others nap, I'm crowned the QUEEN to my Destiny!
Defying the critics
Outlasting the misfits.
And not falling victim to statistics.
Realizing, I'm rising.
Despising failure, no compromising.
I'm realizing it's time to re-form
Depart from the norm
And join forces
Create space, change cultures
Spawned by youth voices.
Crystal L. Williams
Copyright © 2010 by the author.
Secondary Content
Bottom Content