Section Branding
Header Content
GPB Viewer Parties Like It's 1776 With Hamilton's America Premiere Party
Primary Content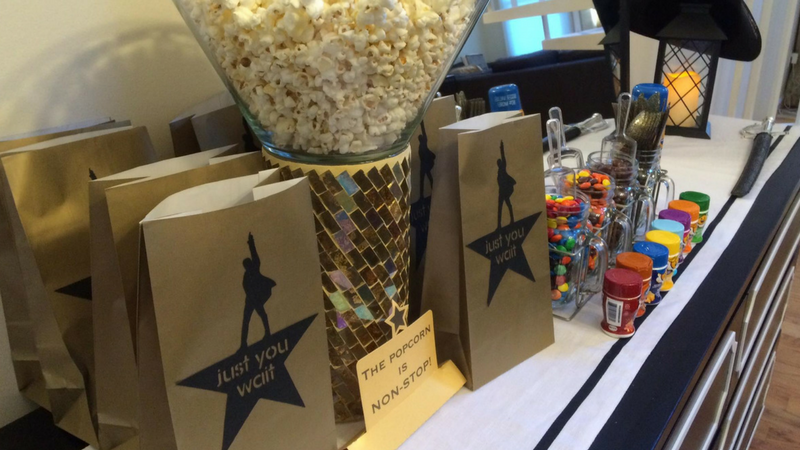 When "Hamilton" enthusiast and Atlanta resident Cressie Teague Lewis found out about Hamilton's America, the documentary about the making of the Broadway mega-hit, she couldn't resist throwing a premiere party to celebrate the film's broadcast.
Teague Lewis has yet to see the musical, but fell in love with it after a few theater friends told her about it and she listened to the soundtrack. She went on to read the Ron Chernow biography that writer/producer Lin-Manuel Miranda loosely based the musical on and was "inspired by every word".
She says she had to celebrate the show and share the amazing work of art with her friends.


WYSIWYG: EMBEDDED VIDEO


In her invitation, Teague Lewis coaxed guests to dress in Revolutionary attire, though it was optional and joked to leave dueling pistols at the doors.


WYSIWYG: EMBEDDED VIDEO


She decorated her home with "Hamilton" themed knick nacks and party favors using phrases from the show's lyrics. She created "I Am Not Throwing Away My Shot" jelly shots for guests and even designed a special marquee announcing the party which she hung on her banister to build anticipation.


WYSIWYG: EMBEDDED VIDEO


WYSIWYG: EMBEDDED VIDEO

Teague Lewis shared her party photos with us on Facebook and we hope they provide inspiration for your "Hamilton" themed bashes. You can throw one at any time and watch the documentary online at gpb.org/hamilton. Or gather your merry band of revolutionaries together on Thursday, October 27 at 10 p.m. for our encore broadcast of the show.


WYSIWYG: EMBEDDED VIDEO


WYSIWYG: EMBEDDED VIDEO

But Teague Lewis advises "Hamilfans" to party like it's 1776 any time.


WYSIWYG: EMBEDDED VIDEO



Don't "wait for it"!" she says. "Raise a glass to freedom" with friends anytime!"
Got any advice on how to throw a Hamilton themed party - viewing or otherwise - feel free to share in the comments section below.
Secondary Content
Bottom Content