Section Branding
Header Content
Five Things To Know About Sine Die
Primary Content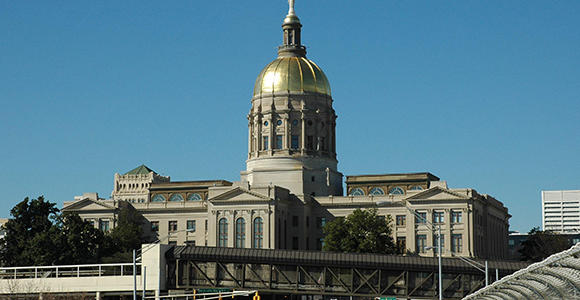 Sine Die, the last day of the Georgia legislative session for 2015, has arrived. By law, the General Assembly must conclude its business today and adjourn by midnight or earlier. Here are five things to know about the House and Senate's closing day. (For full coverage of Sine Die, watch Lawmakers on GPB TV or online .




1.) What does "Sine Die" mean?



"Sine Die" is a Latin term that means "without day". Once declared in the context of the legislative session, lawmakers will not assign any more days to meet.




2.) Why does the legislative session end today?



By law, the Georgia legislature can only meet 40 days a year. "Those days can run right until midnight or they can end at two in the afternoon," explains "Political Rewind" and "Lawmakers" host Bill Nigut. "At midnight on the fortieth day no matter where they stand they have to stop".
3.) Lawmakers will have more time to work on bills after this session is over though because 2015 is a biennial year. What impact does that have?
2015 is the first year of what is known as a biennial session, which occurs when elections are held the previous year and new legislators are sworn in to work. Nigut says any bill that is still on the table by midnight tonight can be picked up in the next session. But if that bill has not passed by the midnight deadline of the new session, lawmakers will have to start from scratch next go round.
Says Nigut, "If it's a second year of a biennial and it doesn't pass by midnight on the fortieth day, they have to start the process all over again. The point of this is to say there is no such thing this year as a completely dead bill as of midnight on the fortieth day".
4.) What is the status of current legislation this session?
- Religious Freedom Restoration Act: Nigut speculates that passage of the religious freedom bill does not appear likely as it is stuck in committee. But its supporters may find a way to get it through including by attaching it to another piece of legislation.
Transportation Funding Act: HB 170 has passed in the House and Senate and Gov. Nathan Deal says he looks forward to signing it. The $900 million spending bill falls short of the billion dollar figure Deal wanted originally. But it still gives the state money to fix crumbling roads and bridges. Some travel industry professionals are not happy with how the bill proposes to raise money to fix the streets. A $5 dollar hotel motel tax is part of the funding plan. The CEO of the Tourism Leadership Council in Savannah, says that will make Savannah and the state overall less competitive.
Failing Schools Takeover Constitutional Amendment: The Georgia House and Senate passed the amendment. It will be up to Georgians to decide whether it should be added to the constitution in 2016 when they will get to vote on it. Expect a big marketing campaign from the Governor's office to convince them says Nigut.
DeKalb County City Bills: Whether the two year fight over the creation of cities in North DeKalb county will be resolved today remains to be seen. Lawmakers had decided where borders for the cities of Tucker and Lavista Hills would be. But then the Senate changed one of the borderlines, sparking more debate and uncertainty.
5.) Medical Cannabis oil can be transported and used in Georgia, thanks to a recently passed bill championed by Sen. Allen Peake. But what about the prospects of growing and selling Georgia produced cannabis?
Peake certainly has a victory this year with the passage of HB 1 which allows marijuana to be used to treat certain medical conditions. But his work is not yet done. Peake may try to get a more contentious bill passed next year that would allow for medical cannabis to be produced in Georgia.
"He's going to have a hard fight on his hands next year because there are certainly members of the legislature who have no interest in allowing cannabis production here," says Nigut.
Secondary Content
Bottom Content