Section Branding
Header Content
Speaker Ralston On Risk-Taking And The Transportation Bill
Primary Content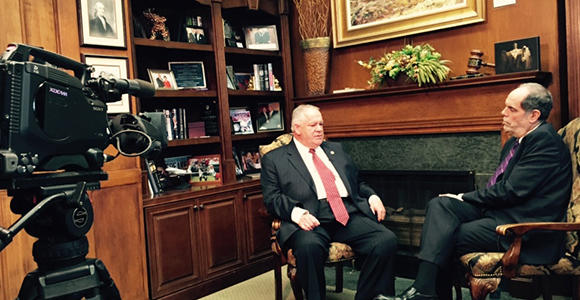 Last week, the Georgia House passed a billion dollar transportation package. It passed 123 votes to 46 through multiple revisions and last minute changes and pressure from conservatives groups to vote against it as they considered the bill a tax hike.
As a result, some of the members who voted in favor of the bill could face reprisals come election time .
That possibility is not lost on Speaker David Ralston. In a sit-down interview, he indicated, he's prepared to defend them for taking such a risk.
Scroll down to see an interview clip.
"I campaign for my members every election season," he said. "I left my own race last year up in the mountains and went out in the state to help members in their primaries."
Ralston recognizes that some legislators took big risks in supporting the bill and he plans to support them in kind.
"There were some members who cast very courageous votes," he points out. "There were members who looked at this issue long-term, looked past elections to look at addressing a problem that this state that we love that is growing that has needs, needed to be met. But I'm going to help all of them."
Watch Ralston discuss medical marijuana and religious liberties in the full interview tonight on Lawmakers at 7 p.m. on GPB-TV.
Secondary Content
Bottom Content