Section Branding
Header Content
Recruiting 2023: Valdosta at Carrollton
Primary Content
Two of the state's most storied programs take center stage tonight as GPB Sports Playoff Fridays in Georgia moves into the second round of the GHSA postseason with the Valdosta Wildcats (8-3) taking on Class 7A's fourth-ranked Carrollton Trojans (10-1). Our live, Emmy Award winning coverage starts at 7:30 p.m. from Grisham Stadium in Carrollton on GPB-TV Georgia Public Broadcasting.
While these two programs have produced 31 state championships between them and played in 44 total state championship games, a lot of these two teams' glorious past, really is in the past. Valdosta has six national championships (most recently 1992) and 24 state championships. Carrollton has seven state championships.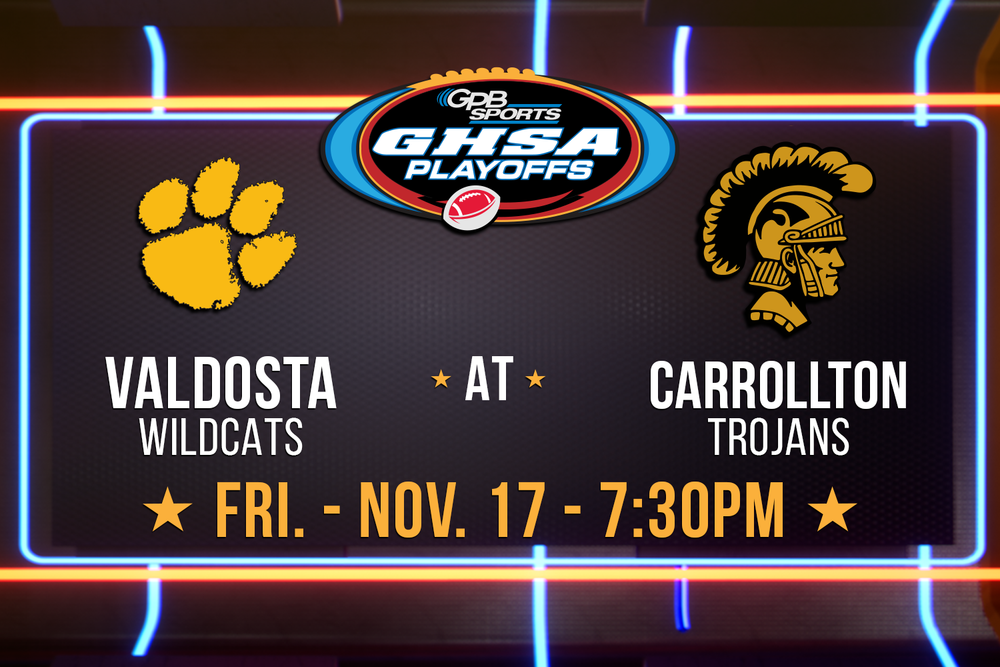 Carrollton hasn't won a state championship since 1998 and that's their only one in the last 48 years, although the Trojans did get to the state finals last year and many think they could win it all this year. Valdosta did win a state championship in 2016 but that was the Wildcats' only one in the 2000s and also their only one since 1998.
The other crazy historical fact in this game is that it is just the second time in the 206 years of combined football history (I know that doesn't sound possible, but it is) that they've played each other. That's because until recently Valdosta and Carrollton were not in the same classification.
So, the only other time these two teams played, the coach Rush Propst-led Wildcats defeated the Trojans 36-15 in the 2020 state quarterfinals, a game that Valdosta later had to forfeit as a result of the Propst scandal that led to the Valdosta's 2021 probation. It was also Propst last victory in the state of Georgia.
That brings us to present-day and the last three years could not have been more radically different for these two programs since the last time they played. Carrollton has gone 36-4 the last three seasons under phenomenal head coach Joey King with two region championships, a 2021 state semifinal finish and 2022 state runner-up finish. The Trojans boast spectacular 5-Star sophomore quarterback JuJu Lewis who is already committed to USC and rated by Rivals as the overall No. 1 prospect in the country for 2026.
Meantime Valdosta suffered through a GHSA mandated probation for the 2021 season a result of Propst's "funny money" scandal and was ruled ineligible to participate in the state playoffs. Coach Shelton Felton, who had joined Propst's staff after the 2020 season and himself fired by the University of Tennessee in January 2021 for his role in the scandal that ended with head coach Jeremy Pruitt's firing was named the Wildcats interim head coach following Propst dismissal.
But the embarrassment that shook the country's all-time winningest high school football program would also serve as the springboard to the program's climb back to respectability. Felton who had been a very successful high school coach in Georgia before leaving for the college ranks, rallied his team, or those that decided to stick it out and not transfer, to a 4-6 record in Season One (2021) with three one-score losses.
Season Two (2022) Felton's Wildcats won their first eight games then dropped their last three including a first-round playoff exit at Westlake. Which leads us to last week and Valdosta's 41-16 first-round playoff win over Archer. The 952nd all-time win in program history was a big one. Maybe the biggest first-round win for the Wildcats given what had happened since their last state playoff win which ironically was…wait for it…that three-touchdown win over the Trojans at Grisham Stadium Dec. 11, 2020. The same place the Wildcats will be playing tonight…and you'll see it on GPB.
So that's the game preview. Let's take a look at the top prospects to watch this evening.
Carrollton Trojans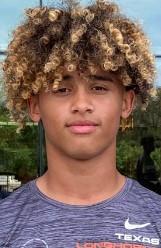 Julian "JuJu" Lewis – 6-1, 185, Sophomore – Committed to Southern Cal over 39 over offers including Georgia and Alabama – Highest Ranking: Rivals 5-Star QB and No.1 overall prospect in the country 2026. Stats: 66.4% completion rate. 2,639 yards passing for 239.9 ypg, 41 TD and just 1 INT. Last 5 Games has thrown 23 TD passes compared to 18 first 6 games and averaging 301 passing ypg compared to 189 ypg in the first five games. If the Trojans reach the state final, Lewis is on pace to break the state's single-season TD passing record of 56 set by Macon County's K'Hari Lane in 2016. Coach King: "We've never once talked about records. My main message to him is about "drowning out the noise.'" Of which there is plenty around Lewis and the "recruiting paparazzi."
Caleb Odom – 6-4, 220, Senior – Committed to Alabama over 44 other offers – Highest Ranking: Consensus 4-Star and On3 Recruits No. 1 TE and No. 26 overall prospect in the country and No. 4 recruit in Georgia 2024. Any other team Odom would likely be the highest rated prospect. Stats: 37-626 yards receiving and 10 TD. Typically draws double and triple coverage which is why the receiving yardage for his teammates have exploded in the second half of this season.
Montreze Smith – 5-11, 195, Senior – Committed to Duke over 21 other offers – Highest Ranking: Consensus 3-Star and ESPN No. 23 LB in the country 2024. Stats: 58 TT, 6 TFL, 2 QB Sacks, 28-yard strip-sack, fumble recovery TD (which you saw on GPB five weeks ago in the Trojans 56-24 win at East Coweta) and also has two blocked kicks. One of the fastest players on the team. Should have a great career with the Blue Devils.
Kelvin Hill – 5-10, 170, Senior – Committed to UAB over 16 other offers including Georgia State and Georgia Southern – Highest Ranking: ESPN 3-Star CB – Stats: 36 TT, 6 TFL, 4 INT, 6 PBU. 3 INT in the last 5 games. Finishing HS career strong. Strong tackler in run support. Not afraid to bring the lumber.
Jordan White – 6-3, 225, Senior TE – Nine offers including Kent State – Highest Ranking: 247 Sports 2024 3-Star TE. Picked up this three-star rating since we last televised the Trojans. Stats: 15-267 yards receiving with 8 TD. IMO much better prospect than his rating or offers would lead you to believe. Has great hands, has surprising burst of speed, great in the run blocking game. What's not to love? Coach King agrees and says he "doesn't know why people aren't knocking the door down on him."
Zykie Helton – 6-2, 320, Sophomore OL – Committed to Alabama over 8 other offers. Just a "pup," but a big one mind you who "slimmed down" to get to 320 pounds. Lifelong Alabama fan "since the fourth grade" and when he met Coach Saban over the summer, Coach King says, "that sealed the deal." Will be one of the top OL in the country by the time he reaches his 2026 senior season.
Christian Ward – 6-3, 174, Sophomore WR – Six offers including Georgia Tech. Just scratching the surface but has big upside. Stats: 10-326 yards with 4 TD.
Ryan Mosley – 6-2, 175, Sophomore WR – Four offers including Washington State. Another sophomore WR just scratching the surface but maybe a little further along in his development which is reflected in his stats. 26-415 yards receiving with 5 TD.
Bryce Hicks – 5-11, 175 Senior Athlete – Five offers including Georgia State, Western Kentucky and Coastal Carolina. Perhaps most underrated player in the state last season as a junior. Unfortunately suffered a broken bone in his leg early in the first game of the season against Hughes. Been rehabbing since and Coach King has maintained optimism that he could return in the playoffs. Hoping he can get on the field again but for that to happen Trojans probably have to win tonight and probably a few more times. It would be a great story if he does.
C.J. Gamble – 6-1, 190, Sophomore LB – Offered by Marshall and App State. Moved from OLB to ILB since the last time we saw the Trojans on GPB. Stats: 43 TT, 8 TFL, 3 QBS, 2 FF.
Zion Cooley – 6-4, 215, Junior TE – Offered by UAB. Bigger contributor right now on the DL. Stats: 30 TT, 11 TFL, team-leading 8 QB Sacks. Offensive Stats: 4-47 yards receiving.
Kimauri Farmer – 5-10, 175, Sophomore RB – Offered by Arkansas State. Picked up offer from Red Wolves since we last saw Carrollton. Maybe one of the biggest stories in the state. For the Trojans to lose an All-State RB in Bryce Hicks and not miss a beat is a testimony to Farmer's talent. 1100 yards rushing with 18 TD.
Alex Ward – 6-1, 150, Freshman WR – Offered by Arkansas State. Another player who picked up a Red Wolves' offer over the last month. On the two-deep depth chart with this team as a 9th grader tells you a lot about his upside. He'll be big in the future.
Brody Bradburn – 6-0, 220, Senior LB – Five offers including Wofford and Alabama State. Receiving interest from seven others including Cincinnati. Has battled back from a dislocated ankle in the preseason. 26 TT, 4 TFL, 2 QB Sacks. When 100-percent healthy he's the bell cow of the Trojans' defense.
Godgift Dudley – 6-3, 253, Senior OL – Four offers including Tarleton State and Shorter. Receiving interest from Georgia Southern and Air Force. Been a "gift" to the Trojans OL starting at LT. Gained 50 pounds since King's arrival.
R.J. Sizemore – 5-11, 260, Junior OL – Three offers including The Citadel. Three-year starter on the Trojans OL.
Cole Norred – 6-3, 280, Junior OL – Offered by Sewanee. Played at Bremen where his dad was on the coaching staff and entered the Trojans' program when his dad was hired to take over Carrollton's eighth-grade program.
Andrew Albertus – 5-10, 180, Senior Punter – Committed to Presbyterian baseball. His dad Dr. Mark Albertus is also the School Superintendent. Seasoned kicker.
Valdosta Wildcats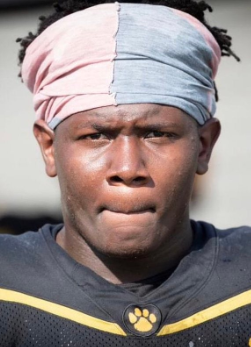 Eric Brantley – 6-1, 255, Senior – Committed to Colorado over 26 other offers including UCF and South Alabama – Consensus 2024 3-Star Edge. One of the top defensive players in the state. Stats: 88 TT, 32 TFL, 11 QB Sacks. Coach Felton "I've been blessed to coach a lot of guys in NFL. One of the best I've ever been around. Everybody see his get off but his football IQ off the scale." That's not hyperbole from Coach Felton. He coached Georgia Bulldogs star now Green Bay Packers LB Quay Walker at Crisp County along with DL Big Kat Bryant who went on to play at Auburn and UCF. Felton also coached DT Montravius Adams who starred at Auburn and still plays for the Pittsburgh Steelers.
Jalen Burgess – 6-3, 180, Senior – Committed to Georgia Southern – Highest Ranking: On3 2024 3-Star IOL. Has not allowed a sack all season. What Felton calls a "three-for-three OL meaning he can play tackle, guard and center."
Jaylen Bentley – 6-0, 175, Senior Safety – Committed to Georgia Southern over 13 other offers including UCF and USF. Stats: 54 TT, 12 TFL and 3 QB Sacks. Coach Felton: "Probably one of our most talented guys who can play any position. CB, SAF, OLB, ILB." "Recruited" him out of ROTC to come out and play football.
Prince Jean – 6-1, 175, Sophomore WR – Five Offers including Auburn, UCF and Liberty. Upside is big and chance to be big-time prospect. Also lines up as No. 2 QB and can make plays from there as well. Stats: Top WR. 25-366 yards receiving with 3 TD. 21-31 passing for 232 yards, 2 TD and 1 INT. Most of that coming when starter Robinson was injured early in the season. 33-402 yards rushing with 6 TD. Coach Felton: "He's very explosive. 0-60 faster than anybody I've seen. Going to be a household name. Will be college WR."
Todd Robinson – 6-1, 185, Junior QB – Offered by Troy and UMass. Best athlete playing QB. Will be WR or CB in college. Wildcats had no QB in the program. Felton says we just lined up the footballs and figured out who had the best arm. That's how Robinson won the job." Stats: Top rusher. 101-829 yards rushing with 4 TD. 62% completion for 956 yards passing, 7 TD and 7 INT. Valdosta runs what Coach Felton calls a "power spread" offense. Should be interesting contrast to the Trojans.
Jaylon Copeland – 6-1, 170, Sophomore CB – Offered by UConn and Florida A&M. One of two promising sophomore CB along with Cam Brown (below). Both are long, fast, and physical but both still prone to making sophomore mistakes. Will absolutely have their hands full with the Trojans stable of power conference caliber WR. Coach Felton says "we felt it was best to roll with the young guys. They are special but going through some growing pains, but their future is bright."
Cam Brown – 6-1, 170, Sophomore CB – Offered by UMass. See above. Stats: Both Brown and Copeland each have 1 INT and the Wildcats' secondary as a whole has only five. Again, the test they are facing tonight is huge.
Kobi Brown – 6-3, 215, Junior OLB – Offered by Southeast Missouri State. Stats: 27 TT, 10 TFL. Parents are teachers and moved into the county. Great basketball player who was an OL playing Single-A football at Lanier County.
Jabari Baker – 6-3, 170, Senior Safety – Offered by Alcorn State. Coach Felton: Baker is our coach on the field. Looking forward to a great game from him. He can cover the slot and fit the box. Stats: 33 TT, 5 TFL.
Amari Tomblin – 6-1, 205, Senior LB – Offered by Clark Atlanta. Second-leading tackler with 77 TT, 2 TFL. Very physical player. Also, back-up RB. Coach Felton says "runs downhill with a hammer. Could be a D2 RB."
Demauree Bennett – 6-1, 255, Senior OL – Offered by Reinhardt and Sewanee. Starts are RT. Nicknamed "Smoke." Coach Felton: "He's got that grittiness. Throwback. Wants the backs to run behind him." Converted DL to OL.
So, join Wayne Gandy, Jon Nelson, Hannah Goodin, Niki Noto Palmer and me for our Emmy Award-winning Football Fridays in Georgia Game of the Week as the Carrollton Trojans host the Valdosta Wildcats starting at 7:30 p.m. Remember at halftime Niki will highlight this week's Make That Kid an Offer nominees.
You can watch Football Fridays in Georgia in so many ways. You have traditional TV (GPB), online at GPB.org, GPB Sports app, Facebook, YouTube, Twitter, and Twitch.
Now if somehow, you miss it live or just want to watch it again, don't worry, we replay the entire Football Fridays in Georgia Game of the Week at 11:30 p.m. or you can watch it on demand anytime at GPB.org. 
Enjoy your Playoff Friday in Georgia!
Secondary Content
Bottom Content