Section Branding
Header Content
Week 7 Milestones: Maloof Becomes Winningest Coach in Gwinnett
Primary Content
Not only did Norcross dominate rival Duluth on Thursday, the Blue Devils also made Keith Maloof the winningest football coach in Gwinnett County history.
With the 41-14 win, Maloof earned his 198th victory at Norcross to surpass the old mark held by Parkview coach Cecil Flowe. In 25 seasons with the Blue Devils, Maloof is 198-86 with six region championships and two state titles.
Maloof took Norcross to the state championship in 2012-13. Among his more notable players have been Alvin Kamara, Jared Pickney and Lorenzo Carter, who all played in the NFL. Norcross has made the state playoffs in 16 of the last 17 seasons and is off to a 5-1 start this year.
Prior to taking the job at Norcross in 1999, Maloof was 22-11 in three seasons at Tucker.
Maloof is the son of legendary St. Pius coach George Maloof, who went 158-83-12 at St. Pius and has the stadium named in his honor. Maloof is the brother of Kevin Maloof, who went 175-105-1 in a long career that included success at Loganville, Meadowcreek and Dacula. Tyler Maloof, Keith Maloof's son, is now in his second season as head coach at Lanier.
Gilmer secures program's 300th win
The Gilmer Bobcats beat West Hall 45-6 on Friday to earn the program's 300th victory.
Gilmer began playing football in 1956 and has an all-time record of 300-372-18 with two region championships. Coach Paul Standard is in his third season as head coach and is trying to get the Bobcats into the state playoffs for the first time since 2014. Click here to see what Standard had to say after the game. 
The program's winningest coach is Wesley Tankersly, who went 41-34 in seven seasons from 2008-014.
Win No. 250 for Madison County
The Madison County Red Raiders earned the 250th victory in program's history with a 48-15 victory over Chestatee on Friday.
Madison County began playing football in 1957 and has compiled a record of 250-413-6. The Red Raiders have never won a region title, but have been to the state playoffs five times and reached the quarterfinal round in 2019.
Current coach Chris Smith (47-79 in 12 seasons) is the school's winningest coach.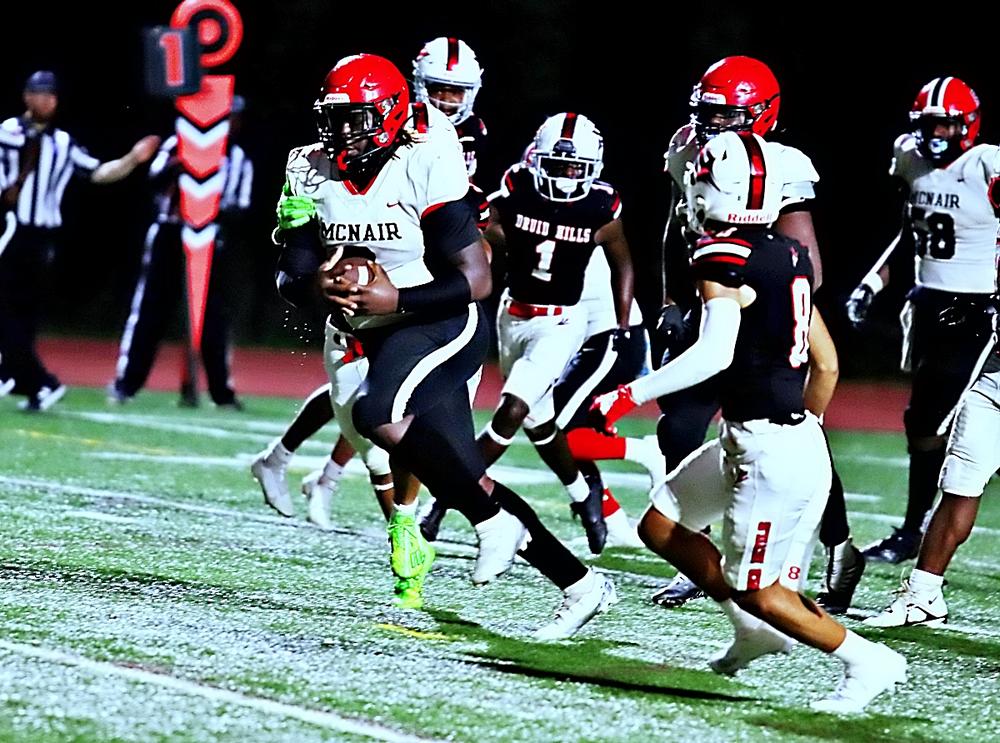 McNair QB Makes History against Landmark
McNair junior quarterback Jeremy Victor became just the second Mustang to surpass 2,000 yards passing and 1,000 rushing in his career in Friday's 50-14 win over Landmark Christian.
Victor accounted for four touchdowns by completing 5 of 8 passes for 169 yards and two touchdowns and rushing for 100 yards and two more touchdowns. The totals pushed him into rare company, joining former McNair great Maurice Avery. He became just the 16th DeKalb County player to accomplish the feat.
Secondary Content
Bottom Content