Section Branding
Header Content
Recruiting 2023: North Gwinnett at Parkview
Primary Content
More than 80 years ago Thomas Wolfe wrote a famous novel titled You Can't Go Home Again. That expression was used quite often in the years that followed with the premise being you can return to a place from your past, but it will never be the same.
That storyline will be in play tonight as we continue our GPB Sports Football Fridays in Georgia schedule whenthe North Gwinnett Bulldogs take on the seventh-ranked Parkview Panthers at The Big Orange Jungle in Lilburn. Coverage starts 7:30 p.m. on GPB-TV.
This will be the first game for former Parkview alum and head coach Eric Godfree against his former team since becoming the head coach at North Gwinnett earlier this year.  Godfree had been the Panthers head coach for the previous nine seasons going 90-37 while winning two region championships and reaching as far as the state semifinals in 2019.
"I think we're angry," new Parkview Coach Joe Sturdivant said.  "The team is fired up facing their old coach who left them.  I'm an alum and I'm angry too," with Sturdivant quickly adding, "but I'm also happy" (because it opened the door for the former Panthers star to become the new Parkview head coach)
All indications are that Godfree left on good terms, even telling his Bulldog suitors at first that "this is not the year (to call me) because we've got a (Parkview) team coming back that could win the state championship." But ultimately former Bulldogs coach Bill Stewart (now on Coach Brent Key's staff at Georgia Tech) and the North Gwinnett administration convinced Godfree to make the jump.
Godfree is right. His former Panthers team is stacked with future college football talent and a legitimate state championship contender and while we won't go as far as to call the Bulldogs a rebuild, North Gwinnett doesn't have as many college prospects as they've had in the past, at least not in their senior class. Most of the Bulldogs' college prospect talent is in their junior class.
The other reason for the Panthers aforementioned "anger" is that seven players, including five defensive starters, have been suspended by the GHSA for tonight's game because of a fight that occurred late in Parkview's 60-0 win over Shiloh two weeks ago (the Panthers most recent game). Sturdivant defended his players claiming they tried to stay out of it until they were forced to defend themselves.
The game basics: Parkview is 2-0 with a comfortable season-opening win vs. Kell in the Corky Kell / Dave Hunter Classic followed by the Shiloh blowout win. North Gwinnett is 2-1 following up their 49-14 loss to defending state champion Mill Creek in The Classic with victories over Archer and Gardendale (Ala.). To their credit (and I know it sounds cliché) the Mill Creek game was much closer than the final score would indicate with the Hawks pulling away in the last quarter-and-a-half.
So that's the game story. Here's the top prospects to watch tonight.
Parkview Panthers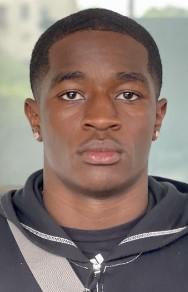 Mike Matthews – 6-0, 180, Senior – Committed to Tennessee July 19 over 32 others offers including Georgia, Southern Cal and Clemson – Highest Ranking: 2024 ESPN 5-Star – No. 1 WR in the country – No. 2 prospect in Georgia – No. 5 overall national prospect. As talented as Matthews is at WR there are college coaches who think he would be just as good, if not better, at safety. He plays both positions for the Panthers. Career Stats: 101-1,895 yards receiving with 16 TD and on defense 6 interceptions.
Cortez Smith – 6-2, 270, Junior – 20-plus offers including Georgia – Highest Ranking: 2025 Consensus 4-Star and On3 Recruits No. 2 IOL in the country. Such a versatile and talented offensive lineman that the Panthers can move him to almost any OL position to get the best match-up. Coach Sturdivant believes he'll be a center in college.
Jalyn Crawford – 6-0, 180, Senior – Committed to Auburn July 15 over 32 other offers including LSU, Florida and North Carolina – Highest Ranking: 2024 Rivals 4-Star – No. 10 CB in the country. He says Auburn's proximity to Atlanta played a big role in his decision after his dad underwent a kidney transplant last year.
Zelus Hicks – 6-2, 170, Sophomore – 20-plus offers including Georgia, Georgia Tech, and North Carolina – Highest Ranking: 2026 247 Sports 4-Star – No. 3 SAF in the country and No. 8 prospect in Georgia. Will be one of the top players in the country in 2026. Unfortunately, will not be available tonight because of that GHSA suspension.
Jordan Floyd – 6-5, 295, Senior – Committed to Georgia Tech June 16 over 10 other offers including UCF – 2024 Consensus 3-Star OT.
Terrence Curtis – 6-0, 180, Senior – Nine offers including Ole Miss – Highest Ranking: 2024 ESPN 3-Star CB. Not available tonight.
Antonio White – 6-2, 175, Senior – Committed to Rutgers June 24 over 21 other offers including Vanderbilt from whom he decommitted June 3 – 2024 Consensus 3-Star WR. Not available tonight.
Trelain Maddox – 6-2. 190, Senior – Committed to Georgia Tech June 13 over 18 other offers including Rutgers – 2024 Consensus 3-Star Athlete (plays RB and SAF for the Panthers).
Khyair Spain – 5-9, 190, Senior – Six offers including UAB, Troy and ETSU – Highest Ranking: 2024 On3 Recruits 3-Star RB. Unfortunately, out for the season with a knee injury.
Ira Singleton – 6-3, 222, Senior – Committed to Miami-Ohio June 25 over 10 other overs including Coastal Carolina – Highest Ranking: 2024 247 Sports 3-Star Edge.
Sean Ferguson – 5-11, 175, Junior WR/CB – 5-plus offers including Indiana and App State
Carson Wilson – 5-10, 170, Senior WR – 10-plus offers including Middle Tennessee and Charlotte
Bryce Coulson – 5-11, 170, Senior ATH – 5-plus offers including BYU.
Bryan Stokes – 5-7, 160, Sophomore RB – Offered by Marshall
Abdul Mohammed – 6-2, 255, Senior DL – Offered by Western Carolina and Sewanee
Josh Haynes – 6-4, 265, Senior OL – 5-plus offers including Sewanee and Georgetown
North Gwinnett Bulldogs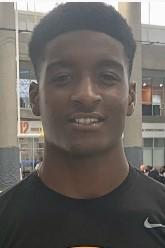 Chandler Jordan – 6-3, 190, Junior – Five offers including Georgia Tech, Tennessee and Auburn – Highest Rating: 247 Sports 3-Star SAF. Career Stats: 73 TT, 9 TFL, 1 QBS, 1 INT, 16 GP.
Cole Funderburk – 6-4, 230, Junior – Eight offers including Georgia Tech, Georgia Southern and Charlotte – Highest Rating: 247 Sports 3-Star Edge. Career Stats: 83 TT – 25 TFL – 20 QBS – 1 INT – 16 GP. 
Jaden Brock – 6-5, 225, Senior DE – Five offers including Vanderbilt. Already has 7 QB sacks this season in just three games.
Braxton Kyle – 6-4, 307, Junior DT – Offered by Georgia Tech and Charlotte
Jack Brumbelow – 6-4, 215, Senior TE – Offered by Air Force, Wofford and Lenior-Rhyne
Ryan Hall – 6-1, 170, Junior QB – Receiving interest from USF and UCF
So, join Wayne Gandy, Jon Nelson, Hannah Goodin and me for our Emmy Award-winning Football Fridays in Georgia Game of the Week as the No. 7 Parkview Panthers host the North Gwinnett Bulldogs starting at 7:30 p.m. It'll be the ninth all-time meeting dating back to 1976 with the series tied 4-4.
Now if somehow, you miss it live, don't worry, we replay the entire Football Fridays in Georgia Game of the Week at 11:30 p.m. You can also watch live on the GPB Sports app or online website, or our Twitter, Facebook or Twitch from wherever you are or watch it on demand anytime at GPB.org. 
Enjoy your Football Friday in Georgia!
Secondary Content
Bottom Content