Section Branding
Header Content
Starting My 10th Season by Remembering Robbie Roper
Primary Content
When we kickoff our 2023 GPB Sports high school football schedule next Friday night (Sept. 1) with Cedar Grove at Westlake it will start my 10th season calling play-by-play for Football Fridays in Georgia. What an honor and a privilege it has been over the last decade to work with some of the best in the business and in June our efforts were recognized by our peers when our team won a Southeast Emmy Award.
Overall, this marks my 26th consecutive season calling GHSA football on live television. So, I've been extremely blessed to be able to follow my passion and hope to be able to do so for many years to come.
This past week I was stunned to receive a direct message on X from Robbie Roper's account. As I'm sure you remember this outstanding young man and star quarterback at Roswell High School passed away shockingly and unexpectedly Dec. 22, 2021, as he was in the process of pursuing his dream of landing a college scholarship.
We would later come to find that Robbie suffered from a rare hereditary condition that led to his untimely death. So, you can imagine my surprise to see a message from his account.
It was from his dad James to let me know that Roswell was going to retire Robbie's No. 5 at the Hornets game vs Marietta on Sept. 1.. Mr. Roper also shared with me a photo of Robbie's framed Georgia Cotton Commission Player of the Game Award that he received after leading Roswell to a big Top-10 victory over Cherokee on GPB during his junior season.
Robbie and I developed a fun online friendship over his junior and senior seasons as he chased his goal of becoming a college football player. I could always count on that Friday night DM with highlights of his performance that evening. I was truly hoping that his dream was going to become a reality and in December 2021 it appeared that a big-time college offer was inevitable until an unimaginable tragedy took his life.
I have kept our final correspondence in my direct messages all this time. Just five days after probably the greatest performance of his career in an amazing comeback playoff win vs. North Cobb, he sent me a direct message on Thanksgiving Day expressing appreciation for my support and to have a great holiday. I wished the same to him and his family and to have a great game the next night vs. Grayson. Less than a month later he was gone.
You don't have to live long to realize that life isn't fair. This one hit me like a ton of bricks. For a believer, we have to trust in what was written by the apostle Paul in Romans 8:18, "For I consider that the sufferings of the present time are not worth comparing with the glory that is to be revealed to us." Keep praying for the Ropers that the Lord will continue to provide them with "His peace that surpasses all understanding" (Philippians 4:7).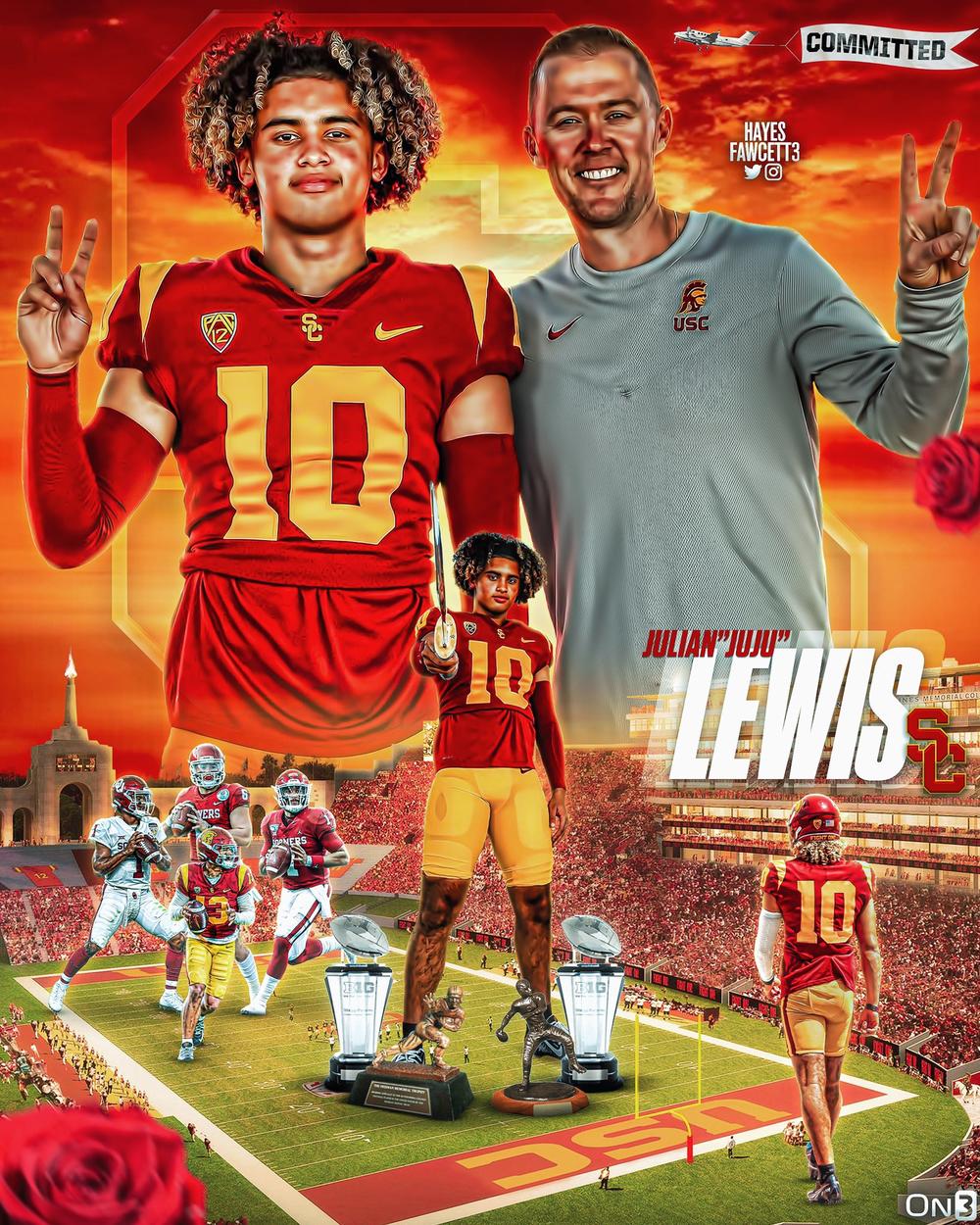 Recruiting News
Now in this space every Friday we will continue to give you a recruiting breakdown of the Football Friday in Georgia Game of the Week that you will watch that night on GPB.
We are still one week out from our GPB Sports season opener, but we had two huge college football commitments this past week. The biggest and most surprising came from Carrollton sophomore Julian "JuJu" Lewis. Just days after the first game of his 10th grade season, Lewis committed to the USC Trojans.
He is so early in his career not all the national recruiting services have even ranked the sophomore class but the one that has, 247 Sports, has Lewis ranked as the No. 1 overall prospect in the country for 2026. I'm sure that On3, ESPN and Rivals will follow suit. Lewis cited Trojans Coach Lincoln Riley's development of college quarterbacks as the primary reason for his decision. Riley is famous for his role in cultivating Heisman Trophy-winning and future NFL star QBs.
The other big commitment came from Buford 5-Star Eddrick Houston who decided on Ohio State. Houston is rated as high as the No. 3 defensive linemen in the country and was the highest ranked uncommitted prospect in Georgia until his decision.
So, counting down the days until we kickoff the season on GPB. In the meantime, I will call two games in the Great Atlanta Bash Saturday on Peachtree TV. Maynard Jackson vs. Miller Grove at 10 a.m. and Douglas County vs. Mays at 1 p.m. That should be fun. If you want to keep up with high school football and just all sports in general, I invite you to follow me on X at @MattStewartTV or Facebook @MattStewartSports.
Until next Friday…
Secondary Content
Bottom Content