Section Branding
Header Content
High School Football Coaching Carousel Brings Folks Home
Primary Content
It's that time of year... 
Well, to be honest, it's ALWAYS that time of year... 
High School football always has something going on and we're all keeping that collective eye on the teams, and players and coaches as they get ready for the summer swelter and practices that will lead us into the 2023 season. 
But before the camps and the workouts, there's still some other kinds of work to be done. And it's being done by those coaches and staffs that are moving from one location to another before the season starts. Traditionally, the rate of turnover is anywhere from 18-22 percent of the head coaching positions in the state. And that's a lot of folks seeking and searching for work... 
What I wanted to do this time around is catch up with folks that have moved from one place to another and see how they're doing in their new gigs -  though the location for some of these folks may not be all that new.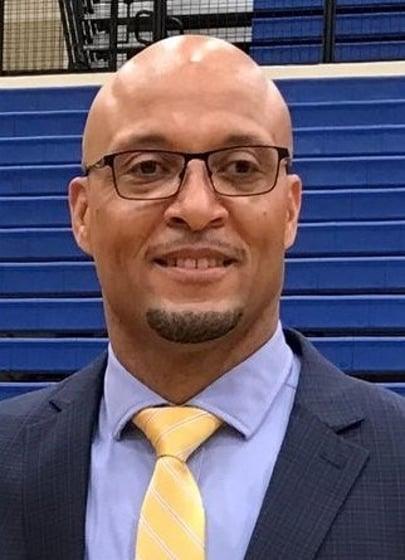 Franklin Stephens went home. 
He was head coach at McEachern, but he's back in Waynesboro (the "Bird Dog Capital of the World," by the way) as the new head coach at Burke County replacing Eric Parker who retired after a 16-year career there. 
"It certainly has been a flurry of getting coaches hired to be a part of the staff," he says. "We're also trying to set a tone here in places like the weight room on a daily basis. There's a lot to be done." 
Stephens says, when it comes to hiring a staff, it's hard for coaches to go from one location to another. You're talking about moving (possibly a great distance) and it might not be feasible for some to pick up and leave to head to the next location. 
"I'll say this. If you haven't been to Burke County, I think a lot of folks might be shocked at what they see here," Stephens says. "Facility-wise, I think we're hard to beat at our level. If you look at the stadium, the weight room, the offices, and the meeting rooms... I have coached at places like Camden County and McEachern in 7A... and I think we're comparable." 
Stephens played at Burke County- even playing for a state title under head coach Mike Falleur in 1997 when they lost a two-point game to Thomas County Central. And Stephens knows how important the build has been over time from Coach Parker's tenure and Coach Falleur's.  
"Coach Tom Temple, I think, changed the face of the program when he was here." 
(ed. Note: it was under Temple that Burke won their first region title in 1991) 
"Under Coach Falleur, we played for that state title. With Coach Parker, you had the continuity and longevity. And he did a phenomenal job in the sixteen years he was here. For the stability he created, he has to be commended for that." 
For Stephens, it's interesting coming back and coaching student-athletes whose parents who were teammates of his. He's lived this experience and now there's a "new fire" in the same building where he played growing up. He also knows the expectations are there as well. 
And, as he gets acquainted with the 6th and 7th graders in Burke County, afternoon workouts and trying to find land to build a house are the next things to cross off the to-do list.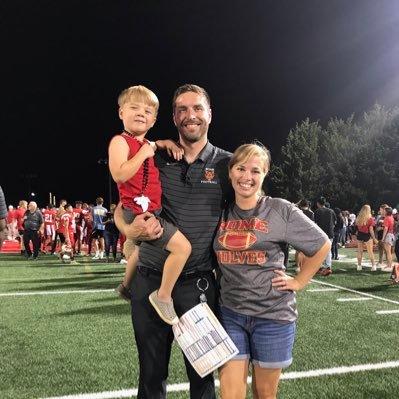 Shane Sams also went home... and he's the first one to credit his wife, Kylie, who is a big part of the decisions that have been made along the way. 
He was in Rome with the Wolves and now he's back as the new head coach in Warner Robins with the Demons. Sams was Offensive Coordinator from 2016-18 and admits it's a place that's in his heart. 
"I have uncles, my dad, cousins, and sisters that are all a part of Warner Robins High," Sams says. "My grandparents...? I could throw a football and hit their house from the school. We all have pictures showing how we're a part of everything here, too." 
His dad was an assistant principal there and Shane grew up at those games at McConnell-Talbert Stadium- not to mention the road games... 
"It's crazy to think about at times that I'm doing what Robert Davis did here at Warner Robins. The biggest things here are tradition and family. And there are those folks who are still attached from the 50's, 60's, and 70's that played here. And they're catching up with you about what's going on." 
Shane knows that there's pressure attached to his new job, but he embraces it. 
"I want the kids to embrace it as well," he tells me. "I want them to push to be the best they can be. When you wake up in the morning, your goal should be to win a state title here. Us getting there is mandatory. I want to keep everyone going at 100-percent every day and keep our work ethic strong.  
"When you think you've climbed the mountain, I want everyone to try and find the next mountain to climb and conquer." 
Our third coach is one you may remember from "Countdown to Kickoff."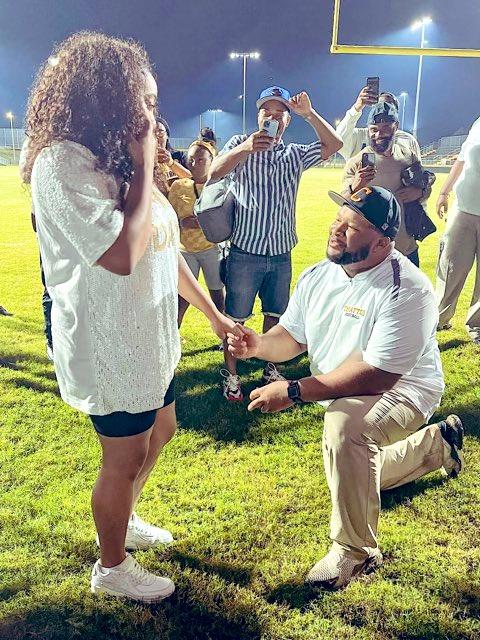 In September of last year, then-Chattahoochee County head coach Ryan McKenzie was in his first games as a head coach. 
After the game with Pelham, he proposed to his girlfriend Kendra and we showed the picture of the two of them.  
Well, there's a little more to the story... 
He's heading to Hardaway in Columbus eventually but he's staying at ChattCo until the end of the year. They're letting him commute and he couldn't be more thankful or grateful... 
See, Kendra and Ryan are expecting their first child this week. 
He works at the elementary school in the system after a 30-minute drive in the morning and, then, commutes to Hardaway in time for 3:45 workouts- mat drills and such.  
"I get home around 7 or 8 if I'm lucky," he admits. "Monday through Thursday, that's the deal." 
He has his phone and Apple Watch all set to handle every plan in place and every variable that awaits the birth of their baby girl. Their bags are packed and every possible scenario is covered for Nori Peyton McKenzie to be here with the rest of us. 
"I think she's going to be a right-handed, gun slinging quarterback with a Mamba Mentality." 
Remember the proposal Ryan had on the football field? Kendra told him the day before that they were expecting... 
"We always have a tradition," Ryan continues. "We always have what we call a 'game day gift.' I was going to propose. She told me we were expecting and she goes, 'I won! Surprise!' So, Thursday I find out I'm going to be a father and Friday I proposed." 
But, in addition to the expanding family, McKenzie knows it'll be a challenge in Columbus in his new region- Bainbridge, Cairo, Shaw, and Westover are all a part of things. 
"We're just going to focus on us and get better," he says. "There are eight high schools in Columbus, if memory serves, and we're going to work on having a product that we can all be proud of here." 
And juggle the new duties of being a daughter-daddy...      
And that's just three of the stories from this off-season... 
Play it safe, everyone... We'll see you soon!      
Secondary Content
Bottom Content