Section Branding
Header Content
Championship-Winning Coaches Encourage Finalists to Enjoy the Experience
Primary Content
What started with practices in the sweltering heat of late July and early August will conclude in early December. Welcome to Championship Week in Georgia. Sixteen teams will come to Atlanta to compete and eight teams will leave with the title of Champion. Eight coaches will get to lift the trophy and add their name to the champion's roll and join an elite fraternity. I thought it would be nice to visit with some of the state's all-time greats and get them to reflect on what this special week means to them.
"You can try to downplay it all you want to," says former Brookwood head coach Dave Hunter. "Try to make it be like just another week, and you want to prepare like it's just another week, but it's not just another week. It's the last week, and all of us want to play in the last week."
Former Calhoun head coach Hal Lamb coached the Yellow Jackets to three state championships and hopes this year's championship week coaches get to savor the moment.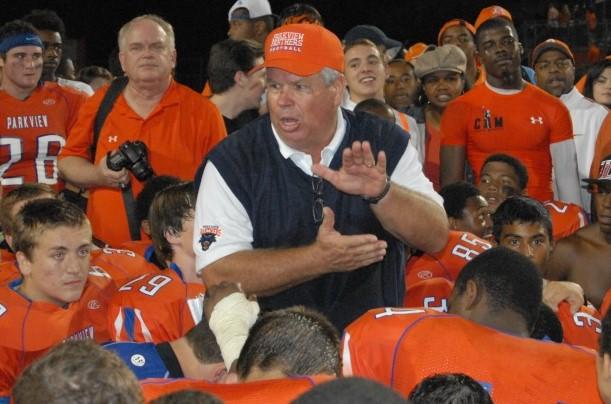 "They need to enjoy it," says Lamb. "They don't realize it but it goes by real fast and when the game hits zero on the clock, you reflect back and think, 'Wow … I wish I had enjoyed it a little bit more.' That's what I remember most about it ."
Former Southwest DeKalb head coach Buck Godfrey is the Dekalb's all-time leader in coaching victories and a state champion. For him, this week harkens back to memories of the work that it took to reach the final game of the season.
"It brings back the ritual of preparation for the state championship," reflects Godfrey. "Jn the old days the grass was yellow and the ground was hard. It's not hot, it's not cold. It's playoff cool. I was an English teacher. I taught five classes a day, that didn't change."
Cecil Flowe captured four state titles during his tenure at Parkview. Flowe says that he will be watching the state championship games this week. He has seen the high school evolve but believes that there are some fundamentals that are still a key to winning it all.
"The game is more complex," says Flowe. "Back in our day it was power football. Now it's basketball on grass, but the people who are winning can still run the rock. If you can't run the rock you can't win the state championship. "
Lamb's Calhoun teams won state titles in 2011, 2014 and 2017. The coach feels the 2011 championship was the sweetest. The Yellow Jackets finished a perfect 15-0, but that's just half the story.
"The 2011 game has to stick out more," says Lamb. "Just because we were 0-for-3 going into that one, playing Buford three straight years. We were able to beat them in 2011. It was Calhoun's first championship since 1952. The people didn't think we would be there, much less win it."
Parkview's state titles under Flowe came in 1997, 2000, 2001 and 2002. It was a magical time in Lilburn and each title is special to the coach, but the 2001 championship game is his favorite.
"Northside Warner Robins," recalls Flowe. "You are playing against Chansi Stuckey and all those guys who would end up in the pros. Not saying that Brookwood wasn't a huge game to win, but when you got people like Chansi Stuckey (who played at Clemson, spent time in the NFL and is on the staff at Notre Dame) that you've got to play, it's another dimension of offense and you've got to cover him. You have to get a mark on him and we were able to get that done. If not it's probably not the same outcome."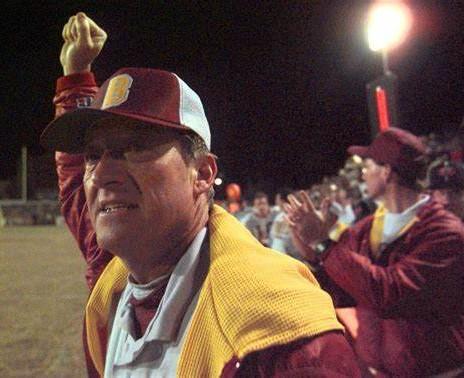 Brookwood won the state title in 1996. Hunter will proudly tell you the opponent and location.
"We won the state championship in Valdosta," says Hunter. "For the historical significance, it doesn't get any better than Cleveland Field."
Brookwood had been open less than 20 years at the time and here they were taking on the Kings of Georgia Football at their place. The coach reflects on a journey that was just as eventful as the game.
"I had a player on my Peachtree High School team named Park Day," recalls Hunter. "His family owned Days Inn. His mother arranged for us to stay at the Days Inn in Adel, about 20 miles up the road. She closed the whole hotel for us. My friend Milt Miller was the coach at Lowndes. We did a walk through there, and we had just played them in the semifinals in the Georgia Dome and we won. Friendship matters once the game is over. We just played outstanding. Really good on defense. I remember the street that we parked our bus on outside the stadium was Brookwood Drive. One of our fans got that sign and gave it to us at the banquet."
A year earlier it was Southwest DeKalb's turn. Buck Godfrey's Panthers had been finalist once and semifinalist five time. The coach remembers what that night and that game meant to so many people.
"It was great to play at Memorial Stadium," remembers Godfrey. "When we got there we saw all those people. I didn't know that many people could come to that place. We represented a community that was bigger than just Dekalb. It was like Jackie Robinson, Joe Louis or Sugar Ray Robinson when we went to play that game. Our kids responded well."
The opponent was Cecil Flowe's Parkview team, who brought a perfect 14-0 record into the contest. Parkview had held all of their opponents to fewer than 14 points the entire season -- until that night.
"Parkview was a good opponent," recalls Godfrey. "The game could have gone either way. Both would have been worthy of the title. Both teams had miscues. We got the ball with enough time to run a seven-play option drive. Quincy (Carter) ran it to perfection."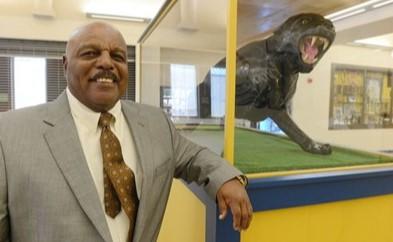 While there was jubilation on one sideline, across the field there was a disappointment that years can't erase.
"I still remember 1995 like it was yesterday," says Flowe ."I was the most hurt individual in the world. My linebacker didn't get the dive on the option. He wrote me a 10-page letter saying it was his fault."
I ended my conversation with each of the coaching legends by asking them what their wish would be for the coaches who will take part in championship week 2022.
"It's really hard to get to a state championship game," says Lamb. "Things have to go your way. You have to be good, you have to have some luck. Just enjoy the entire week and enjoy the game. Win or lose enjoy it. Of course, you will enjoy it more if you win. It's an amazing experience."
"To have their kids play as hard as they can play and play with sportsmanship," says Flowe. "Just go out there and play the game like it's supposed to be played. For the coaches to play that chess match and try to win that game."
"I hope their teams will play the very best that they can play and not turn the ball over," says Hunter. "Usually the team that makes the fewest mistakes wins "
"Cherish it," exclaims Godfrey. "You don't know if you will ever get back, that's a hard thing to do.It's not a right, it's a privilege to play in that ball game. I would hold it dear to my heart and never let go."
Secondary Content
Bottom Content