Section Branding
Header Content
Recruiting 2022: Football Fridays in Georgia Semifinals
Primary Content
Join us tonight for Week 16 of our 2022 GPB Sports Football Fridays in Georgia schedule and an extraordinary GHSA semifinal doubleheader from Lakewood Stadium in Atlanta. We'll kickoff our coverage at 5p p.m. with the Class 7A semifinal between the No. 5 Mill Creek Hawks (12-1) and eighth-ranked Milton Eagles (10-3) followed by the 6A semifinal pitting the No. 1 ranked Hughes Panthers (13-0) against the fourth-ranked Rome Wolves (12-1).
A special semifinal edition of "Recruiting 2022" will air between the games highlighting all the top college football recruiting news of the week and featuring this week's batch of "Make That Kid an Offer" nominees.
The winners of these two games will advance to the state finals next week and play just up the road at Georgia State's Center Parc Stadium.
7A Semifinal – Mill Creek vs Milton
This marks the third time in the last five years these two teams have met in the state playoffs. The Eagles beat the Hawks 24-3 in the 2018 second round en route to winning the program's first state championship and then again last year and another Milton win, this time a 36-27 quarterfinal victory on the way to reaching the state finals for the second time in program history.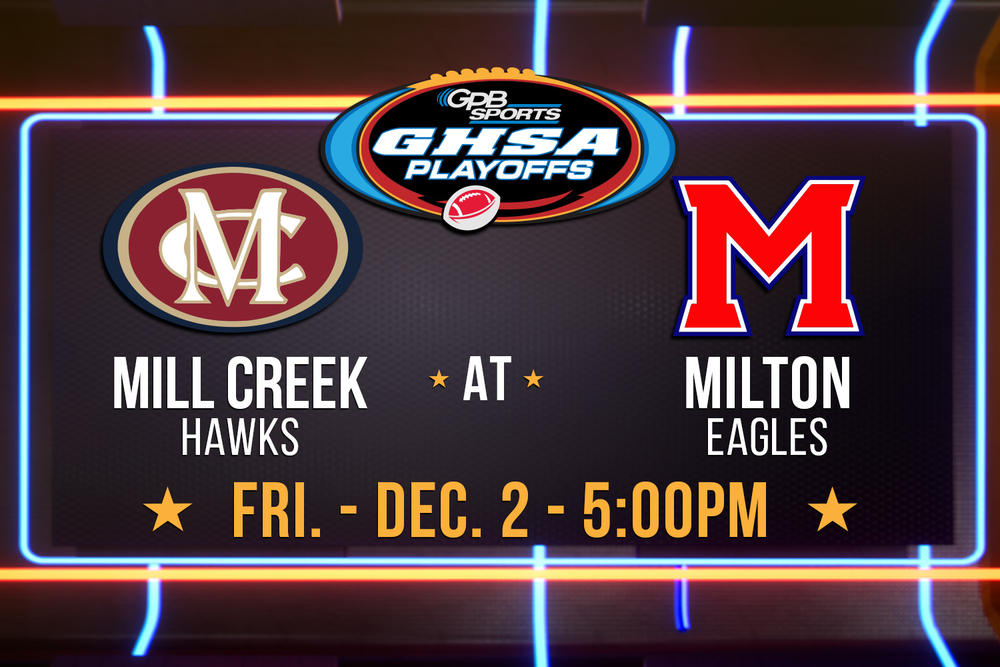 Mill Creek has been dominating this season going 12-1. The Hawks have won six straight since their only loss, a 39-27 setback at then-No. 1 and three-time defending state champion Buford on GPB. Mill Creek has outscored its opponents 291-71 during the winning streak.
This is the Hawks third semifinal appearance in the program's 19-year history with the other two ending in defeat in 2015 and 2016 finishing 13-1 seasons. A win tonight puts Mill Creek in the state championship game for the first time.
Milton has overcome a 2-3 season start to win eight straight and reach the semifinals for second straight season, third time in five years and fourth time overall with the first coming way back in 1952. The Eagles played a very challenging schedule with two of their three losses coming to top-ranked teams out of state.
Milton lost to Tennessee No. 1 Lipscomb Academy and Missouri's top-ranked Christian Brothers to begin the season and then lost again to fourth-ranked North Cobb. But the Eagles also registered Top 10 wins over 6A semifinalist Roswell, No. 7 Lambert to win the Region 6-7A title and tenth-ranked Grayson in last week's quarterfinals.
That's the game preview, now here's the top prospects to watch.
Mill Creek Hawks – Head Coach Josh Lovelady 38-12 in his fourth season. Roster includes one 5-Star, one 4-Star, three 3-Stars and 13 total players who are either committed or have college offers.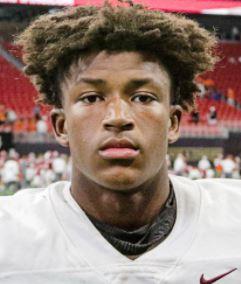 Caleb Downs – 6-2, 195, Senior - 5-Star and On3 Recruiting No. 1 Safety, No. 1 Prospect in Georgia, and No. 11 Overall National Prospect in Class of 2023 – Committed to Alabama over 33 other offers including Georgia, Ohio State, Notre Dame and North Carolina, where his brother Josh plays. Downs will play in the All-American Bowl in San Antonio. He is seen as a college ready player right now and Coach Lovelady called him a "generational talent." He has scored 21 total TD this season and holds the Mill Creek career interception record with 19.
Jamal Anderson – 6-4, 201, Senior – 4-Star and On3 Recruiting No. 9 LB in the Class of 2023 – Committed to Clemson over 33 other offers including finalists USC, Utah (his dad's alma mater) and Michigan State. Anderson has 57 tackles on the season with 5 TFL and 3 QB sacks and 166 tackles for his career with 14 TFL and 7 sacks. National semifinalist for the HS Butkus Award. He will also play some at tight end and has 13 catches on the season for 185 yards and a TD. And yes…his dad is the Original Dirty Bird on the Atlanta Falcons 1998 Super Bowl team.
Makhail Wood – 6-0, 150, Senior – ESPN 3-Star WR – Committed to Eastern Michigan over 4 other offers including Georgia Southern. Hawks leading receiver with 48 catches for 862 yards and 10 TD. Averaging 66 yards receiving per game. Career 71 receptions for over 1,200 yards and 15 Total TD.
Cole Mullins – 6-5, 231, Junior LB – Offered by Wake Forest, Duke and Vanderbilt – Starting MLB with 46 tackles, 6 sacks and starts at TE – Missed several weeks with a knee injury suffered in the Buford loss but back healthy and is also a top baseball prospect.
Aidan Banfield – 6-5, 277, Junior OG - Five offers including Georgia Tech and Vanderbilt – Hawks best OL
Brendan Jenkins – 6-2, 196, Senior WR – 11 offers including Mercer, Lehigh and Middle Tennessee – Son of former Falcons WR Michael Jenkins – 33 catches, 6 TD
Jacob Ulrich – 6-6, 190, Junior K/P – Offered by Stetson – Kicked a 56-yard FG in Corky Kell Classic – 11-18 FGA – 42-yard punt average
Hayden Clark – 6-1, 205, Senior QB – Offered by Reinhardt and Washburn – Phenomenal 22/1 TD to INT ratio
Cooper Bothwell – 6-4, 277, Senior OL – Offered by Stetson and Marist
Bryce Bothwell – 6-2, 282, Senior DL – Offered by Stetson and Marist. Bothwells are twin brothers.
Nic Denick – 6-1, 225, Senior DE – Offered by Stetson
Nick Maxey – 6-4, 210, Senior DE – Committed to North Greenville
Khai Green – 5-10, 210, Senior DE – Committed to NAIA Northwestern-St. Paul
Milton Eagles – Head Coach Ben Reaves 10-3 in first season. Promoted from offensive coordinator to replace Adam Clack who took a job in the Charlotte football program. Roster includes three 4-Stars, one 3-Star and nine total players who are committed or have college offers.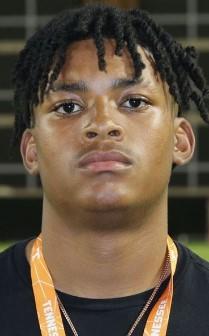 Debron Gatling – 6-1, 180, Junior – 4-Star and Rivals No. 16 WR – 42 Offers including Alabama, Texas A&M and Georgia – Has exploded the last two weeks with huge performances catapulting the Eagles back in the semifinals. Has really blossomed as a wide receiver under the tutelage of recent Georgia High School Football Hall of Fame Inductee Terrence Edwards. 67 catches for 890 yards and 9 TD.
Bryce Thornton – 5-11, 195, Senior – 4-Star and On3 Recruiting No. 29 Safety – Committed to Florida over Alabama and 25 other offers. Coach Reaves says "he's right there" along with L.T. Overton as perhaps the greatest player he's ever coached. Been bothered by nagging injuries this season but instead of "shutting it down" to get ready for his college career has battled through and been a big reason for Milton's success.
Robert Billings – 6-0, 170, Senior – 4-Star and Rivals No. 27 Safety – Committed to Clemson over 12 other offers including Ole Miss and Georgia. Along with Thornton gives Milton one of the top safety combos in the state.
Brayden Holmes – 5-11, 180, Senior – 247 Sports 3-Star Cornerback – Committed to Furman over an offer from Arizona State
Ryan Ghea – 6-5, 220, Sophomore TE – 12 offers including Ole Miss, Tennessee and Florida State. Will be one of the top tight ends in the nation in the next two seasons.
Dylan Lewis – 6-0, 170, Sophomore CB – Seven offers including Tennessee and North Carolina.
Luke Nickel - 6-2, 200, Sophomore QB – Offered by Michigan State and Florida State. Younger brother of four-year Milton starting TE Jack Nickel who is now a freshman at Michigan State. Will be one of the top QB in the state over the next two seasons.
Caleb Moran – 6-3, 215, Senior LB – Four offers including Air Force and Army. Coach Reaves calls Caleb an absolute animal on defense.
Owen Phillips – 6-1, 210, Senior DE – Phenomenal season with over 100 tackles, 26 TFL and 15 QBS. Receiving preferred walk-on interest from several programs
Jacorey Stewart – 6-1, 190, Junior – Just picked-up his first collegiate offer from Ole Miss this week.
6A Semifinal – Rome vs Langston Hughes
The Panthers have put together one of the most dominating seasons in recent history on the way to a perfect 13-0 record and averaging a mind-boggling 55 points per game. Hughes has won 26 of its last 27 games with their only defeat during that stretch a one-point loss to Buford in last year's state championship final. That game ended with the Panthers game-winning field goal attempt being blocked on the final play of the game. Coach Daniel "Boone" Williams says that loss has motivated his team this season.
Rome is back in the semifinals for the first time since 2018 when their loss to Warner Robins snapped the Wolves then-40 game winning streak and ended Rome's bid at a third straight state championship. This year's team has gone 12-1 with 10 straight wins since a 23-6 loss to No. 3 and 7A semifinalist Carrollton in Game 3.
That's the game preview, now here's the top prospects to watch.
Hughes Panthers – Coach Williams is 39-12 in his fourth season. Roster includes five 4-Stars, two 3-Stars and 14 total players who are either committed or have college offers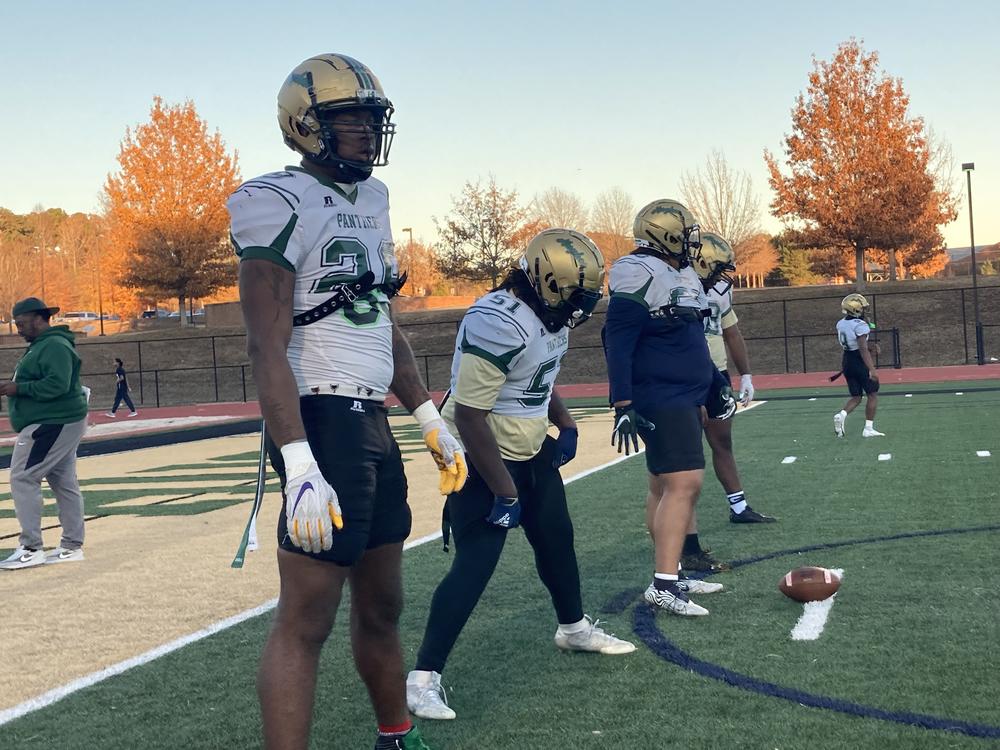 Bo Hughley – 6-7, 290, Senior – 4-Star and ESPN No. 10 OT – Committed to Georgia over 21 other offers including Florida State, Auburn, Miami and Georgia Tech. Hughley has been committed to the Bulldogs for over 14 months, but Auburn has recruited him hard along with the rest of the Panthers' star roster. Hughley was at Jordan-Hare Stadium again a couple of weeks ago for the Western Kentucky game along with another strong Hughes contingent and says he doesn't plan on signing until February which could perhaps open the door for the new Auburn coaching staff to flip.
Jelani Thurman – 6-5, 230, Senior – ESPN 4-Star and No. 1 TE – Committed to Ohio State over 28 other offers including his other three official visits Alabama, Michigan State and Auburn. Spectacular talent that Coach Williams calls a unicorn at TE. Reminds me a lot of Arik Gilbert who is now at Georgia in that he's too big for DBs to cover and too fast for LB. Equally as talented playing defensive end. He's reportedly made 6 unofficial visits to Auburn this season and another guy that could be on "flip-watch"
Prentiss "Air" Noland – 6-3, 195, Junior – 4-Star and On3 Recruiting No. 8 QB – 27-plus offers including Auburn, Arkansas, Miami, West Virginia and Vanderbilt. Who has done more than Air? Right at 3,600 yards passing with 49 TD and just 4 INT. Completing close to 71-percent of his passes and running a Panthers' offense that is averaging 55 ppg. Noland is 26-2 as Hughes' starting QB since his freshman season. He is considered one of Coach Freeze's top recruiting targets at Auburn.
Terrence Love – 6-3, 195, Senior – 4-Star and Rivals No. 9 SAF – This is one Panther that Auburn doesn't have to flip because he's been committed to the Tigers since April. In fact, he's kind of been the pied piper leading all his Hughes teammates down to games on the Plains all season. Love committed to Auburn over 38 other offers including Florida, Miami, and Georgia Tech. He has 53 tackles on the season with 2 INT and as Hughes goes deeper into the playoffs has been playing more at WR too with 8 catches for 3 TD and a 23-plus yards per catch average.
Robert C.J. Lockhart – 5-7, 175, Senior – ESPN 4-Star WR – Committed to Jackson State over four other offers including Maryland and Colorado. Has bounced back this season after missing his entire junior season after suffering a knee injury in spring practice that cost him a chance to be on the field for the Panthers run to the state finals. Took his official visit to Jackson State about 6 weeks ago and took an unofficial visit to Georgia Tech back in April. Has 28 catches for 550 yards and 3 TD and his nickname is SRT after the Dodge Charger.
Joshua Horton – 6-5, 290, Senior – ESPN 3-Star DL – Committed to North Carolina over 32 other offers including his other two finalists UCF and Auburn. Anchor of what may be the most talented and deepest defensive lines in the state. The 6-4, 285-pound Horton has 105 tackles as a defensive tackle with a team-leading 9 TFL, 3 Sacks and 9 QB hurries. He is one of six Panthers D-Lineman with at least 80 tackles and one of eight who could start for just about any team in the state. Horton took an unofficial visit to Miami in October which triggered a flurry of 247 Sports Crystal Ball predictions that he would flip to the Hurricanes but has not yet happened.
Amier Glenn – 6-2, 315, Junior DL – Rivals 3-Star – Six offers including Georgia Tech, North Carolina, and UCF – Leads DL with 109 tackles.
Dontrell Glover – 6-3, 290, Sophomore OL – Five offers including UCF and Georgia Tech – Following in the footsteps of Bo Hughley
Jediyah Willoughby – 6-2, 190, Senior WR – Offered by Nebraska and Morehouse – 31 catches and 6 TDs
Jekail Middlebrook – 5-10, 180, Senior ATH (RB/SAF) – Nine offers including Middle Tennessee, Western Kentucky and FAU – Georgia Cotton Commission Player of the Game when we saw them 5 weeks ago on GPB – Has exploded for nearly 1300 yards rushing and 17 TD with most of that coming in the second half of season
Jaden Barnes - 5-9, 165, Senior WR – Offered by Western Kentucky, James Madison and Tennessee Tech – Under the radar burner who has 34 catches for 968 yards – that's over 30 yards per reception – with 14 TD
Jordan Thompson – 6-0, 205, Junior LB – Four offers including Texas and Kansas. Unfortunately, he's likely out for the remainder of the season with a knee injury.
Jakarri Martin - 5-10, 170, Senior CB – Offered by Middle Tennessee, Harvard and Tennessee Tech
Gannon Weathersby – 5-11, 170, Senior LB/SAF – Committed to Tennessee State over offer from Middle Tennessee.
Rome Wolves – Head Coach John Reid 86-18 in his eighth season with two state championships. 21st season overall as a head coach with record of 203-62 and four state titles. Roster includes three 4-Stars and 6 total players who are either committed or have college offers.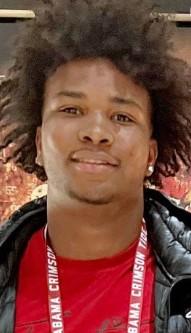 Stephiylan Green – 6-4, 267, Senior – 4-Star and On3 Recruiting No. 7 DL. Committed to Clemson over 23 other offers including Georgia and Ohio State. Coach John Reid calls him explosive, powerful, and very twitchy with sub 4.5 speed in the 40 and likely DE in a 3-4 defense. Another in a long line of great defensive linemen who have played for Reid at Rome - 59 TT, 13 TFL, 10 QBS and even has 2 INT. Part of an impressive Clemson 2023 Class of Georgia HS Players that includes Warner Robins 4-Star DL Vic Burley, ELCA 4-Star OT Zechariah Owens, Mill Creek 4-Star LB Jamal Anderson and Westlake 4-Star CB Aveion Terrell.
Martavious Collins – 6-3, 241, Junior – 4-Star and ESPN No. 5 TE – Committed to Alabama over 17 other offers including Auburn. You will see him playing all over the field tonight and will even pop over on the defensive side of the ball and help at DE. Future is likely as more traditional, attached tight end at the next level or lining up in the backfield at the sniffer position. Could be a good night for the Wolves if he ends up being a factor in the pass-catching game.
Martel Height – 6-0, 160, Senior – ESPN 4-Star CB – Committed to Vanderbilt after originally committing to Louisville over four other offers. Got the speed to match-up with this talented Hughes team, will play major snaps on both sides of the ball and Coach Reid believes could be a difference maker tonight. 34 catches for team-leading 10 TD receptions and has 3 INT, 2 blocked kicks and 3 defensive TD this season.
Alto Moore – 6-2, 215, Junior LB – Four offers including Michigan State, Georgia State and Liberty – Team-leading 92 TT, 55 solo, 10 TFL and 2 INT.
Reece Fountain – 6-0, 167, Junior QB – Offered by Georgia Southern, Samford and Southeast Missouri – Got better after team's only loss vs Carrollton and has 2900 yards passing, 28 TD and just 4 INT – Hasn't shown dual threat ability but Coach Reid says like former QB Knox Kadum, he can do it
Justin JT Terrell – 6-3, 270, Junior Edge Rusher – Offered by Liberty – Game MVP last week in the Wolves' QF win over Marist
Enjoy your Football Friday in Georgia!
Secondary Content
Bottom Content