Section Branding
Header Content
Recruiting 2022: Mill Creek at North Cobb
Primary Content
Join us tonight for Week 14 of our 2022 GPB Sports Football Fridays in Georgia schedule and the second round of the GHSA Class 7A Playoffs as the fifth-ranked Mill Creek Hawks (10-1) take on the fourth-ranked North Cobb Warriors (9-2) at Emory Sewell Stadium in Kennesaw.
Coverage starts at 7 p.m. ET with "Recruiting 2022" including the "Top Prospects to Watch," followed by the Game of the Week at 7:30.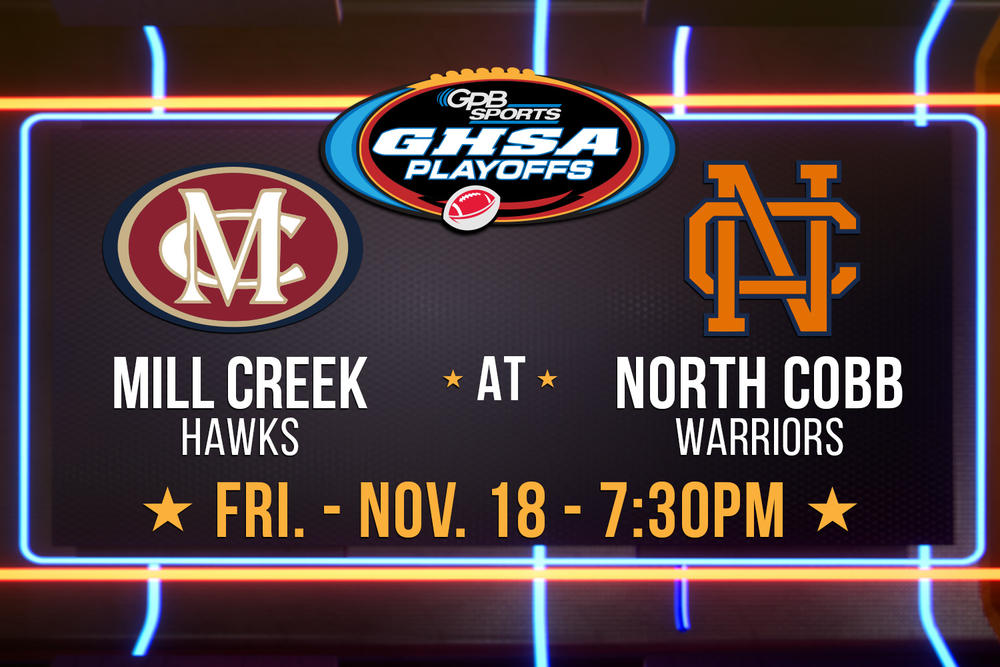 The winner of this game will advance to the state quarterfinals and host the winner of the Parkview at No. 7 Westlake second-round playoff game next Friday night and we believe will become the frontrunner to advance out of this side of the 7A bracket and reach the state championship game Dec. 10 at Georgia State's Center Parc Stadium in Atlanta.
North Cobb is the No. 1 seed in this match-up having won the Region 5 championship.  It's the third consecutive region title for the Warriors for the first time in program history.  North Cobb was a 42-10 home winner over Denmark in the first round last Saturday night.
The Warriors have won seven straight since starting the season 2-2 following 20-17 OT loss vs Northside-Warner Robins.  North Cobb is 3-1 against Top-10 opponents, 2-2 in one-score games and 1-1 against common opponents with a 21-14 loss at No. 1 Buford and a 33-6 win at No. 6 Walton on GPB-TV. 
North Cobb is in the playoffs for the fourth straight season and the 11th time in 12 years.  This is the third consecutive season the Warriors have reached the second round and are seeking their first quarterfinal appearance since 2016 and fourth in the program's 65-year history. 
Mill Creek is the No. 2 seed in this game after finishing second to Buford in Region 8-7A because of a 39-27 loss to the Wolves on GPB.  The Hawks have won four straight since that defeat outscoring their opponents 210-50 during that winning streak including a 59-22 first round win over Meadowcreek last Saturday.
Mill Creek is also 3-1 against Top-10 opponents and won their only one-score game, a 47-41 win over Walton in the season-opening Corky Kell Classic at Mercedes-Benz Stadium.  The Hawks' other nine wins have come by an average of 35 points.
This is the ninth straight season Mill Creek has made the playoffs and 12th time in the program's 19-year history.  The Hawks are seeking their second straight quarterfinal berth, third in four years and seventh all time.
This will be the second-ever meeting between the Hawks and Warriors with North Cobb posting a 42-35 quarterfinal win over Mill Creek back in 2012.  In that game, now Warriors wide receivers coach and then sophomore quarterback and coach's son Tyler Queen led North Cobb to the historic victory. 
The Warriors would get knocked out in the semifinals the following week but Coach Shane Queen credits that victory as the one that put his program on the map and on the road to its current success.
So that's the game preview. Now here's a look at the Top Prospects to Watch.
Mill Creek Hawks – Head Coach Josh Lovelady 36-12 in his fourth season.  The Hawks roster includes one 5-Star, one 4-Star, one 3-Star, and 13 total players who have college offers.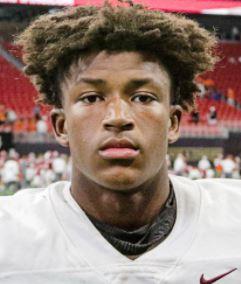 Caleb Downs – 6-2, 195, Senior - 5-Star and On3 Recruiting No. 1 Safety, No. 1 Prospect in Georgia, and No. 11 Overall National Prospect in Class of 2023 – Committed to Alabama over 33 other offers including Georgia, Ohio State, Notre Dame and North Carolina. Downs will play in the All-American Bowl in San Antonio.  He is seen as a college ready player right now and Coach Lovelady called him a "generational talent."  He has scored 17 TD on offense this season and holds the Mill Creek career interception record with 18.
Jamal Anderson – 6-4, 201, Senior – 4-Star and On3 Recruiting No. 9 LB in the Class of 2023 – Committed to Clemson over 33 other offers including finalists USC, Utah (his dad's alma mater) and Michigan State. Anderson has 54 tackles on the season with 5 TFL and 2 QB sacks and 163 tackles for his career with 14 TFL and 6 sacks. National Semifinalist for the HS Butkus Award. He will also play some at tight end and has 9 catches on the season for 120 yards and a TD. And yes…Original Dirty Bird Jamal Anderson is his dad.
Makhail Wood – 6-0, 150, Senior – ESPN 3-Star WR – Committed to Eastern Michigan over 4 other offers including Georgia Southern. Hawks leading receiver with 38 catches for 717 yards and 8 TD.  Averaging 65 yards receiving per game.  Career 61 receptions for over 1,000 yards and 13 Total TD.
Cole Mullins – 6-5, 231, Junior LB – Offered by Wake Forest, Duke, and Vanderbilt – Starting MLB with 39 tackles, 6 sacks and starts at TE – Missed several weeks with a knee injury suffered in the Buford loss but back healthy and is also a top baseball prospect.
Aidan Banfield – 6-5, 277, Junior OG - Five offers including Georgia Tech and Vanderbilt – Hawks best OL
Brendan Jenkins – 6-2, 196, Senior WR – 11 offers including Mercer, Lehigh and Middle Tennessee – Son of former Falcons WR Michael Jenkins – 32 catches, 6 TD
Jacob Ulrich – 6-6, 190, Junior K/P – Offered by Stetson – Kicked a 56-yard FG in Corky Kell Classic – 9-16 FGA – 42-yard punt average
Hayden Clark – 6-1, 205, Senior QB – Offered by Reinhardt and Washburn – Phenomenal 21-to-1 TD to INT ratio
Cooper Bothwell – 6-4, 277, Senior OL – Offered by Stetson and Marist
Bryce Bothwell – 6-2, 282, Senior DL – Offered by Stetson and Marist
Nic Denick – 6-1, 225, Senior DE – Offered by Stetson
Nick Maxey – 6-4, 210, Senior DE – Committed to North Greenville
Khai Green – 5-10, 210, Senior DE – Committed to NAIA Northwestern-St. Paul
North Cobb Warriors – Head Coach Shane Queen 126-66 in 17th season. All-time winningest coach in Warriors history.  23rd season overall 161-94. North Cobb roster has three 4-Stars, two 3-Stars and eight total players with scholarship offers.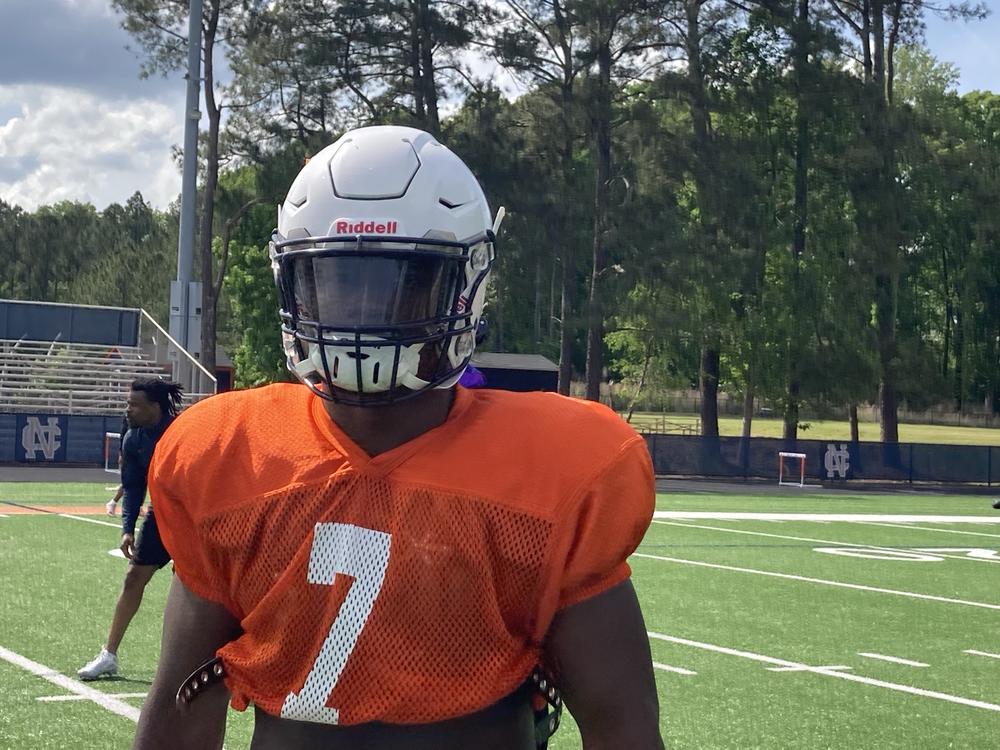 Ben Hall – 5-10, 225, Senior – Rivals 4 Star and No. 18 RB – Committed to Michigan over 20 other offers including South Carolina – One of two RB in the Wolverines Class of 2023 - The No. 3 rated senior RB in the state and part of what might be the best RB room in 7A outside of Buford.  Shares carries with two other talent RB – As a result his numbers might now wow you with 571 rushing yards this season and 8 TD, but he is one of the most punishing RB in Georgia.
David Eziomume – 6-0, 190, Junior – Rivals 4-Star and No. 5 ATH – 19 Offers including Georgia, Georgia Tech and Clemson. He is the only player that the Tigers have offered for 2024 projected to play RB and being recruited by former Clemson RB great and Heisman Trophy candidate C.J. Spiller.  Another one of the Warriors great RBs and a player Coach Queen calls perhaps the MVP of their offense.  Versatile to the point that North Cobb typically plays him at the Y-WR position, but he'll get his share of carries at the traditional RB spot as well.  414 yds rushing - 9.3 avg with 5 TD.  Also has 25 catches for 3 TD.
Robert Grigsby – 6-3, 310, Senior – 247 Sports 3-Star IOL – Committed to North Carolina over 29 other offers including Vanderbilt and NC State. "Big Grizz" is one of three, three-year starters on the right-side of the Warriors OL and one of the team leaders. While the North Cobb RBs are great – so is this OL.  
Malachi Singleton – 6-1, 225, Senior – Rivals 4-Star and No. 5 Dual Threat QB – Committed to Arkansas over 15 other offers including Georgia and UCF – Unfortunately a "cheerleader" tonight – missed most of season with broken bone in his foot.
Quentin Ajiero – 5-10, 175, Senior – Rivals 3-Star CB – Committed to Duke over 28 other offers including Wisconsin and Georgia Tech – Missed all non-region schedule with shoulder injury.
Marselle Felton – 6-5, 275, Senior OT – 10 Offers including Missouri, Georgia Southern and Western Kentucky
Dylan Mann – 6-2, 265, Senior DT – 3 offers including Maryland, Arizona State and Grambling State
Jordan Lonas – 6-0, 160, Senior SAF - Offered by Liberty, Middle Tennessee, Eastern Illinois
So, it all starts with the Two-Time Gabby Award-winning and Emmy-nominated Recruiting 2022 at 7 p.m. followed by the Football Fridays in Georgia Game of the Week as the North Cobb Warriors host the Mill Creek Hawks at 7:30 p.m. Join Wayne Gandy, Jon Nelson, Hannah Goodin, Niki Noto Palmer and me for the call. 
And remember, when it's over, it isn't over!  Stick around for the GPB Sports Postgame Show for all the big second-round playoff scores, and interviews with the top coaches around the state.  Plus, Bracketology continues.  That means Jon will be filling in the playoff brackets and getting you ready for the quarterfinals next Friday Night.
Now if somehow, you miss it live, don't worry, we replay the entire Football Fridays in Georgia at the end of our live show on GPB. You can also watch live on the GPB Sports app or our Twitter or Facebook page from wherever you are or watch it on demand anytime at GPB.org. 
Enjoy your Football Friday in Georgia!
Secondary Content
Bottom Content