Section Branding
Header Content
Recruiting 2022: Blessed Trinity at North Forsyth
Primary Content
Join us tonight for Week 13 of our 2022 GPB Sports Football Fridays in Georgia schedule and the First Round of the GHSA 6A playoffs as the Blessed Trinity Titans (7-3) take on the North Forsyth Raiders (7-3) at Raider Valley in the Coal Mountain community of Cumming.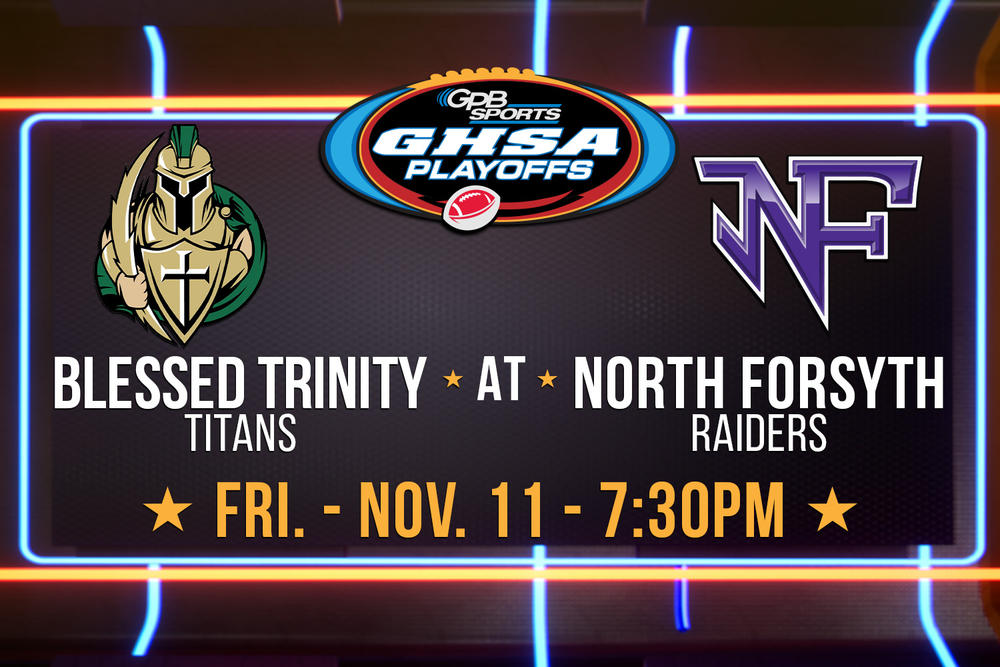 Coverage starts at 7 p.m. ET with "Recruiting 2022" including the "Top Prospects to Watch," followed by the Game of the Week at 7:30.
The winner of this ballgame will advance to the second round to either play at No. 1 ranked Langston Hughes or host River Ridge next Friday night.
North Forsyth enters the game as the No. 2 Seed out of Region 8-6A going 5-1 in region play.  The Raiders rebounded from a 2-2 start to win five of their last six games but missed a chance at the program's first region championship since 2001 and just second in the program's 29-year history with a 34-21 loss at Gainesville two Friday nights ago.
North Forsyth had a 21-13 lead in the fourth quarter but could not keep the fifth-ranked Red Elephants from scoring three late touchdowns to pull out the win.  
This will be the first playoff appearance for the Raiders since 2019 after missing the last two seasons with 6-4 records and just the 11th all-time.  North Forsyth has won a first-round playoff game just five times including the 2001 season when the Raiders went 12-2 making a run to the state semifinals. 
The Raiders are led by Coach Robert Craft who is 38-35 in his seventh season and is 1-2 with the program in two previous playoff appearances.  He led North Florida Christian to a 2013 state championship in his previous head coaching job in Tallahassee.
Blessed Trinity enters the game as the No. 3 seed out of Region 7-6A finishing 4-2 with losses to No. 2 Roswell in late September and then Alpharetta two weeks ago that knocked the Titans out of a chance to host a first-round playoff game.  The Titans played four Top-10 ranked opponents during the regular season going 2-2 against those teams with wins over 5A No. 7 Calhoun and 2A No. 10 Eagle's Landing Christian and losses to 6A teams No. 8 Marist and No. 2 Roswell.
Blessed Trinity has a great recent playoff tradition with three straight 4A championships from 2017-19 under now-Fellowship Christian Coach Tim McFarlin.  The Titans reached the 5A semifinals last season under current second-year Coach Tom Hall (16-8), but this is the first season B.T. has played in 6A.  Hall was the offensive coordinator for McFarlin's 2015 state finals team and 2017 state championship.
Hall moved to Boynton Beach, Fla., and was the OC at Somerset Canyons Academy before getting a call from his former coaching colleague and Blessed Trinity AD Ricky Turner asking him to come back and replace McFarlin who left for nearby FCS. 
This will be the first-ever meeting between the Titans and the Raiders. 
So that's the game preview. Now here's a look at the Top Prospects to Watch.
Blessed Trinity Titans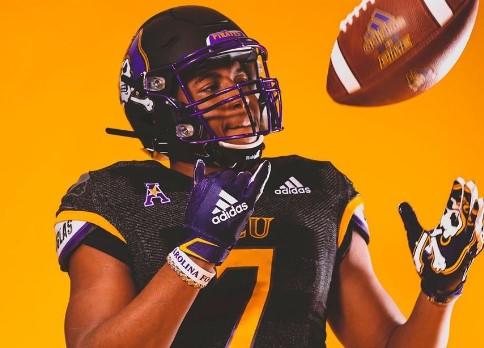 Kieran Davis - 6-2, 240, Senior – 247 Sports Edge (DE/OLB) – Committed to East Carolina over 10 other offers including Coastal Carolina.  Davis is also the Titans top running back. Imagine that at 240 pounds?  He has rushed for 1,042 yards on 157 carries with 12 TD averaging 6.6 yards per carry and 104 yards per game.  Coach Tom Hall calls him "their Derrick Henry." Davis has played less on the defensive side of the ball this season because of his offensive duties although defense is where he will play for the Pirates. He has 22 tackles with 3 TFL.  Playing full-time defense last season, he had 77 total tackles with 9 sacks and 19 TFL. 
Mavrick Torrico - 6-0, 215, Senior LB – Committed to Princeton over offers from Penn and Fordham.  What better name for a LB or a new ranch-hand character on the next season of "Yellowstone."  Torrico has a team-leading 78 total tackles this season with 3 sacks, 8 TFL and a team-leading 3 INT.  For his career, 293 tackles with 7.5 sacks, 18 TFL and 5 picks.  Coach Hall says he would be the poster child for what a BT Football player looks like and plays like.
Cole Weaver – 6-5, 200, Senior WR – Committed to Northern Illinois – Really still developing in just his second varsity season after playing basketball – Could be TE next level – 34-661 yards receiving and 7 TD.
Skye Richardson – 6-5, 290, Senior OL – Committed to Air Force – Plays LG for the Titans
Nick Pearson – 6-4, 280, Senior OL – Offered just this past week by Maryland to go along with offers from Charlotte and Stetson – Lines up next to Richardson on BT Line
Deldrick Franklin – 5-11, 212, Senior MLB and No. 2 RB behind Davis – Offered by Stetson but has also taken visits to Tennessee State and Kennesaw State.  66 total tackles with a QB sack and 3 TFL.  33-218 yards rushing and 3 TD.
North Forsyth Raiders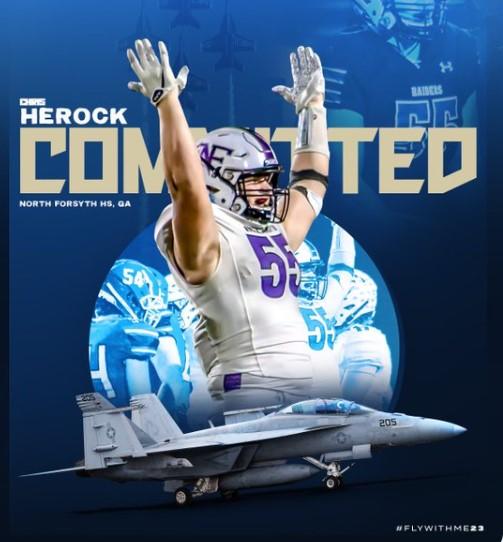 Chris Herock - 6-1, 285, Senior – On3 Recruiting 3-Star DT - Committed to Navy over offers from Georgia State and Stetson.  Grandson of former Atlanta Falcons Player Personnel Director Ken Herock who was the right-hand man for legendary Oakland Raiders owner Al Davis for many years and himself played in Super Bowl II.  Chris' dad Shaun is currently Personnel Advisor for the Las Vegas Raiders. How ironic that Chris plays the North Forsyth Raiders. That's just magical and he's got football in his blood.  Can play every position on the DL. Has 49 tackles, 6 sacks, 10 QB hurries, 11 TFL, 4 forced fumbles and 5 fumble recoveries.
Collin Miller - 6-2, 231, Senior – Rivals 2-Star LB - Committed to Air Force over an offer from Georgia State.  Another absolute animal for the Raiders on defense who also contributes on short yardage situations on offense.  Sacrificed personal stats to help the team in his senior season moving from LB to DL but is still tied for the team lead with 63 total tackles with 7 sacks, 5 TFL, 2 FF and 2 FR.  On offense has a team-leading 8 rushing TD on 45 carries and 172 yards.
Aidan Ruckh – 6-3, 215, Senior WR/TE          - Rebounded from broken ankle and now back in the starting lineup – Receiving interest from 7 Schools including Georgia State, Georgia Southern, UAB and Middle Tennessee
Logan Curry – 6-2, 188, Senior ATH – 52 catches for 703 yards and 9 TD – Receiving interest from Tennessee Tech, Wofford, Samford and West Georgia.
West Roberts – 6-3, 181, Senior QB – Coach Craft says he's playing the best football of his career going into the playoffs – 158-261 passing for 60.5% competition rate. 2,116 yards with 22 TD and 12 INT.- Receiving interest from Ball State and Furman where is brother Harris was a starting QB
Mason Lawson – 5-11, 195, Senior RB/LB – 52 tackles, 3 sacks, 6 QB hurries, 9 TFL, 1 INT - Receiving Interest from 3 Schools including Reinhardt
J.D Galligan – 6-2, 184, Senior WR/DB – 57 tackles, 1 QB sack, 5 TFL, 8 PBU – Receiving Interest from 3 Schools including West Georgia
Braden O'Shields – 5-10, 264, Junior DL/OL – Receiving interest from Kennesaw State, Mercer and Tennessee Tech
Dylan Villaroeul – 6-4, 270, Sophomore OL – Future Power 5 Prospect – Receiving interest from Ole Miss, Kentucky, Wake Forest, Florida State and Virginia Tech
So, it all starts with the Two-Time Gabby Award-winning and Emmy-nominated Recruiting 2022 at 7:00 p.m. followed by the Football Fridays in Georgia Game of the Week as the North Forsyth Raiders host the Blessed Trinity Titans in the First Round of the GHSA 6A Playoffs at 7:30 p.m. Join Wayne Gandy, Jon Nelson, Hannah Goodin, Autumn Johnson and me for the call. 
And remember, when it's over, it isn't over!  Stick around for the GPB Sports Postgame Show for all the big first-round playoff scores, and interviews with the top coaches around the state.  Plus, Bracketology continues.  That means Jon will be filling in the playoff brackets and getting you ready for the second round of the playoffs next Friday Night.
Now if somehow, you miss it live, don't worry, we replay the entire Football Fridays in Georgia at the end of our live show on GPB. You can also watch live on the GPB Sports app or our Twitter or Facebook page from wherever you are or watch it on demand anytime at GPB.org. 
Enjoy your Football Friday in Georgia!
Secondary Content
Bottom Content