Section Branding
Header Content
Higher-Stakes Competition at the GHSA Cheerleading State Championships
Primary Content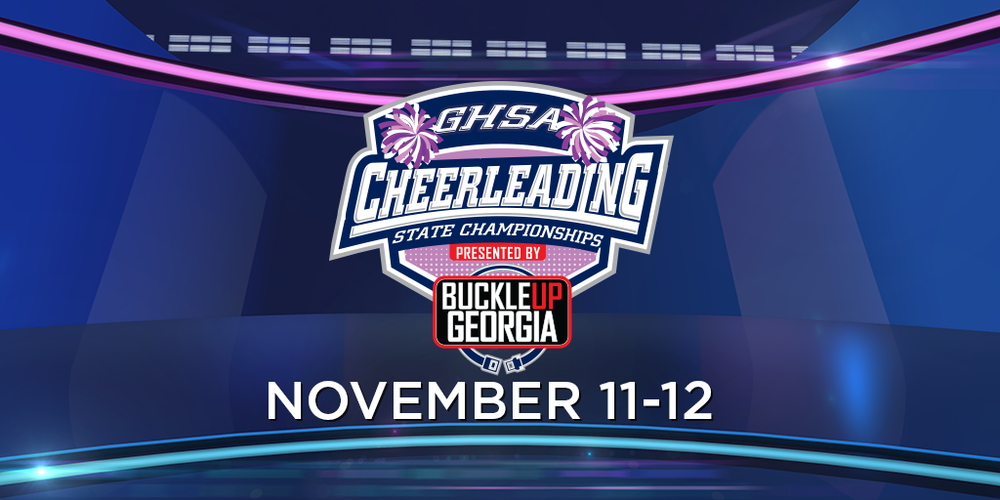 It's the most wonderful time of the year. Cool weather. Crisp leaves. The electricity of cheer in the air. Cheerleading, I mean.
Mid-November is peak cheer for Georgia's top cheerleading squads: those who have risen to the occasion all season, hitting skilled stunts, and sticking difficult landings to earn a spot at the annual GHSA Cheerleading State Championships.
This weekend, a whirlwind of 128 performances will play out on the big blue mat at the Macon Centreplex, now hosting its third consecutive cheerleading matchup. And for a variety of reasons, stakes feel higher this November.
What was formerly "A Public" and "A Private" since 2012, a two-title approach to the A classification, is now uniformly A. Having done away with "A Private," the GHSA went on to subdivide Class A into Division 1 and Division 2. But only one title will be on offer for A competitors at State, spelling one fewer champion and a total of only eight titles: A, 2A, 3A, 4A, 5A, 6A, 7A, and Coed.
Two teams in particular are battling more than formidable challengers and nerves this championship weekend. Both Ola High School in McDonough and Johnson County High School in Wrightsville have a cheerleader battling a profoundly harrowing threat: cancer.
Ola senior Abigail Tatum has set her vision on a state title, while simultaneously staring down a brain tumor. In March 2017, Abby was first diagnosed with diffuse astrocytoma of the right frontal lobe. After nearly five years of clear scans, Abby's tumor (curiously named "George") returned this summer, weeks before the start of the season. Abby hasn't missed a competition and intends to fight George all the way to the Macon Centreplex.
Johnson County cheerleader Madison Tuberville, also a senior, was recently diagnosed with ovarian cancer. Maddie still attends sideline and competition practice, even though she travels to away football games in her personal vehicle. What was once a fun and rough bus ride has become too painful to endure.
Abby and Maddie are losing hair and gaining bruises, unpleasant treatment side effects for such a physically demanding sport as cheerleading. Overriding their own fatigue and bodily discomfort has been paramount for both athletes, who are determined to win at State, and will command their bodies to oblige to make that happen.
The first session of competition sounds off Friday at 12 PM in Macon. Tickets to the two-day championship event can be purchased via GoFan. Remote viewers won't have to miss a moment of each two-and-a-half-minute routine. The GPB Sports crew will live stream all 128 performances of the 2022-2023 GHSA Cheerleading State Championships at GPB.org/cheer.
Tune in Sunday, November 20 at 8 AM and 5 PM to a one-hour highlight special hosted by Chelsea Tafoya and me, as we recap the highest-scoring performances and feature Abby and Maddie's triumphant stories.
Despite changes, obstacles, and setbacks, Georgia's finest squads know: nothing tastes better than the glory of a cheerleading title. And nothing feels better than the cold weight of a metal cup in your hands.
Georgia cheerleaders…you may take the floor!
2021-2022 Defending Champions
A Public: Gordon Lee
A Private: Mt. Paran Christian
2A: Bleckley County
3A: Dawson County
4A: Jefferson
5A: McIntosh
6A: Creekview
7A: South Forsyth
Coed: Northgate
Competition Schedule
FRIDAY, NOVEMBER 11
12 PM - 2A & 4A Finals
5 PM - 3A & 6A Finals
SATURDAY, NOVEMBER 12
10 AM - A & 5A Finals
3 PM - Coed & 7A Finals
Secondary Content
Bottom Content