Section Branding
Header Content
Recruiting 2022: North Gwinnett at Norcross
Primary Content
Join us tonight for Week 12 of our 2022 GPB Sports Football Friday in Georgia schedule and regular season finale as the North Gwinnett Bulldogs (7-2, 5-0) take on the tenth-ranked Norcross Blue Devils (7-2, 5-0) for the GHSA Region 7-7A championship at Norcross Stadium in Gwinnett County.
Coverage starts at 7:00 p.m. ET with "Recruiting 2022" including the "Top Prospects to Watch," followed by the Game of the Week at 7:30.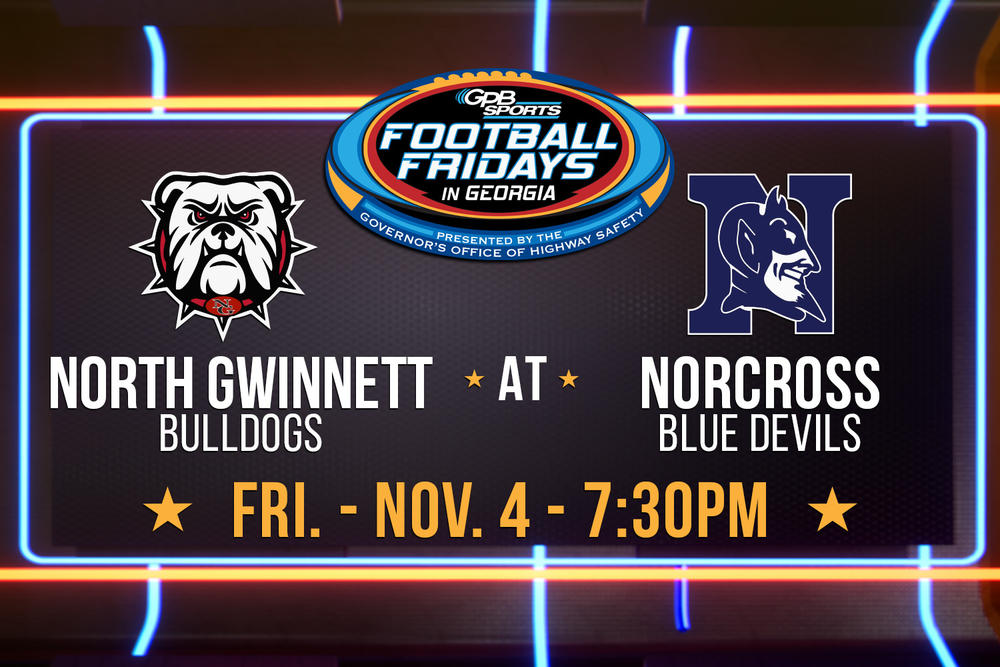 Norcross is seeking its first region championship since last winning in 2020 en route to a 13-1 record and state semifinal playoff finish. North Gwinnett is gunning for it first region title since last winning in 2019 which was the last of three straight starting with the Bulldogs 2017 state championship season in Bill Stewart's first season as head coach.
The Blue Devils have won seven region crowns in their 68-year history with six of those coming under head coach Keith Maloof. The Bulldogs have captured eight region championships in their 61-year history with all of them coming in the last 14 seasons dating back to 2009 and three under Coach Stewart.
Both teams enter the game on impressive winning streaks. Norcross has won seven straight since beginning the season 0-2 and have won those seven games by an average of 38 points. North Gwinnett has won five in a row since their deceptive score 48-21 home loss to then-No. 9 Parkview on GPB Sept. 9 starting the season 2-2. The Bulldogs have won their five games in the winning streak by an average of 30.6 points.
These teams have a history. This will be the 27th all-time meeting between the two since 1972 with Norcross leading the series 15-11 although North Gwinnett has won the last three. They have not played the last two seasons after meeting every season from 2003-2019 including the Blue Devils 31-14 win over the Bulldogs in the 2013 state championship game.
That state title was one of two for Coach Maloof who is 214-94 in 27 seasons as a head coach and tied for ninth in career wins with Ed Dudley among active coaches in the state. Maloof is 192-83 in 24 seasons with Norcross and trails legendary Parkview Coach Cecil Flowe by just five victories as Gwinnett County's all-time wins leader.
He is part of perhaps the "first family" of coaches in the state. His late father George won 168 games and the 1968 state championship at St. Pius. His brother Kevin won 175 games with his greatest success at Dacula. His son Tyler is a first-year head coach at Lanier. All totaled the Maloof family is 561-287-13 with three state titles. I had the honor of being a part of the Georgia High School Football Hall of Fame induction ceremonies for Coach George Maloof (the player) with Keith and Kevin accepting the honor on behalf of their dad.
So that's the game preview. Should be a fun one. Now here's a look at the Top Prospects to Watch.
Norcross Blue Devils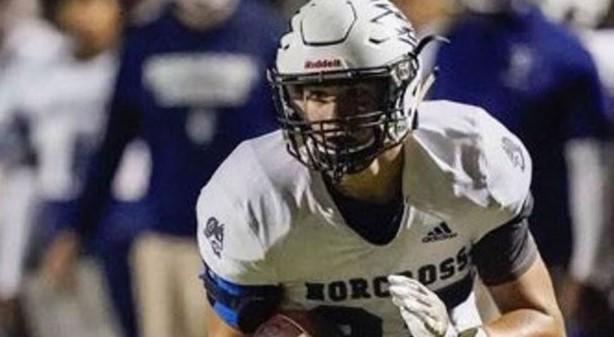 Lawson Luckie – 6-4, 240, Senior – Consensus 4-Star and 247 Sports No. 2 TE – Committed to Georgia over 31 other offers including Alabama. He has 111 career catches for 1,271 yards and 16 total touchdowns. He'll be in Athens tomorrow for the big game against Tennessee and has been committed to Georgia since January but some comments to 247 Sports this week raised some eyebrows. Luckie said "I would say Georgia is in the lead, but Alabama has a real empty TE room and that's what I'm taking into consideration." Luckie was at Bama two weekends ago for the Mississippi State game and said he was thinking about going back for the Iron Bowl. He's taken official visits to both Georgia and Alabama.
Nakai Poole – 6-1, 202, Senior – 247 Sports 3-Star WR – Committed to Mississippi State over 19 other offers including Louisville and Michigan State. He was the first WR commit for the Bulldogs in their 2023 Class. He's a big WR and can make tough catches in traffic. Poole has 77 career receptions for over 1300 yards and 18 TD. And like I said earlier he's a physical WR, so strong enough to use him at RB which the Blue Devils have done this season, scoring 4 rushing TD.
Zion Taylor – 5-11, 192, Senior – 247 Sports 3-Star WR – Committed to Georgia Tech over 21 other offers including Utah, Wake Forest, Pitt and Duke. Despite the coaching change, Taylor appears to be solid with the Yellow Jackets. This is a guy that can take the top off. Taylor committed to the Jackets back in June after taking his OV. Taylor has 36 catches for 589 yards and 6 TD in his first season with Norcross after transferring from Parkview. He has 99 catches in his career for over 1500 yards and 13 TD.
Tywan Royal – 6-1, 180, Senior CB – Committed to North Dakota State over 3 other offers including Pitt
Devin Hunter – 6-0, 175, Senior SAF – Committed to Tennessee Tech over 6 other offers including Jackson State and Eastern Michigan
Jackson Bussey – 6-3, 233, Junior Edge – 4 Offers including Georgia Tech
Miada Jones – 6-2, 287, Senior OL – 11 Offers including Stetson, Morgan State and Alabama State
Sha'Kwan McKnight – 5-9, 275, Senior DT – 9 Offers including Morehouse, Reinhardt, Berry
Jonathan Mathis – 5-11, 180, Senior LB – Offered by Stetson and Morehouse.
North Gwinnett Bulldogs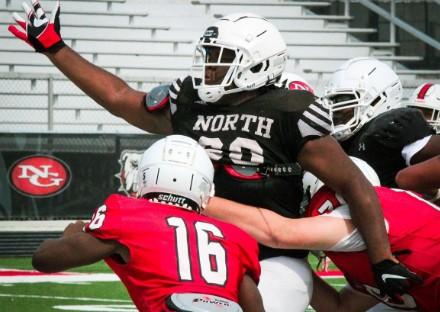 Kayden McDonald – 6-3, 337, Senior - 4-Star DL committed to Ohio State Monday. Picked the Buckeyes over his other four finalists Michigan, Oklahoma, Florida and Clemson. McDonald is rated by Rivals as the No. 8 DL in the country. He will join former North Gwinnett star CB Jordan Hancock in Columbus. He's the Bulldogs leading tackler and leads the team in TFL and QB sacks as well. He's also rushed for 6 TD and North Gwinnett will use him extensively in short yardage and red zone situations. He is a fun watch.
Grant Godfrey – 6-3, 215, Senior – 247 Sports 4-Star and No. 27 LB in the country – Committed to Kentucky over 27 other offers including Georgia Tech, Tennessee, Ole Miss, South Carolina, NC State, Wake Forest, Boston College and Kansas State. Grant's relationship with Wildcats DC Brad White reportedly played a big factor in his commitment to Kentucky. His dad Randall was an All-SEC LB at Georgia and played 12 seasons in the NFL and his brother RJ is a freshman forward with the Clemson basketball team.
Tyler Walton – 6-5, 230, Senior – 247 Sports 3-Star Edge Rusher – Committed to Wake Forest over 10 other offers including Boston College, Duke, Vandy, West Virginia and Memphis. We did not get to see him back in September because he was injured – one of the many players who was out for that game with Parkview. But he's healthy now and a big reason why the Bulldogs have won five straight. Despite missing significant time because of injury, Walton has 32 total tackles with 3 QB sacks and 9 TFL.
Jaden Brock – 6-4, 210, Junior DE – Offered by Vanderbilt and receiving interest from Wake Forest – He actually backs up Walton right now. Brock has 15 total tackles, 6 TFL, 5 QB hurries and 4 PBU with most of that coming when Walton was out with injury. Big upside and expected to be a major player for North Gwinnett in his senior season.
Ethan Washington – Senior QB – Committed to Army in the last couple weeks. Unfortunately hasn't been able to play for the Bulldogs this season because of a season-ending knee injury in the spring. But his skill set should be ideal for the Black Knights, and we wish him the very best at West Point.
Top Dawgs in the College Football Playoff Top Five - Not many programs in the nation can boast that they've got an alum at each of the schools in the Top Five of the first CFP Rankings, but North Gwinnett does:
CB Warren Burrell               #1 Tennessee
CB Jordan Hancock            #2 Ohio State
OL Warren Ericson              #3 Georgia
LB Barrett Carter                  #4 Clemson
CB D.J. Turner                     #5 Michigan
So, it all starts with the Gabby Award-winning and Emmy-nominated Recruiting 2022 at 7 p.m. followed by Football Fridays in Georgia as the Westlake Lions host the Crisp County Cougars at 7:30 p.m. Join Wayne Gandy, Jon Nelson, Hannah Goodin, Niki Noto Palmer and me for the call.
And remember, when it's over, it isn't over! Stick around for the GPB Sports Postgame Show for all the big scores, and interviews with the top coaches around the state. Plus it's Bracketology Night. That means Jon and Hannah will be filling in the playoff brackets and getting you ready for the postseason which starts next Friday Night.
Now if somehow, you miss it live, don't worry, we replay the entire Football Fridays in Georgia at the end of our live show on GPB. You can also watch live on the GPB Sports app or our Twitter or Facebook page from wherever you are or watch it on demand anytime at GPB.org. 
Enjoy your Football Friday in Georgia!
Secondary Content
Bottom Content