Section Branding
Header Content
Recruiting 2022: Carrollton at Westlake
Primary Content
Join us tonight for Week 10 of our 2022 GPB Sports Football Fridays in Georgia schedule as the third-ranked Carrollton Trojans (8-0, 2-0) take on the Westlake Lions (5-2, 1-0) in a GHSA Region 2-7A showdown at Westlake Stadium in College Park that could decide the region championship.
Coverage starts at 7 p.m. ET with "Recruiting 2022" including the "Top Prospects to Watch," followed by the Game of the Week at 7:30.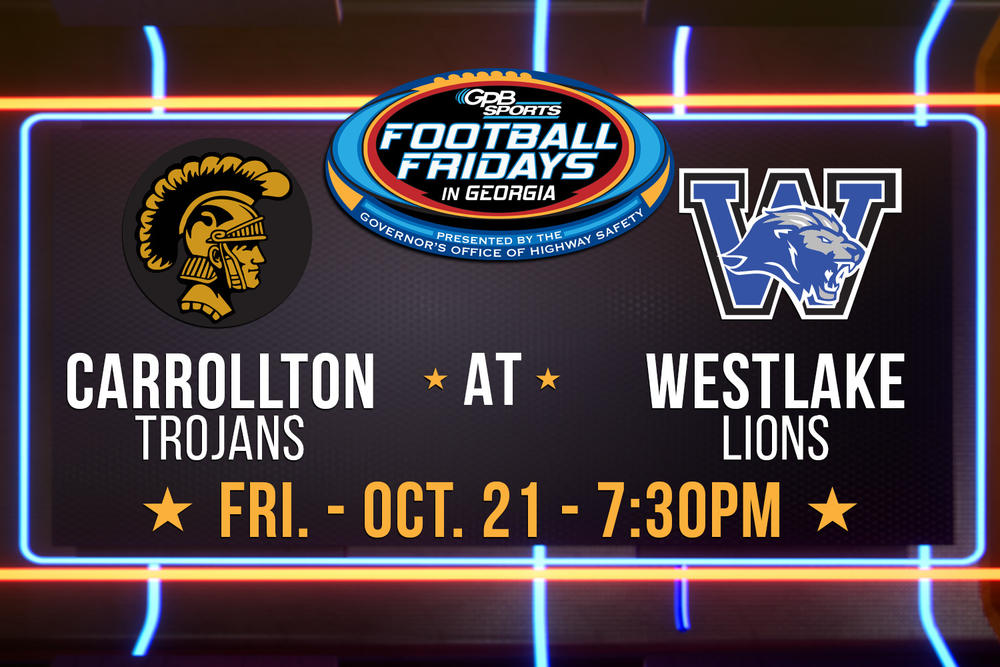 A Carrollton victory coupled with a Campbell (1-6) loss at Pebblebrook would clinch the Trojans 32nd all-time region title and No. 1 seed in the state playoffs which begins three weeks from tonight.  It would be the Trojans third region title in four years and first since the program moved to 7A this season.
A Westlake win would put the Lions in control of their own destiny with two games remaining as they seek their eighth region crown in the last nine seasons.
These two teams last met in the Class 6A quarterfinals last season with Carrollton scoring in the final minute of the game to beat Westlake 37-32 advancing to the semifinals where their season ended a week later with a 21-6 loss to eventual state champion Buford.  This will be the fourth all-time meeting with the other two won by the Trojans in the early 90s.
Carrollton has won their first eight games this season with Top 10 wins over 6A then-9th ranked South Paulding 28-21, 6A 5th-ranked Rome 23-6 and formerly ranked East Coweta 38-28.
Westlake has won four straight since starting the season 1-2 defeating previously-ranked and defending 7A champion Collins Hill during that streak 23-20.  The Lions beat Class 3A then-2nd ranked Crisp County 47-7 on GPB, and lost to No. 5 North Cobb 21-17 and AAA No. 1 Cedar Grove 30-20 in their 1-2 start
The Trojans are one of the most successful programs in Georgia history winning seven state titles, but none since 1998.  However Carrollton has advanced deep into the playoffs each of the last six seasons with five straight quarterfinal finishes until last season's semifinal season.
The Lions are known for producing NFL players with 12 alumni reaching the league most notably former Heisman Trophy winner and NFL MVP QB Cam Newton.  Westlake has never won a state crown in its 34-year history but did reach the semifinals in 2016 and 2020 and was 41 seconds away from advancing again in 2021 until the Trojans beat them.
Both programs are led by successful high school coaches who left for college jobs only to return to the high school ranks in their current positions.  Joey King is 20-2 in his second season with Carrollton and is 87-6 in his seventh high school season. 
King led Cartersville to two state championships in 2015 and 2016 with current Jacksonville Jaguars QB Trevor Lawrence taking the snaps and reached the 2018 state final as well.  After that season he was an assistant coach at Coastal Carolina in 2019 and USF in 2020 before being hired by the Trojans in 2021.
Rico Zackery is in his first season at Westlake after working as an assistant coach at Kennesaw State.  He was 30-6 at Central Carrollton 2013-15 with one region championship and then after one year as the recruiting coordinator at his alma mater Georgia Southern, went 10-10 at Villa Rica 2017-18.  He has an overall record of 45-18 in his sixth high school season.
That's the game preview. Now here's a look at the Top Prospects to Watch.
Westlake Lions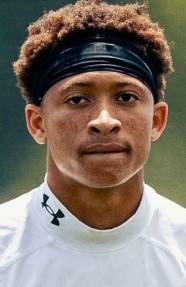 Avieon Terrell – 6-0, 170, Senior – Committed to Clemson over 21 other offers including Auburn – 247 Sports Composite 4-Star and No. 30 CB.  At Clemson he'll be following in the footsteps of his brother A.J. who is a starting CB for the Atlanta Falcons and former first round draft pick.  Avieon has 71 career tackles, 5 TFL and 3 INT.  On offense this season, seven catches and one TD.  On special teams one kickoff return TD and a 65-yard punt return TD against Crisp County in the GPB Game of the Week back in August. 
Christian Peterson – 5-11, 185, Junior – 15 Offers including Ole Miss, Mississippi State and UCF – Rivals 3-Star and No. 22 SAF in the Class of 2024.  Peterson has taken two unofficial visits to see the Rebels and says he will go again a couple of weeks from now when Ole Miss hosts Alabama.  He told 247 Sports that the Rebels are definitely in the lead right now followed by the Bulldogs and Knights.
R.J. Johnson – 6-2, 200, Senior – Committed to Toledo over 8 other offers including Georgia Southern – Rivals 2-Star QB.  R.J. has completed 65% of his passes this season for nearly 1100 yards, 11 TD and 5 INT.  A starter since his freshman season, Johnson enters tonight's game 55 yards shy of 8,000 for his career with 68 all-time TD passes.  Also a threat with his legs although he has not run that much this season, Johnson has nearly 600 career rushing yards and 12 TD.
Juan Gaston – 6-8, 348, Sophomore OL – 13 Offers including Georgia Tech and Tennessee – Rivals 2025 4-Star OT.  Gaston was on Rocky Top last weekend for the Vols historic win over Alabama and took in an Auburn game back in September.  Coach Zackery told us they were the first two college games that he had ever attended and they were "eye-opening experiences" for the young man. His dad played hoops at Georgia Tech.
Rae'Mon Mosby – 6-0, 175, Junior CB – 11 Offers including North Carolina, Ole Miss and Georgia Tech – On3 Recruiting 3-star CB - Told reporters that the Tar Heels are No. 1 with him.
Ahmad Johnson – 6-1, 210, Senior LB – 5 Offers including East Carolina, Middle Tennessee and Toledo
Jabari Jones – 5-9, 170, Sophomore WR – 4 Offers including Purdue, Duke and Boston College
Kendall Farmer – 6-2, 285, Junior DT – 3 offers including UAB
Travis Smith – 6-3, 180, Sophomore WR – 4 offers including Utah, Boston College and Duke
Carrollton Trojans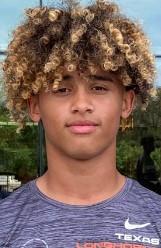 JuJu Lewis – 6-1, 175, Freshman – 20 Offers including Georgia, Alabama, Florida State, Texas A&M, Florida and Georgia Tech.  JuJu has thrown for close to 2200 yards and 30 TD and is going to be a name you hear a lot over the next three years.  Lewis will reportedly be at Clemson Saturday for the Tigers' ACC Showdown with Syracuse.  He took an unofficial visit to Texas a couple of weeks ago to watch the Longhorns beat West Virginia. While Lewis is distinctly different from the aforementioned Lawrence, King says they are both similar in their intelligence, poise, composure and accuracy.
Caleb Odom – 6-5, 205, Junior – On3 Recruiting 4-Star and No. 5 TE – 15 offers including Ole Miss, Vandy and Tennessee.  Five catches for 94 yards and a TD in last week's 42-12 rout of Pebblebrook.  For the season, Odom has 30 receptions for 456 yards and seven TD.  He will be at Louisville Saturday night to watch the Cardinals take on Pitt.  He took an unofficial to Clemson a couple weeks ago for the NC State game.  The Trojans use him at WR instead of TE.  Reasonable comparable is former Westlake star Leo Blackburn who is now at Georgia Tech.
Takare Lipscomb – 5-11, 175, Senior – 247 Sports Composite 3-Star WR – Committed to Arkansas State over 10 other offers including Pitt.  26 catches for 476 yards and 6 TD this season and for his career 80 receptions, over 1300 yards and 17 total TD.  Had 100-yard game last week in the Trojans 30-point win over the Falcons with five catches and a TD.
Bryce Hicks – 5-11, 175, Junior – Four offers - Coastal Carolina, Liberty, Bowling Green and Eastern Michigan.  854 yards rushing on 128 carries for an average of 107 ypg and 6.7 yards per carry with 10 TD.  He's the No. 10 rushing leader in 7A.  Also big in the passing game with a team-leading 39 catches for 380 yards and another five TD.  He had 201 yards of offense including the game-winning 33-yard TD catch with 41 seconds remaining last year as a sophomore in Carrollton's five-point playoff win over Westlake.
So, it all starts with the Gabby Award-winning and Emmy-nominated Recruiting 2022 at 7 p.m. followed by Football Fridays in Georgia as the Westlake Lions host the Crisp County Cougars at 7:30 p.m. Join Wayne Gandy, Jon Nelson, Hannah Goodin, Wiley Ballard and me for the call. And remember, when it's over, it isn't over! Stick around for the already-famous GPB Sports Postgame Show for all the big scores, and interviews with the top coaches around the state.
Now if somehow, you miss it live, don't worry, we replay the entire Football Fridays in Georgia at the end of our live show on GPB. You can also watch live on the GPB Sports app or our Twitter or Facebook page from wherever you are or watch it on demand anytime at GPB.org.
Enjoy your Football Friday in Georgia!
Secondary Content
Bottom Content