Section Branding
Header Content
Recruiting 2022: Calhoun at Cartersville
Primary Content
Join us tonight for Week 7 of our 2022 GPB Sports Football Fridays in Georgia schedule as 2021 5A state finalist and No. 8-ranked Calhoun Yellow Jackets (3-2) take on 2020 5A state finalist and No. 1 Cartersville Purple Hurricanes (5-0) at Weinman Stadium in Bartow County.
Coverage starts at 7 p.m. ET with "Recruiting 2022" including the "Top Prospects to Watch," followed by the Game of the Week at 7:30. It's ironic that this week's game involves the Hurricanes since our weekly schedule has been moved up 24 hours out of an abundance of caution due to Hurricane Ian currently impacting Florida.
The recruiting show and game will stream live at GPB.org. The game will also be available on the GPB Sports app, Facebook, Twitter, and Twitch. If you miss it tonight or just want to see it again, all of it will air in its usual time slots on Friday on GPB-TV.
These are arguably the two best programs north of Atlanta in state history. Both Cartersville and Calhoun have won four state championships and 23 region titles. Both have reached the state finals each of the last two seasons with the Purple Hurricanes in 2020 and the Yellow Jackets in 2021.
Two of Cartersville's four state crowns and four of it's six all-time state finals appearances have come in the last seven years with the two state championships coming with current NFL star QB Trevor Lawrence taking the snaps.
Two of Calhoun's four state championships and three of its 11 all-time state finals berths have come in the last eight years.
This will be the Region 7-5A opener for these two teams with the winner of tonight's game becoming the overwhelming favorite to win the title here in 2022. Calhoun holds the all-time state record with a 119-game region winning streak with 18 straight region championships spanning 2001-2018 although the Yellow Jackets have not won one since the retirement of legendary coach Hal Lamb and the bump-up in classifications to 5A.
Cartersville has won ten straight region championships and the Canes' 62-game region win streak is the longest active streak in the state. The Purple Hurricanes have not lost a region game since 2011.
Under fourth-year head coach Conor Foster, the 2022 Purple Hurricanes have had only one game decided by a TD or less and that was a 28-20 win over Allatoona in which freshman QB Nate Russell came off the bench to rally his team from a 20-0 deficit with four touchdown passes. Russell will be one of the top QBs in the state in the coming years. The Canes have won their five games by an average of 31 points shutting out three opponents.
Returning only five starters and losing three cornerstone players in WR/CB Cole Speer (now at Georgia), WR/CB Quin Smith (Air Force) and RB/SAF Gage Leonard (Navy) off last year's 2021 state finalist team, Coach Clay Stephenson's Calhoun team has lost two of its first five games for the first time since 2016. Those two losses came to 6A No. 8 Blessed Trinity and 4A No. 2 Cedartown with two of their three wins coming in one-score games and all three wins on the road.
This will be the 39th all-time meeting dating back to 1926 with Cartersville leading the series 31-6-1 with four straight wins. This will be the third straight season these two teams have met with the Purple Hurricanes winning 31-14 in 2020 and 21-14 last year on GPB. The Yellow Jackets last win in the series came five meetings ago 38-10 in 2009.
That's the game preview, now let's take a look at the Top Prospects to Watch:
Cartersville Purple Hurricanes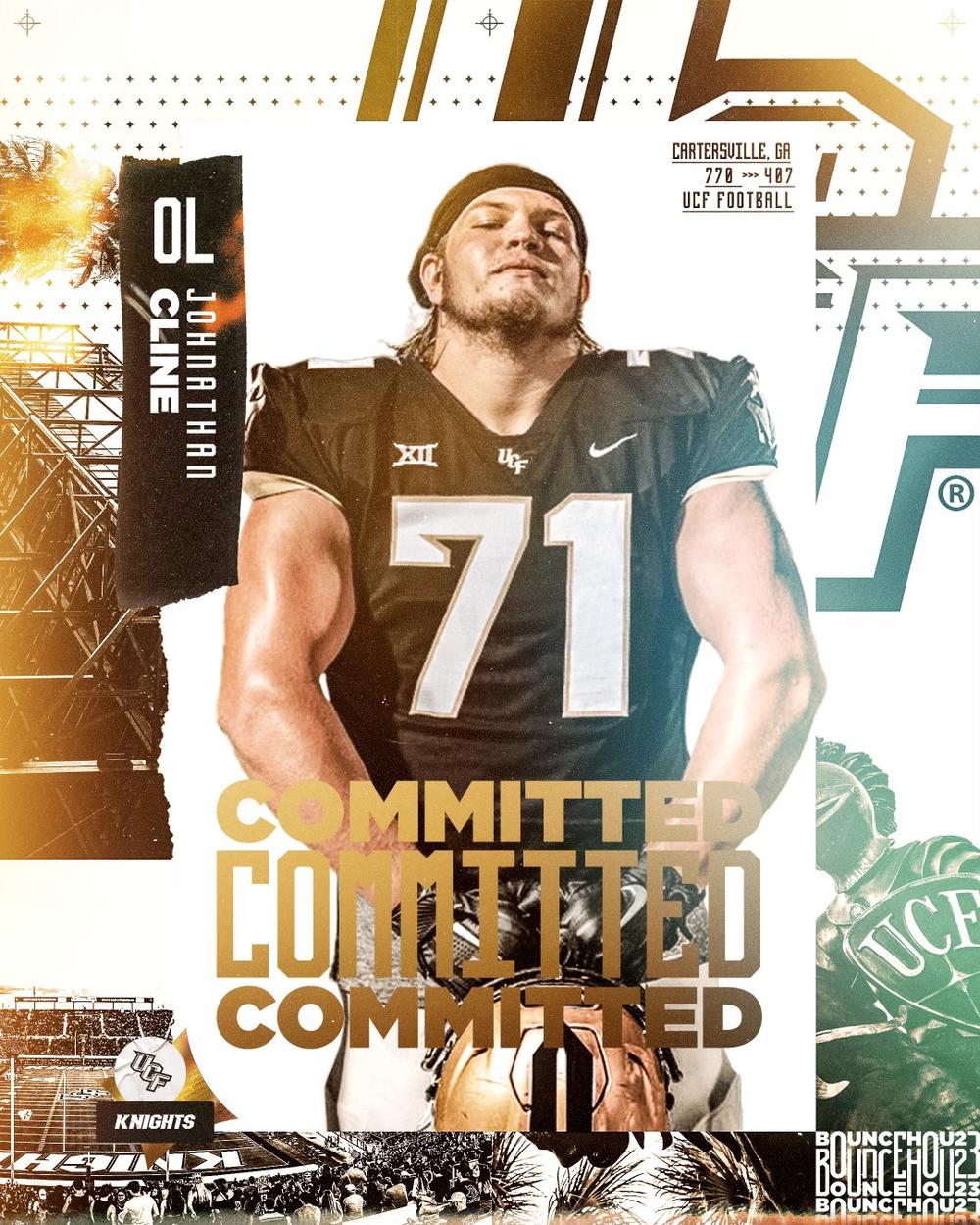 3-Star IOL Johnathan Cline - 6-4, 295, Senior but plays LT for the Purple Hurricanes. Committed to UCF over 32 other offers including Miami, Memphis and East Carolina. The Knights were the first team to offer Cline a year ago and he is one of three players from Georgia to commit to Central Florida's 2023 Class. Cline took his official visit to UCF just last weekend to watch the Knights beat Georgia Tech. Coach Foster calls Cline a "good, ol' country boy who is the team's leader up front, in the film room and in the weight room."
3-Star OT Malachi Tolliver - 6-6, 290, Junior – 17 offers including Tennessee and South Carolina. Tolliver camped at U-T this summer and was offered by the Vols earlier this month. In the past month he has taken unofficial visits to see the Gamecocks, Georgia, Auburn and East Carolina. He's in his first season starting for the Canes lining up at RT. Benches 370, cleans 255 and squats 430. Tolliver's ceiling perhaps is even higher than Cline and Foster says, "he still has some baby giraffe in him," as he grows into his body.
Safety Kace Adams – 6-0, 180, Senior - Second-year starter with offers from Marist, Stetson, and Anderson. Foster says Adams "really sets the tone for us. Thumper. And keeps big plays to seven yards instead of letting them pop." Thought to project as nickel back at the next level.
OLB Myles Forristall – 6-1, 213, Senior – Second-year starter. Coach Foster's "Make That Kid an Offer" nominee. Team-leading 24 total tackles, 4 TFL and 3 QB Sacks. Older brother Miller starred with the Canes during the Trevor Lawrence years, was a standout TE at Alabama and now rookie with the Cleveland Browns. Probably projects as ILB at the collegiate level.
Calhoun Yellow Jackets
4-Star TE Emaree Winston - 6-3, 230, Sophomore – Seven offers including Tennessee, Ohio State and N.C. State. Winston took an unofficial visit to Tennessee last weekend to watch the Vols beat Florida. Already a second-year starter for the Yellow Jackets despite only being a 10th-grader, Winston has 11 catches for 123 yards and 2 TD in Calhoun's first 5 games. Will be one of the nation's top TE over the next two seasons. Coach Stephenson says despite his growing recruiting status, "still doing all the little things" from extensive film study to picking up trash in the locker room.
3-Star RB Caden Williams - 5-11, 205, Junior – Five offers including Georgia Tech. Williams has rushed for 311 yards and scored 4 TD and caught a team-leading 18 passes for another 3 scores. Williams ran for over 800 yards last season as a sophomore on the State Finals team. He's also been offered by Boston College, FAU, Charlotte and Western Kentucky. Because teams are loading the box against Calhoun, Coach Stephenson says they've had to try and find other ways to get Williams the ball such as in the passing game.
OT Brody Balliew – 6-5, 275, Senior – Second-year starter committed to Furman. Coach Stephenson says Brody "did recruiting the right way. Found the school that best fit his needs for his academics and future."
WR/CB Cam Curtis – 5-11, 175, Senior – Coach Stephenson's "Make That Kid an Offer" nominee. 15 catches for 156 yards and a TD on offense. Stephenson says that Curtis is probably their best blocking WR who can also burn a team deep and is also the team's best CB and that team's throw away from him. Two-way starter.
So, it all starts with the Gabby Award-winning and Emmy-nominated Recruiting 2022 at 7 p.m. followed by Football Fridays in Georgia as the Westlake Lions host the Crisp County Cougars at 7:30 p.m. Join Wayne Gandy, Jon Nelson, Hannah Goodin, Wiley Ballard and me for the call. And remember, when it's over, it isn't over! Stick around for the already-famous GPB Sports Postgame Show for all the big scores, and interviews with the top coaches around the state.
Now if somehow, you miss it live, don't worry, we replay the entire Football Fridays in Georgia at the end of our live show on GPB. You can also watch live on the GPB Sports app or our Twitter or Facebook page from wherever you are or watch it on demand anytime at GPB.org.
Enjoy your Football Friday in Georgia!
Secondary Content
Bottom Content