Section Branding
Header Content
Raising the Standards at Loganville Results in 5-0 Start
Primary Content
If you go out to practice at Loganville, you can just feel that something different is happening. The Red Devils are going through their paces while music is bumping in the background. Confidence is in the air, as the team is enjoying a season the likes of which haven't been seen in these parts for some time.
Last Friday's 27-14 win over Winder-Barrow raised their record to 5-0 for the first time since 1990. This week Loganville faces Heritage Conyers and a win would bring the Red Devils to 6-0 for the first time since 1974.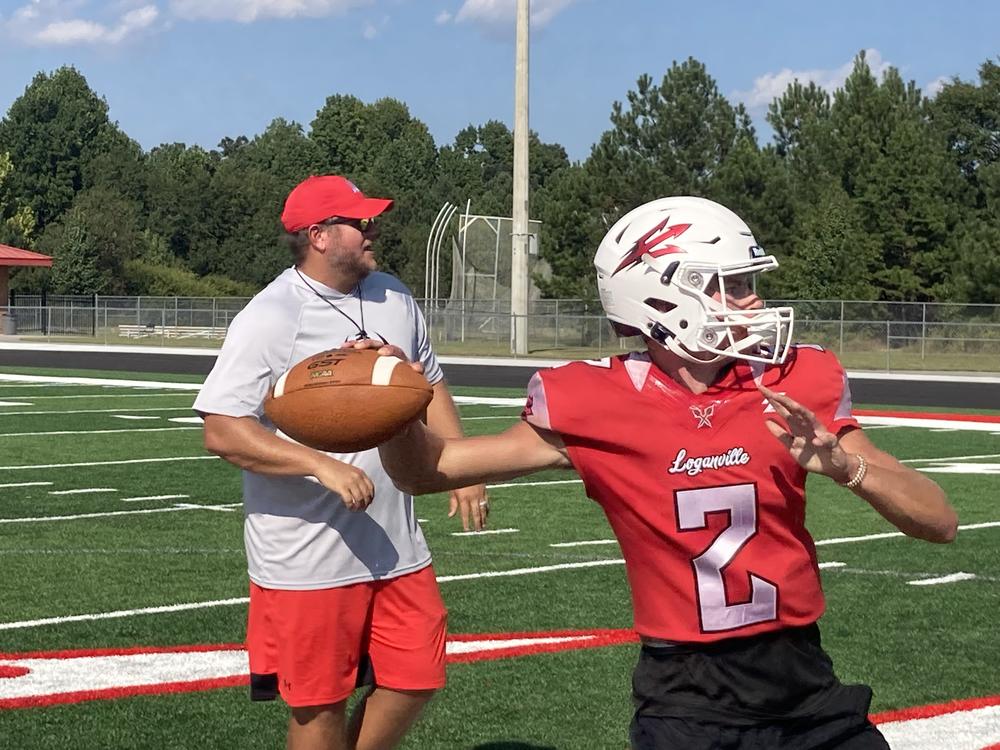 To say that it's an amazing season at Loganville would be a bit of an understatement when you think that this team produced one of the magical moments of the 2022 football season at any level. It happened in the season opener against neighboring rival Monroe Area in a game that went to overtime.
"Every year is a battle," says Loganville head coach Brad Smith. "We were up 17-0 and they came back to tie us 17 -17. Then we're pulling everything out of the closet trying to find something that works. I was the guy who was either brave or stupid to call the play where you flip it over your head"
You have probably seen it by now. Connor O'Neill lines up at tight end and takes the handoff. With his back to the play, O'Neill flings the ball over his head and it lands in the arms of Josh Rudder for the game-winning score. Rudder is currently sidelined by a foot injury, but he told me that the team practiced the play every day that week, and it worked once or twice. The miracle play went viral and was featured on ESPN Sportscenter.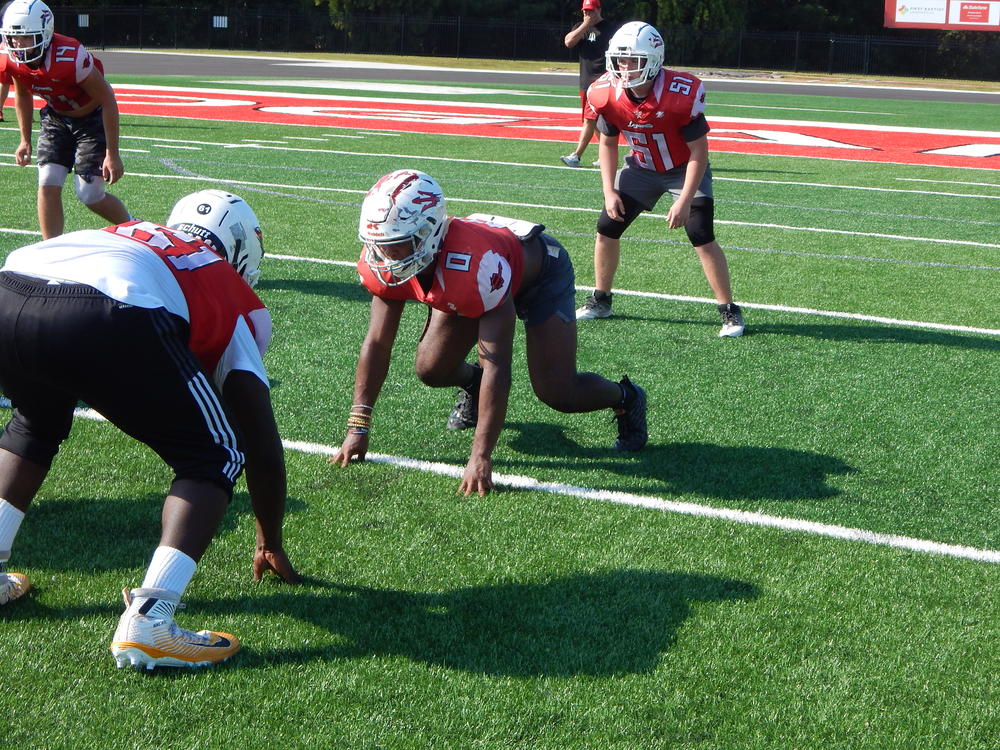 The play was part genius, part desperation and the coach has a rather unique name for it.
"Beverly Hills Cop, Banana in The Tailpipe," says Smith. "We hit that on them. It was a real big test for us and I was so proud of our kids. They never blinked. We kept fighting and found a way to win. It kind of propelled us into what has happened the rest of the year."
I wanted to ask some of the players if they had ever seen the movie "Beverly Hills Cop " or even know who Eddie Murphy is, but this crew was too busy going about its business. Smith moves about the practice field with a smile on his face that speaks volumes. The Loganville program is in a really good place. A far cry from the scenario that greeted him upon his arrival in 2020.
"I got the job in March and my first official day was April first," remembers Smith. "The world shut down the day after I got announced. That was March 12th and on March 13th they started shutting everything down. Then it was announced that we were not coming back to school due to COVID. It was a difficult time, we had to put together a staff and try and hold zoom meetings and establish relationships. That was the most difficult thing for me. I really wanted to get in there and start grinding with the kids and get to know them. We really didn't get to know them until June 1 when they allowed us back in. So, we never got to build that kind of team unity and bond. But we managed to make the playoffs that year and we've just been building since then."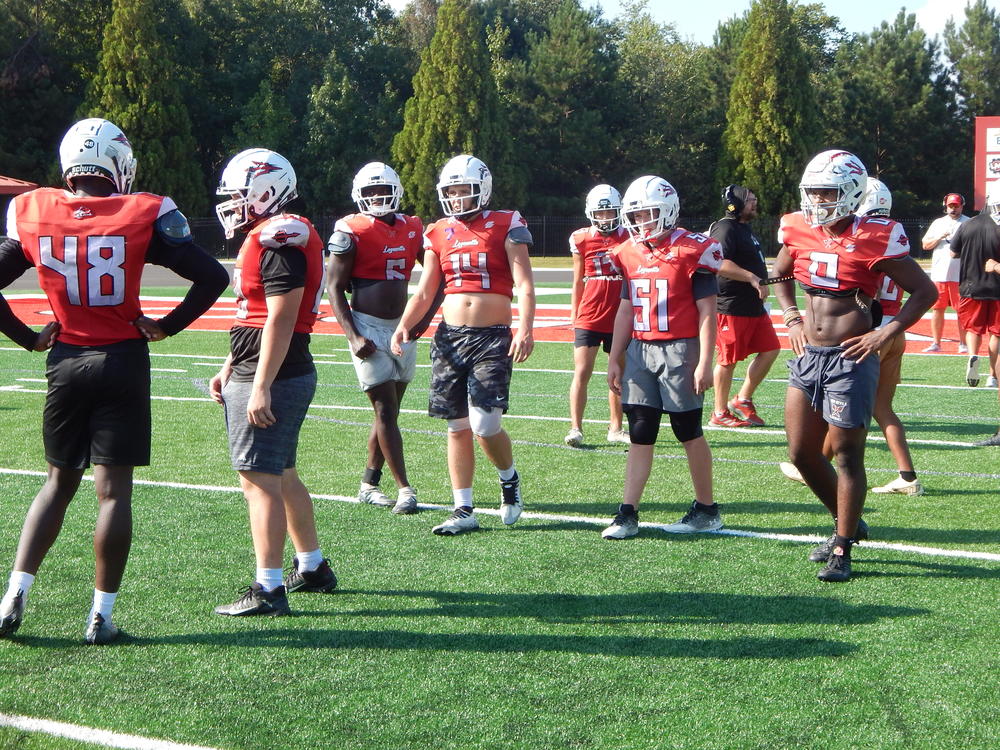 What has been built since that time is a program that has excited a school and community. Last week's game with Winder-Barrow was Homecoming and the stands were packed. Homecoming is a week that many coaches dread. It can mean disruptions and distractions, things that can bring changes to a team's weekly schedule. Smith views Homecoming week through different eyes.
"I'm 36 years old," says Smith. "I think I have a new-school approach on some things and how we do things. We have music at practice and try to make it something that people want to be a part of. I encourage our kids to participate in Homecoming stuff, to dress up and enjoy it. It gets the whole school involved. Our coaches dressed up. Now on Friday we had a pep rally and by then, I'm itching and ready to go. One of our players was named Homecoming King. We have a really mature football team and we handled it real well Friday night."
The 27-14 win over Winder-Barrow was great for the school and the team. It was the first Region 8-5A game, as well. But Friday night's win held a special meaning for the coach.
"It was good to get that first (region win) in the bag," says Smith. "A little sloppy in the second half, but we played well and responded well to adversity. I was against one of my good friends, coach Ed Dudley, who has done it so well for a very long time. So that was a big one for me personally because I knew they were going to be a well-prepared football team. Our kids went out and executed very well for us."
The Red Devils offense leans on the running game with an interior line led by junior guard Dylan Robbins. At 6-foot-1, 265 pounds he is a coach's delight.
"He started for us as a freshman," recalls Smith. "He is the strongest kid on our team. He is the meanest kid on our team and one of the fastest kids on our team. We have those GPS catapults, and he has clocked in at over 20 mph running. Then our backs, we have been like a two-headed monster back there with Mason Lawson and Solomon Leslie. Solomon has really been the bell cow for us. He's extremely patient and when he sees his crease, he will go through as fast as he can."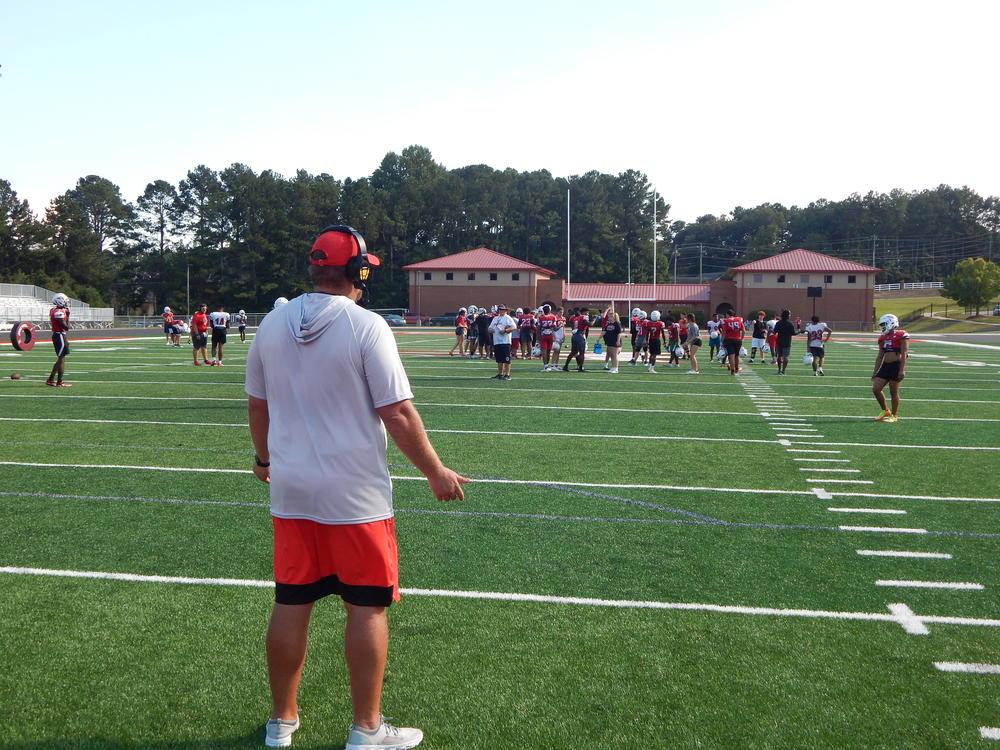 Last week Leslie rushed for 123 yards and a touchdown on offense and had an interception and caused two fumbles on defense. Senior quarterback Johnny Crowe gives the Red Devils the ability to move through the air. Crowe has thrown 10 touchdown passes and has rushed for two more scores.
 The defense seemed extra-focused at practice this week. Maybe it's the fact that the opponent scored 14 points last week. The Red Devil "D" has surrendered no points in three of Loganville's first five games. Discovery's points came on a fumble recovery scoop-and-score.
Smith has been a part of two of the state of Georgia's most successful high school football programs in Calhoun and Dalton. The organization and preparation he learned from Hall of Fame coach Ray Lamb and Clay Stephenson. It's a good thing, because since his arrival two years ago there has been growth.
"We finished the first season by playing St Pius with 53 kids," recalls Smith. "We are at 118 right now on our roster. We've multiplied. It's really neat that the kids want to be a part of it. We have recruited the hallways very well. Our basketball team had a great season and even before that Elite Eight run, there was a section blocked off for the football coaches. We all went and pushed our kids to be the student section. I think some of our basketball kids saw how much we cared. This year a bunch of them came out and they are some of the best players for us in football."
The players from the basketball team have shown up just in time for what is shaping up to be a very special season for Loganville football. Their region promises to test the Red Devils each week.
"Our region is difficult," says Smith. "We're talking about Winder-Barrow, Heritage, Clarke Central, Eastside, Flowery Branch and Jefferson. I think it got voted the toughest region in 5-A. We have a tough test week, coach (Ryan) Andrews, coming over from Griffin, and is doing a great job with Heritage. We don't take anybody lightly and we will continue to work our tails off."
Secondary Content
Bottom Content