Section Branding
Header Content
Recruiting 2022: Crisp County at Westlake
Primary Content
Join us Friday night for Week Two of our 2022 GPB Sports Football Friday in Georgia schedule. This should be a fun North-South matchup as the GHSA Class 3A sixth-ranked Crisp County Cougars travel north from Cordele to take on the 7A Westlake Lions in Atlanta.
Coverage starts at 7 p.m. ET with Recruiting 2022 including the "Top Prospects to Watch" in this game, followed by the Football Friday in Georgia Game of the Week at 7:30.
Westlake is 0-1 after a tough 21-17 season-opening loss to third-ranked North Cobb last Friday night. This is the Lions first season back in 7A after reaching the 6A semifinals in 2020 and quarterfinals in 2021. Westlake is led by first-year head coach Rico Zackery who returns to high school coaching after three seasons on Coach Brian Bohannon's staff at Kennesaw State.
Crisp County is 1-0 after beginning the season with a 17-6 win over nearby county rival Dooly County. The Cougars are also led by a first-year head coach in Lawrence Smith who was promoted from offensive coordinator to replace Miguel Patrick who left for a job on Coach Ryan Day's staff at Ohio State. Smith came to Crisp from Cedar Grove along with Patrick last season.
Westlake is known as one of the most talent-rich programs in the state and has had 11 former players reach the NFL, the seventh most in state history. The most famous Lions football alumnus is Cam Newton who won the 2010 Heisman Trophy while leading the Auburn Tigers to the BCS National Championship. Months later he became the No. 1 pick in the NFL Draft and in 2015 was NFL MVP leading the Carolina Panthers to Super Bowl 50.
Crisp County has been on an incredible run over the last six-plus seasons going 61-17 reaching the 2019 State Finals with two semifinals and one quarterfinal finish during that stretch. Ironically, they've done that with three different head coaches over the last six seasons with Smith being the fourth this season.
During that time, the Cougars produced 5-star Quay Walker who was the No. 2 OLB in the nation when he signed with Georgia in 2018. He would help lead the Bulldogs to the 2021 CFP National Championship and is now a rookie with Green Bay after being drafted by the Packers in the first round of the 2022 NFL Draft with the 22nd overall pick.
That's the preview. Let's take a look at the Top Prospects to Watch in tonight's game:
Westlake Lions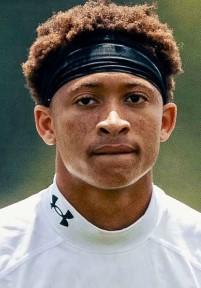 4- Star Avieon Terrell – 6-0, 170, Senior – Committed to Clemson over 21 other offers including Auburn – 247 Sports Composite No. 28 CB in the nation - Brother of former Westlake and Clemson star and Atlanta Falcons 2020 first round draft pick and current starting CB A.J. Terrell. Fourth-year starter at CB for the Lions his commitment to Clemson was hardly a surprise given his family connection to the school and the fact he's been going to camp with the Tigers since middle school.
3-Star LB Christian Peterson – 5-11, 185, Junior – 13 Offers including Michigan, Ole Miss and Pitt - Peterson starts at nickel for the Lions on defense, will play some WR and is big in Westlake's kick return game. He projects as a safety at the next level. Peterson entered 2022 with 92 total tackles through his freshmen and sophomore seasons. He had two big kick returns totaling over 100 yards in the Lions 21-17 loss to North Cobb including a 70-yarder that set-up Westlake's go-ahead TD in the fourth quarter.
2-Star QB R.J. Johnson – 6-2, 200, Senior – Committed to Toledo over 8 other offers including Georgia Southern and East Carolina. Fourth-year starter and I've seen him play numerous times over the last 3 seasons and I would hardly call R.J. a 2-Star. He's passed for nearly 7,000 yards in his career with 58 TD and just 11 INT. And although he is a pro-style QB, he's also rushed for over 500 yards in three seasons with 11 TD on the ground.
Juan Gaston – 6-8, 348, Sophomore OL – 9 Offers including Georgia Tech, Arkansas, and Pitt – Son of former Georgia Tech basketball standout by the same name.
Rae'Mon Mosby – 6-0, 175, Junior CB – 6 Offers including Ole Miss, Louisville, and Duke.
Ahmad Johnson – 6-1, 210, Senior LB – 6 Offers including East Carolina, Middle Tennessee, and Toledo.
Jabari Jones – 5-9, 170, Sophomore WR – 6 Offers including Purdue, Maryland, and Boston College – 11-yard TD reception from Johnson in Westlake's season opener.
Kendall Farmer – 6-2, 285, Junior DT – Offered by Western Kentucky, UAB and Alabama State.
Travis Smith – 6-3, 180, Sophomore WR – Offered by Boston College and Arkansas State.
Crisp County Cougars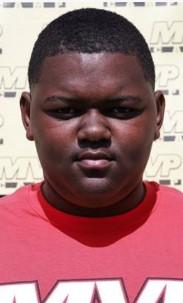 4-Star Junior Barry Walker - 6-5, 305-pounds – 247 Sports Composite No. 16 OT in Class of 2024 – 15 Offers including Georgia Tech, Texas A&M and Michigan State. Already a second-year starter for Crisp County on the offensive line, Walker will also play a little at defensive tackle as well. Coach Smith, who played in the NFL with the Ravens and the Bills after a standout career at Tennessee State, says Walker has that slender, basketball-type body that major college and NFL programs are looking for at left tackle. Walker was named Preseason 3A first team All-State by the AJC.
3-Star Safety Ahmad "A.J." Brown – The 6-1, 195, Senior committed to Ole Miss over 26-plus offers including Clemson and is actually a two-way star for the Cougars starting at both QB and FS. The Rebels commitment came as a surprise to many who had predicted he'd go with the Tigers instead. Tennessee, South Carolina and Vandy were also reportedly in the mix for Brown as well. In addition to starting at QB and FS, he'll also take snaps at RB and play some WR as well.
Senior LB Julian Fox - 6-1, 200-pounds – 11 offers including App State, Army and Western Kentucky. Fox starts at Will LB and is a back-up TE for the Cougars. This past week, the Missouri Tigers emerged in Fox's recruiting picture. Fox had 7 tackles for Crisp in their season-opening win against Dooly Co. and has over 180 career tackles.
Trae Walker – 6-2, 162, Senior CB/WR – Committed to Middle Tennessee. Coach Smith says while Brown is the best athlete on the team, Walker is the best player with the ball in his hands.
Amir Dwight – 6-1, 260, Senior DL – Committed to Southern Illinois.
K.J. Merrell – 6-1, 185, Junior OLB/RB – 6 Offers including Kentucky, Liberty and Troy.
David Mitchell – 5-11, 163, Senior K/P – Offered by Southeast Missouri and Warner University. Kicked 48-yard FG in the Cougars season-opening win.
So, it all starts with the Gabby Award-winning and Emmy-nominated Recruiting 2022 at 7 p.m. followed by Football Fridays in Georgia as the Westlake Lions host the Crisp County Cougars at 7:30 p.m. Join Wayne Gandy, Jon Nelson, Hannah Goodin and me for the call. And remember, when it's over, it isn't over! Stick around for the already-famous GPB Sports Postgame Show for all the big scores, and interviews with the top coaches around the state.
Now if somehow, you miss it live, don't worry, we replay the entire Football Fridays in Georgia at the end of our live show on GPB. You can also watch live on the GPB Sports app or our Twitter or Facebook page from wherever you are or watch it on demand anytime at GPB.org. 
Enjoy your Football Friday in Georgia!
Secondary Content
Bottom Content