Section Branding
Header Content
Recruiting 2022: Denmark at Roswell
Primary Content
Join us Friday night as we kick off our 2022 GPB Sports High School Football TV schedule earlier than ever before. This should be a great match-up in what is the first-ever meeting between the Denmark Danes and fifth-ranked Roswell Hornets.
Coverage starts at 7 p.m. ET with Recruiting 2022 including the "Top Prospect to Watch" in this game, followed by the Football Friday in Georgia Game of the Week at 7:30.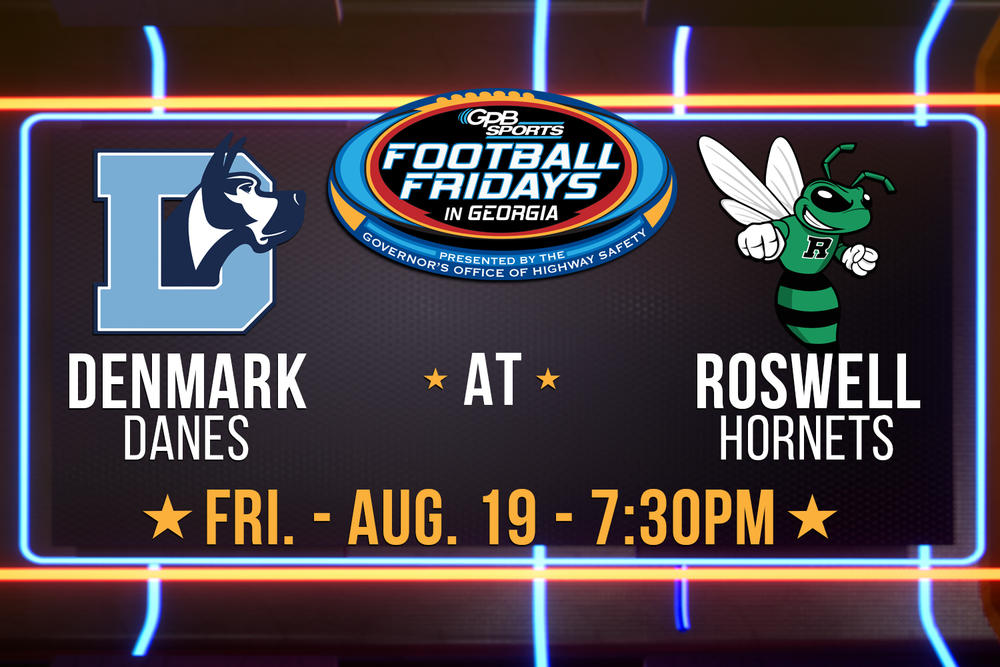 Let's be honest, not a lot of people know about the Denmark football program. The Forsyth County school is starting just it's fifth season and is led by third-year head coach Mike Palmieri.
He started the Mallard Creek program in North Carolina and after going 2-20 his first two seasons turned them into a state power, going 137-14 over the next 11 seasons winning three straight state championships from 2013-15. Palmieri has gone 14-8 in his first two seasons at Denmark and coming off its first region title last year.
Much like that Mallard Creek program, I think the Danes are positioned for a big, break-through season, so much so that I had them ranked ninth in 7A on by GPB Sports preseason ballot.
In contrast, this is the 73rd season of Roswell football and the Hornets are coming off a great season, going 10-3 in 2021 and reaching the 7A quarterfinals for Coach Chris Prewett entering his third season. Roswell moved down to 6A this season where I feel they will have at least as much success.
Roswell's great season was overshadowed by the tragic passing of star quarterback Robbie Roper whose memory looms large over the program. His locker remains just as it was last December, and his former Hornets teammates will do many different things over the course of the season to honor him.
K.J. Smith takes over at QB for Roswell and is a much different quarterback than Roper was and reminds a little of former Hornets signal-caller Malik Willis. He led Roswell within an overtime loss of Grayson in the 2016 State Championship Game and is now a rookie with the NFL Tennessee Titans. I had the Hornets ranked fourth on my GPB Sports preseason ballot.
So that's the preview, let's take a look at the top prospects to watch in tonight's game:
Denmark Danes
4-Star OT Sham Umarov - He is committed to Tennessee. The 6-6, 330-pound senior chose the Vols over 30 other offers including Georgia, LSU, and Michigan State. He took official visits to all four program and in the end says it came down to the Vols and the Bulldogs. He is ranked by 247 Sports as the No. 19 OT in the nation. Umarov is of Turkish descent and was born in Russia although he's lived in the States since he was 1. Coach Mike Palmieri told us that Danes offensive line coach Liam Corley really helped Umarov and his family sort through the recruiting process. Sham is a guy that really was a relative unknown until his junior season.
4-Star Junior LB Dee Crayton - The 6-2, 215-pound 11th grader is rated the No. 23 LB in the 247 Sports Composite Class of 2024. Crayton picked Clemson over 28 other offers including Auburn and Missouri. He took official visits to all three programs. Coach Palmieri told us Crayton has incredible instincts and plays the run as well as the pass. Crayton led the Danes with 91 total tackles and 14 TFL last season as a sophomore and added 4 QB sacks.
3-Star Athlete Che Ojarike (Pronounced: Chay / Oh-Jair-Eye-Kray) - The 6-2, 180, senior plays WR and CB for the Danes and has seven offers including Georgia Tech, Kentucky, Duke and Harvard. He's taken official visits to the Yellow Jackets and the Blue Devils. It appears that both Tech and Duke's plans are to use Ojarike at CB. He had four catches for the run-oriented Danes last season and also recorded 39 total tackles. Coach Palmieri told us Ojarike has really come into his own and has used track to really enhance himself as a football player. He runs the 100 and 200 meters.
Roswell Hornets
4-Star CB Ethan Nation - The 5-10, 165-pound senior is rated the No. 27 CB in the country by 247 Sports. Nation has 50 offers including Georgia, Georgia Tech, Alabama, Ohio State and Texas A&M. He has not yet taken any official visits, but he did take an unofficial to College Station. Nation burst onto the scene in 2020 when he led the state with 8 interceptions as a sophomore. He had only one last season as a junior as the Hornets played him at boundary corner and with Nation shutting down one side of the field, teams rarely throw his way. The Hornets tinkered some with him at safety in the spring just to get him more shots at the ball in the air. He's also a big factor for the Hornets on offense and had 45 catches in 2021 for over 500 yards and 10 TD.
3-Star LB Jayven Hall - Unfortunately, we don't expect to see him play tonight. He's coming back from a shoulder injury and Coach Chris Prewett says it was a tough call to make but made the decision with a 15-game schedule in mind. Hall originally committed to Coastal Carolina over the summer but then changed his mind and committed to Houston over 25 other offers. Hall had a huge junior season for the Hornets leading the team with 153 tackles and was second on the team with 19 TFL and even nabbed two interceptions.
3-Star Tight End Zeke Moore - The 6-2, 240-pound senior committed to Florida Atlantic over the summer over Austin Peay, Campbell, and North Alabama. Moore had 23 catches for over 300 yards and five TD last season as a junior. Moore committed after attending the Owls' mega camp in June, his second visit to the Boca Raton campus. He was recruited by FAU Tight Ends Coach Chad Lunsford who this time a year ago was Georgia Southern's head coach. Moore will like play H-Back at Florida Atlantic.
Ethan Crite – 6-2, 180, Senior – Wide Receiver - 28 offers including Georgia Southern, Air Force and Army. Crite had 20 catches for more than 400 yards and 6 TD last year as a junior
Nykahi Davenport – 6-0, 190, Junior – Running Back – Offered by Arkansas State and UMass – and no doubt many more to follow. Burst onto the scene on GPB last season earning Cotton Commission Player of the Game honors. Rushed for over 650 yards as the No. 2 back last year and scored 5 TD.
Hayden Thompson – 6-3, 200, Senior – Quarterback – Offered by Temple. Back-up QB to starter K.J. Smith. Big arm but still learning the offense after transferring in from Peachtree Ridge.
So, it all starts with the Gabby Award-winning and Emmy-nominated Recruiting 2022 at 7 p.m. followed by Football Fridays in Georgia as the Roswell Hornets host the Denmark Danes at 7:30 p.m. Join Wayne Gandy, Jon Nelson, Hannah Goodin, and me for the call. And remember, when it's over, it isn't over! Stick around for the already-famous GPB Sports Postgame Show for all the big scores, and interviews with the top coaches around the state as we get this 2022 season started.
Now if somehow, you miss it live, don't worry, we replay the entire Football Fridays in Georgia at the end of our live show on GPB. You can also watch live on the GPB Sports app or our Twitter or Facebook page from wherever you are or watch it on demand anytime at GPB.org. 
Enjoy your Football Friday in Georgia!
Secondary Content
Bottom Content