Section Branding
Header Content
Finalists Set For Flag Football Championships
Primary Content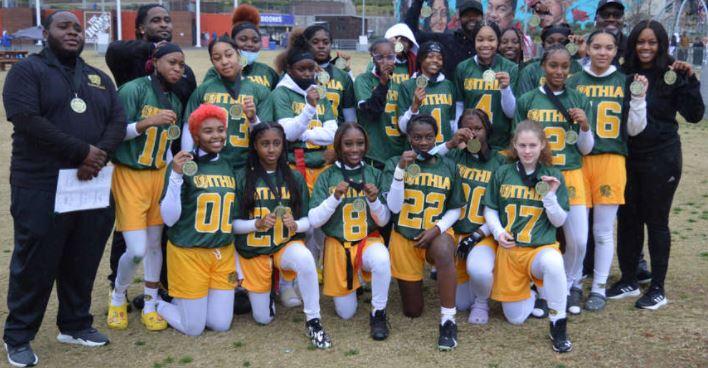 The semifinals began on Monday, but were interrupted by rain and finished on Tuesday.
In Division 1: Portal defeated St. Anne-Pacelli 12-6 in overtime and Southeast Bulloch eliminated defending state champion Calvary Day 12-0.
Portal is back in the championship game for the second straight year. Emma Yates threw a pair of touchdown passes to Blair Brannen, the second one in overtime, to earn a return trip. Tamiyah Carter scored Pacelli's touchdown. Click here to see highlights from WSAV-TV. 
In Division 2: Lithia Springs defeated Greenbrier 6-2 and will meet Dodge County, a 13-6 winner over Riverwood, in the title game. 
Lithia gave up a safety on a poor snap in the end zone, but came back with five minutes left on a touchdown pass from Ksaja West to Hannah McRiver. Aniya Moore sealed the game with an interception for the Lions, who are playing their first season of flag football.
Dodge County scored on two touchdown passes from Annie Jones, one to Skye Meadows and one to Carsen Etheridge, in the first half and used its stingy defense on a pair of fourth-and-goal situations. An interception by Altierra Gooch sealed the outcome.
In Division 3: It will be an all-Cobb County championship. Hillgrove beat Archer 12-6 and advances to play Marietta, which defeated Blessed Trinity 26-0. This is the first season for Division 3, as the flag football program was expanded to three divisions this year.
Flag Football Championships
Thursday at GSU's Center Parc Stadium
Div. 1: Portal vs. Southeast Bulloch, 11 a.m.
Div. 2: Lithia Springs vs. Dodge County, 12:45 p.m.
Div. 3: Hillgrove vs. Marietta, 2:30 p.m.
Secondary Content
Bottom Content