Section Branding
Header Content
Recruiting Roundup: No. 10 Grayson at No. 1 Collins Hill
Primary Content
It will be a rematch of the 2020 7A state championship game tonight on GPB as top-ranked Collins Hill hosts 10th-ranked Grayson in the state semifinals at Fahring Field in Suwanee with a berth in the 2021 state final awaiting the winner.
Coverage starts at 7 p.m. ET with Recruiting 2021 including the "Top Prospect to Watch" in this game, followed by the Football Friday in Georgia Game of the Week at 7:30.
It's a story of role reversal. A year ago, it was the Rams who were the No. 1-ranked team, with the dominant season and a target on their back. The Eagles occupy that spot now and are ranked No. 3 in the nation in the USA Today Super 25.
Collins Hill has won 21 of their last 22 games with the only loss a 38-14 defeat to Grayson in last season's state championship game. When those two teams walked off the field at Center Parc Stadium in Atlanta on Dec. 30, you knew the Eagles would be back for another shot in 2021. They have not disappointed.
Led by the Nation's No. 1 overall prospect Travis Hunter and 4-star QB Sam Horn, Collins Hill has one of the most dynamic one-two offensive punches in the country. Nobody has been able to stop them. The Eagles' defense is the untold story giving up just 75 points all season.
At 13-0, the Eagles have not won by less than two touchdowns all season and have won by an average of five touchdowns per game, including wins over four Top-10 opponents and a 49-7 rout of perennial state power No. 5 Lowndes in the state quarterfinals last Friday night in Valdosta.
In fairness to Grayson, to call this a rematch, is not quite true. Almost all of the players who led the Rams to their third state championship in program history, are now playing college football. Nobody's crying for Grayson. The Rams have an uber-talented team once again stocked with college football prospects including a deep sophomore and freshman class. Grayson is back in the state's final four and one must figure they'll be back again and again for the foreseeable future.
The Rams have spent the entire season trying to figure out who to play at quarterback. Replacing 4-star Jake Garcia, who is now a Miami Hurricane, is not easily done. Six of Grayson's 10 regular season games were decided by a touchdown or less. To the Rams credit they won five of those games.
Since being humbled by Brookwood 35-14 on GPB in the next-to-last game of the regular season, Grayson Coach Adam Carter has decided to use junior Rayne Fry at quarterback and put dynamic sophomore athlete JoJo Stone back in the slot. The result has been some of their best, if not best, football of the year to get the 10-3 Rams back to within a win of the state final. Pretty amazing if you saw Grayson five weeks ago.
It will be hard for the Rams to beat Collins Hill. Led by Coach Lenny Gregory you get the sense the Eagles are a team of destiny. They overcame the loss of Hunter for five games to an ankle injury and never skipped a beat. Gregory's been down this road before. He was the defensive coordinator for Grayson's first state championship team in 2011 and the coach and guardian for then No. 1 national prospect Robert Nkemdiche.
So, none of this is new to Gregory and after getting to the finals last year, none of this is new to the Eagles either. But things don't always work out the way they're supposed to. Just ask the 1985 Nebraska Cornhuskers. It'll take that kind of upset tonight but then again that's why you watch. For the magic of the moment.
So that's the preview, let's take a look at the top prospects to watch in tonight's game:
Collins Hill
5-Star CB/WR Travis Hunter - 6-2, 170, Senior - 247 Sports No. 1 overall national prospect – Committed to Florida State in March 2020 over 15 other offers including Georgia. Despite constant speculation that he would flip from the Seminoles, primarily based on the current state of the 'Noles program, Hunter has been steadfast in his pronouncements that he will sign with FSU and now we're less than two weeks away from National Signing Day. He has said it on GPB Sports Recruiting 2021 show. He has said it on ESPN. He has said it everywhere. Hunter who grew up in Florida before his family moved to the Atlanta area has always called Florida State his "dream school." Coach Gregory predicts that Hunter will be the player that brings the Seminoles back to their past glory and Hunter told Recruiting 2021 that he wants to take FSU back to the days of Deion Sanders. He's certainly meant the difference for Collins Hill – a program experiencing heights the program had never before experienced. Despite missing five games to injury, Hunter has 50 catches for 900 yards, eight touchdowns and four interceptions on defense.
WATCH: Hannah Goodin's Interview with Travis Hunter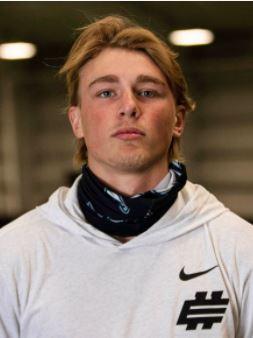 4-Star QB Sam Horn – 6-3, 175, Senior - 247 Sports Composite No. 9 QB in the nation – Committed to Missouri in February over 16 other offers including Georgia Tech, Oklahoma State and Michigan State. Also, an outstanding right-handed pitcher in baseball, he will also play that sport with the Tigers. Coach Gregory says Horn has proven that he's an elite QB with his performance when Hunter was out with his ankle injury. He says a lot of people wrote off the Eagles but forgot they still had Horn. He's also a very good athlete and can run on a defense if given the opportunity. Horn has completed 70 percent of his passes for more than 3,200 yards with 32 TD and eight INT. He's also rushed for 475 yards and five TD.
4-Star TE Ethan Davis – 6-5, 235, Junior - 247 Sports Composite No. 9 junior TE in the nation – 20 offers including Georgia Tech, Ole Miss and Tennessee. Came back out for football after sitting out his sophomore season to play basketball. He made the right decision. 54 catches for 666 yards and 8 TD.
3-Star SAF Jayden Davis – 6-2, 180, Junior - 12 offers including Georgia Tech and Tennessee. 58 total tackles and three interceptions.
3-Star WR Cam Pedro - 5-11, 165, Senior -  Committed to Marshall where his dad Glenn was once a standout RB. 53 receptions for 679 yards and six TD.
Dion Crawford – 6-2, 225, Junior LB - 12 offers including Georgia Tech and Florida State. 76 total tackles, 12.5 sacks, 20.5 TFL.
Asani Redwood – 6-3, 245, Senior DE/OLB – Picked up his first Power 5 Conference offer this week to go along with offers from Western Kentucky, ETSU and Elon. Late bloomer because he's a native of Jamaica and only been playing "American Football" for two years. Coach Gregory predicts he'll play in the NFL, and he knows what an NFL player looks like in high school. 96 total tackles, 17 sacks, 37 TFL.
T.J. Wilcox – 6-2, 175, Freshman QB – Offered by Georgia Tech. Back up to Horn and the heir apparent.
Jaylen George – 6-2, 245, Senior DE – Offered by Akron
Cedric Richardson – 6-3, 250, Senior OL – Committed to VMI
Grayson Rams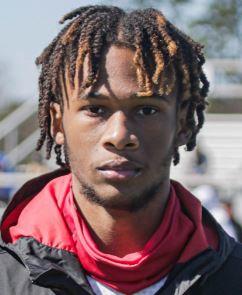 4-Star S Mike Daugherty – 6-0, 165, Junior - 247 Sports No. 10 junior Safety – 37 offers including Georgia, Clemson and Louisville. The Rams will play him all over on defense against the Eagles. They've used him a lot at Will linebacker because of injury even though he isn't physically built for that position. He attended the Iron Bowl this past Saturday and has Auburn in his Top 8. Louisville is also in his Top 8 and is his dad's hometown. Michigan State just offered Daugherty last week. Love to watch this kid play. He's a baller and doesn't back down. 78 total tackles, 4 sacks, 13.5 TFL
4-Star ATH JoJo Stone – 5-10, 175, Sophomore - 247 Sports No. 12 sophomore ATH in the country – 17 offers including Georgia, Georgia Tech, Penn State and Michigan. Was the Rams starting quarterback when we saw Grayson play Brookwood five weeks ago here on GPB and even then, Coach Carter admitted that Stone was not a QB. Since that time, they've moved Stone to the slot where he is much more dangerous when they get him the ball in space and not coincidentally, the Rams are playing their best football of the season. I'm sure he's disappointed not to be at QB but trust me he can do a lot more damage not being stuck between the tackles. 682 yards rushing, nine TD and 16 receptions. Completed 55 percent of his passes for 445 yards, two TD and five INT.
4-Star OL Waltclaire Flynn – 6-2, 300, Sophomore - 247 Sports No. 2 sophomore Interior OL in the country – 12 offers including Georgia, Georgia Tech and Florida State.
3-Star CB Mumu Bin-Wahad – 5-11, 175, Senior - Committed to West Virginia in June over 28 other offers including Georgia Tech, Michigan and Nebraska. Another player like Daugherty that the Rams will use in multiple defensive spots. 40 total tackles, seven TFL, three INT.
3-Star OL Griffin Scroggs – 6-5, 320, Senior OL (Center) - Committed to Georgia in August after decommitting from Georgia Tech
Jaylen Bell – 5-10, 165, Freshman CB – Seven offers including Georgia, Florida State and Ole Miss. 28 total tackles, two INT.
Jalen Smith – 6-1, 190, Junior LB – 13 offers including UCF and Georgia State. Has already set the Rams single-season tackles record with 157 total stops. He also has 10 sacks and 15 TFL.
Kylon Fox – 6-5, 210, Sophomore TE/H-Back/DE – Five offers including Ole Miss, Tennessee, and UCF. 13 catches on offense and five QB sacks on defense despite only recently putting him on that side of the ball.
Keyon Woods – 6-0, 165, Sophomore WR – Offered by Minnesota.
Ma'khi Jones – 5-10, 185, Freshman SAF – Offered by Ole Miss.
Tyler Rowe – 5-11, 175, Senior WR – Offered by Army, UAB, Kent State and Akron. 11 receptions.
Mason Humphrey – 6-3, 185, Junior WR – Offered by Charlotte. 20 catches and three TD.
Kai Banks – 5-10, 175, Senior WR – Offered by Presbyterian. 8 receptions and one TD.
O'Neal Madom Madom – 6-0, 275, Senior OL – Offered by Presbyterian.
The Rams have lost five starters to season-ending injuries this season and three of them are college prospects. 3-Star LB Derrell Farrar who is committed to App State and had 90 total tackles, two QB sacks and seven TFL. 3-Star SAF A.J. Lopez who is committed to Harvard and sophomore safety Myles Wood who's been offered by Minnesota and UCF and had 43 total tackles and two INT.
So, it all starts with the Gabby Award-winning and Emmy-nominated Recruiting 2021 at 7 p.m. followed by Football Fridays in Georgia as the Milton Eagles host the Marietta Blue Devils at 7:30 p.m. Join Wayne Gandy, Jon Nelson, Tabitha Turner-Wilkins, Hannah Goodin and me for the call. And remember, when it's over, it isn't over! Stick around for the already-famous GPB Sports Postgame and Bracketology Show for all the big scores, interviews with the top coaches around the state and breakdown of the GHSA playoff brackets.
If you miss all the fun on TV because you're out watching another game, don't worry, we replay the entire Football Fridays in Georgia at the end of our live show. You can also watch live where ever  you are on the GPB Sports app or our Twitter or Facebook page or watch it on demand anytime at GPB.org. Enjoy your Football Friday!
Secondary Content
Bottom Content