Section Branding
Header Content
Recruiting 2021: Walton at Brookwood
Primary Content
At long last Walton and Brookwood are back in the GHSA state quarterfinals and for the first time meet in the playoffs tonight on GPB as the Raiders take on the seventh-ranked Broncos at Brookwood Community Stadium in Snellville.
Coverage starts at 7 p.m. ET with Recruiting 2021 followed by the Football Fridays in Georgia Game of the Week at 7:30. The winner of this game will advance to play either Milton or Mill Creek in the semifinals.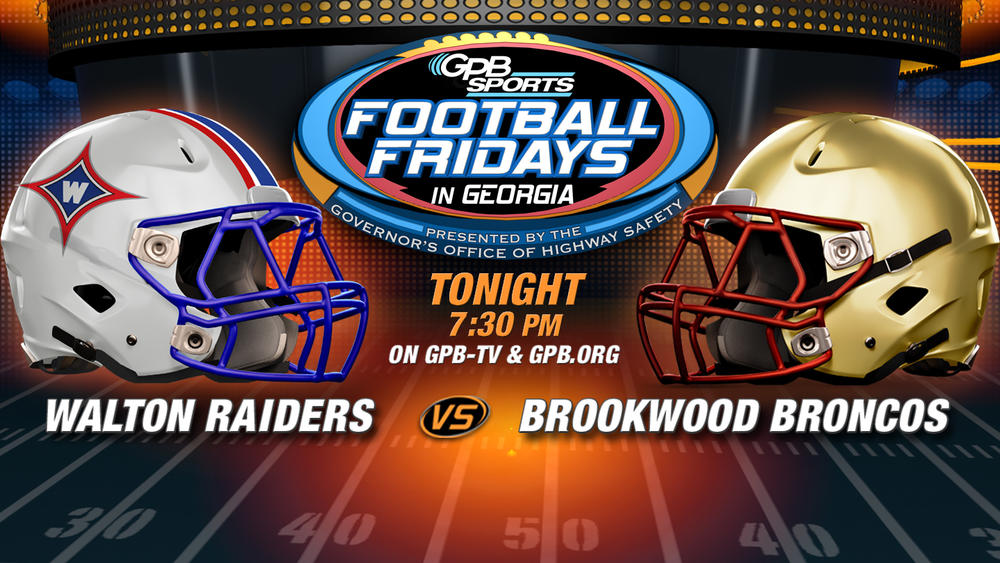 This will be the 12th quarterfinal appearance in program history for Brookwood, but the first since Coach Philip Jones' team defeated Tift County 35-28 in their 2017 semifinal season, and just their second since winning the 2010 state championship. A win tonight puts the Broncos two wins away from the third state title in the school's 40-year history. Coach Jones was a player on the first state title team in 1996.
For Walton this will be the fifth quarterfinal appearance in program history but the first since beating Dacula 21-13 in their 2011 state-final season and the first under fifth-year Coach Daniel Brunner. A victory moves the Raiders to within two wins of the first state crown in the school's 46-year history.
Few people probably expected the Broncos to get this far after four major college prospects transferred out of the program during the summer – three four-star players and a three-star. But since starting the season 2-2 and following a 35-33 loss vs. North Paulding (their only home loss of the year), the Broncos have won 10 straight games outscoring their opponents 280-91. Here in the playoffs Brookwood obliterated Newnan 56-7 in the first round and then had to come from behind in the third quarter to beat North Gwinnett 17-14 in the second round.
Walton started the season ranked in the preseason Top 5 and defeated Lowndes 34-28 in overtime in the Corky Kell Classic at Mercedes-Benz Stadium, but it's been an up-and-down year for the Raiders. Walton has not won more than two games in a row all season, a feat they've accomplished four times and again here in the first two rounds of the state playoffs. Not that anybody could have seen that coming. The Raiders were smacked at home by Marietta 42-14 in their regular season finale but rebounded for a 41-17 first round road win at Colquitt County and then a 34-7 second round beatdown at Archer.
This will be the ninth all-time meeting between these two programs but the ninth was actually supposed to occur earlier this year before being canceled because of COVID. The Broncos were 43-32 winners at Walton last season and lead the series 5-3. Three of the previous eight matchups have been played in the Corky Kell Classic.
So that's the preview, let's take a look at the top prospects to watch in tonight's game:
Walton Raiders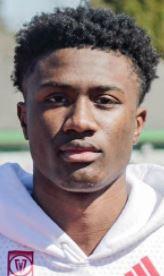 4-Star CB Marcus Allen - Committed to North Carolina in June over 29 other offers including Auburn, Pitt, and Georgia Tech, the other three schools to which he took official visits. Allen's brother Derrick is a redshirt sophomore for the Yellow Jackets after starting his career at Notre Dame and his dad played hoops at Army and was team captain. Coach Brunner says Allen is playing the best ball of his life on defense, offense and special teams and it's all about his approach. Brunner adds not many high school players have his mindset and understand what it takes to succeed like Allen does. Allen has 54 total tackles, two interceptions and an 85-yard fumble recovery touchdown. He also has 10 catches for 291 yards and 5 TD
3-Star RB Sutton Smith - Chose the Memphis Tigers in April over a handful of offers including Nebraska and App State. He has picked up eight more offers including Pitt, Purdue and Louisville since becoming the Tigers first commitment of 2020 and has a total of 13 offers. Coach Brunner calls him one of the best players in the state and I would agree with him. He opened the Raiders 31-19 win over Roswell here on GPB back in September with a scintillating kick return TD and will be used out of the backfield or the slot. Smith has rushed 130 times for 676 yards and 12 TD. He's caught 14 passes for 273 yards and 3 TD for a total of 15 scores.
3-Star QB Zac Rozsman - Has four offers including Georgia Southern, Georgia Tech, Vanderbilt, and App State. Rozsman was committed to the Mountaineers until about four weeks ago and then was offered by the Eagles a week after he decommitted from App. Georgia Southern has really come on strong in Rozsman's recruitment since new coach Clay Helton came in and hit the road. Outstanding 4.0 student and leader in the student body, he got knocked out early in last week's second round win over Archer, but Brunner is hopeful that he'll be a go tonight. Fortunately for the Raiders they've played two QB this season with Rozsman splitting time with sophomore Jeremy Hecklinski and that was fortuitous for Walton last week. Rozsman has completed right at 65-percent of his passes for 1,119 yards, 10 TD and just 2 INT. He's also rushed 65 times for 146 yards and 5 scores.
3-Star OT Cason Henry – Committed to South Carolina over 19 other offers including North Carolina and he is the second highest rated prospect on the team. He'll also hop over and help on the defensive line.
3-Star SAF A.J. Brown – Committed to UAB over 8 other offers including Boston College. He's been the captain of the Raiders defense since his sophomore season. A real studier. High Football IQ. He has 53 total tackles with a QB sack, 2 TFL and 2 forced fumbles. Brown has also carried the ball 25 times for 117 yards and 5 TD.
3-Star WR Rawson MacNeil – Committed to Rice over 9 other offers including Iowa State. At 6-5, 195-pounds MacNeil is a match-up nightmare. Recovered from a broken collarbone this summer to nearly become the Raiders top statistical WR despite missing the first month of the season. He has 22 catches for 482 yards for almost 22-yards per catch average.
Senior OG Evan Bax – Offered by Tennessee Tech the 6-4, 280-pounder has also received some interest from Kennesaw State and Jacksonville State.
Brookwood Broncos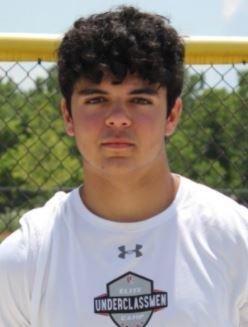 4-Star QB Dylan Lonergan - The 6-2, 215-pound, junior is the No. 7 QB in the Class of 2023 with 23 offers including Georgia, Georgia Tech, Alabama, Penn State and North Carolina. Coach Jones says that Lonergan is naturally an introverted person but has really come out of his shell to lead the Broncos this season. This will be an interesting watch as this is deeper than Lonergan has ever been in the playoffs, and we all know quarterbacks are judged by how well they do in big games, and this certainly counts as one of those. He's thrown for 3,150 yards with 30 TD and 4 INT, and he's also rushed for 459 yards and 6 scores. Lonergan is also the top-rated junior right-handed pitcher in the state and any college decision will likely be for a combo football/baseball scholarship.
Senior RB Alex Diggs – "Make that Kid an Offer" honoree a month ago for his performance in the Broncos 35-14 win at Grayson on GPB. Diggs is phenomenal, even if he has only one offer from Davidson College. He is the Broncos leading rusher and receiver. Diggs has caught 60 passes for 859 yards and 9 TD, and he's rushed 119 times for 749 yards and 11 TD. If Brookwood can keep this going Diggs has a shot at 1,000 yards receiving and 1,000 yards rushing in the same season – an unheard-of accomplishment. Heart and soul of the program, Diggs is one of four players who have been in the Broncos football program since they were 6 years old.
Senior TE Stone Bonner - The Broncos top receiver not named Alex Diggs. The 6-4, 220-pounder has 51 catches for a team-leading 956 yards and 7 TD. Bonner has one offer and that's from the Air Force Academy. He's also received interest from Arkansas State, New Hampshire, Bucknell and Lehigh. Brookwood uses Bonner in so many ways. They'll attach him to the line. They will flex him out, use him as a solo WR or the sniffer / H-Back position. He is what Coach Jones calls the new wave of tight ends, a phenomenon that has trickled down from the NFL – to college – and now high school.
Senior WR/SAF Niles Prince - Offered by Air Force. He has 12 catches for one TD.
Senior WR/SAF Patrick Campbell - Offered by Davidson. Campbell has 19 catches for 382 yards and 6 TD plus a team-leading 4 interceptions.
So, it all starts with the Gabby Award-winning and Emmy-nominated Recruiting 2021 at 7 p.m. followed by Football Fridays in Georgia as the Milton Eagles host the Marietta Blue Devils at 7:30 p.m. Join Wayne Gandy, Jon Nelson, Tabitha Turner-Wilkins, Hannah Goodin and me for the call. And remember, when it's over, it isn't over! Stick around for the already-famous GPB Sports Postgame and Bracketology Show for all the big scores, interviews with the top coaches around the state and breakdown of the GHSA playoff brackets.
If you miss all the fun on TV because you're out watching another game, don't worry, we replay the entire Football Fridays in Georgia at the end of our live show. You can also watch live on the GPB Sports app or our Twitter or Facebook page from wherever you are or watch it on demand anytime at GPB.org.
Enjoy your Football Friday!
Secondary Content
Bottom Content