Section Branding
Header Content
Ten Top Quarterfinals Games To Watch
Primary Content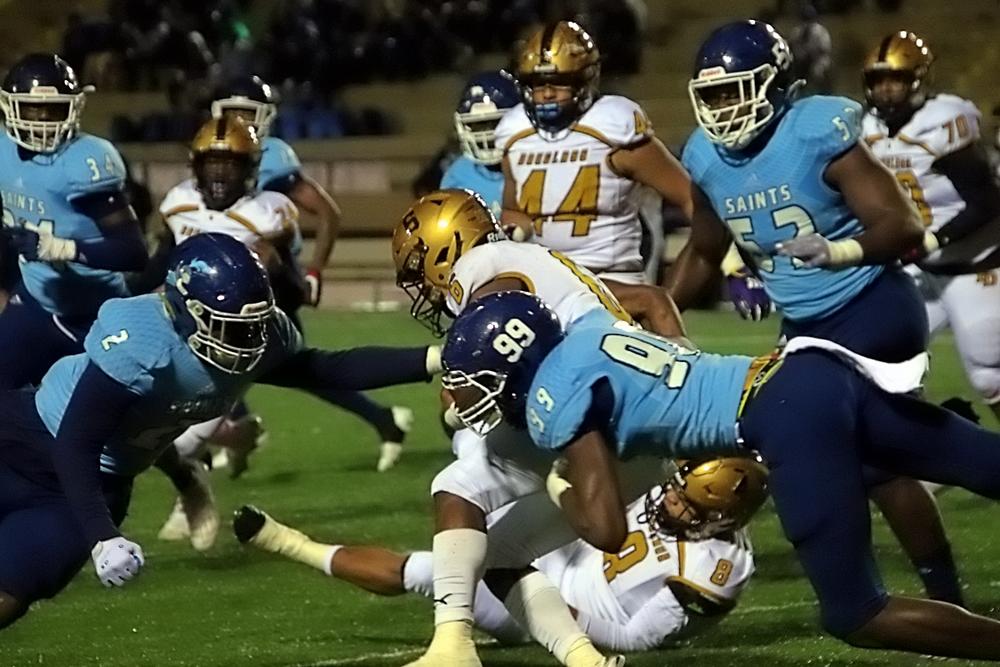 GPB can only broadcasts one game at a time each Friday night. That's unfortunate with the third round of the playoffs, since there are so many compelling matchups with so many strong teams going head-to-head. 
Here's a look at 10 of the top games in the state this week, including the Walton-Brookwood contest that will be featured on GPB's Football Friday's in Georgia.
Class 7A  
Walton (8-3) at No. 7 Brookwood (10-2): These two suburban powers were supposed to play during the regular season, but the game was cancelled because of COVID-19 concerns. Brookwood junior quarterback Dylan Lonergan, a top-100 national junior prospect, already has 23 college offers. Walton rotates two at the QB position, with senior Zac Rozsman getting the start and sophomore Jeremy Hecklinski getting the second call. Hecklinski came up big last week when Rozsman got knocked out in the first half of their 34-7 win over Archer. (GPB's Matt Stewart will have complete report on the college prospects in this game in his Friday blog.) 
No. 10 Grayson (9-3) at No. 9 Roswell (10-2): This looks like a classic matchup of Grayson's vaunted defense against Roswell's prolific offense. The defending state champion Rams have kept their defense together with guts and determination and they'll need all of that and more to have a chance against Robbie Roper, who has thrown for 2,725 yards and 35 touchdowns this season.
Class 6A
No. 1 Buford (11-1) at No. 2 Lee County (11-1): This is a rematch of the 2020 championship game won by Buford. One or the other has won three of the past four championships in 6A. The Wolves' defense will have to stop Lee County freshman Ousmane Kromah, who has rushed for 1,663 yards and 20 touchdowns. Buford has not allowed more than 14 points and have only given up a combined 30 points in its last eight games.
Class 5A
No. 4 Calhoun (10-2) at No. 10 Clarke Central (10-2): This will be another contrast in styles. Calhoun likes to throw it around behind quarterback Christian Lewis, who has a slew of game-breakers to work with, primarily Cole Speer and Quin Smith. Lewis threw for 447 yards last week in the 49-42 victory over Ware County. Clarke Central prefers to run the ball. The Gladiators threw it only three times in their second round win over Starr's  Mill – behind big Will Richardson, who carried 27 times for 203 last week.
Class 4A
No. 1 Marist (10-1) at No. 3 Benedictine (10-2): The defending state champion make the long drive to Savannah. The Benedictine offense, led by Auburn commit Holden Geriner (2,538 yards passing, 26 TDs), will provide a tough test for the Marist defense. The Cadets have scored 48-plus points in each game during their 10-game winning streak. Marist has three shutouts and has allowed a combined 14 points in two playoff games.
Class 3A
No. 6 Cedar Grove (9-3) at No. 10 Crisp County (9-3): This is a rematch of the 2019 championship game that Cedar Grove won 21-14. It also has a major twist: Crisp County is now coached by Miguel Patrick, who was the head coach for Cedar Grove when they won the 2019 title. Crisp County beat Cedar Grove 16-13 in the 2020 quarterfinals. Crisp has won nine straight. Cedar Grove was ranked No. 1 most of the season until losing to Sandy Creek in the final game of the regular season.
Class 2A
No. 1 Rabun County (11-1) at No. 2 Thomasville (11-1): All eyes will be on Rabun County quarterback Gunner Stockton, who continues his assault on the record book. The senior has completed 74.2 percent of his passes for 3,974 yards and 53 touchdowns and has run for 844 yards and 14 touchdowns. Thomasville beat then-No. 2 Fitzgerald in the regular season and suffered its only loss to Class 3A power Oconee County. Thomasville beat Rabun in the quarterfinals when Stockton was a sophomore.
No. 7 Callaway (9-2) at No. 10 South Atlanta (11-1): Defending state champion Callaway will be challenged by a South Atlanta team that's in the quarterfinal round for the first time. South Atlanta has won 11 straight since losing the season opener to Heard County. They feature Keyjuan Brown, who has rushed for 2,618 yards and 38 touchdowns. Callaway knocked off second-ranked Bleckley County on the road in the second round to advance.
Class A Public
No. 3 Macon County (11-0) at No. 1 Irwin County (10-2): Two-time defending state champion Irwin County lives for this time of year. The Indians have lost twice this year – in overtime to Fitzgerald in the season opener and to Class 6A Tift County. Macon County closed the regular season by beating three ranked teams in four weeks. The Bulldogs feature junior running back Marlon Mitchell, who has rushed for 1,636 yards and 19 touchdowns.
Class A Private 
No. 4 Fellowship Christian (11-1) at No. 2 Calvary Day (12-0): Fellowship Christian coach Tim McFarlin is trying to take his third school to a state championship. The Paladins have an imposing defense, one that has limited seven of their last opponents to seven or fewer points. Calvary Day, behind quarterback Jake Merklinger, (2,398 yards passing, 25 TDs), has run through its schedule with little resistance and handed defending state champion Prince Avenue Christian its only loss in the regular-season opener.
Secondary Content
Bottom Content