Section Branding
Header Content
Recruiting 2021: Marietta at Milton
Primary Content
Two of the last three GHSA 7A state champions meet tonight on GPB with a spot in the state quarterfinals going to the winner as the eighth-ranked Marietta Blue Devils (7-4) take on the third-ranked Milton Eagles (10-1) in a second-round showdown at The Eagles Nest in Milton.
Coverage starts at 7 p.m. with Recruiting 2021 followed by the Football Friday in Georgia Game of the Week at 7:30. The winner of this game will advance to play either Mill Creek or McEachern in the Round of Eight.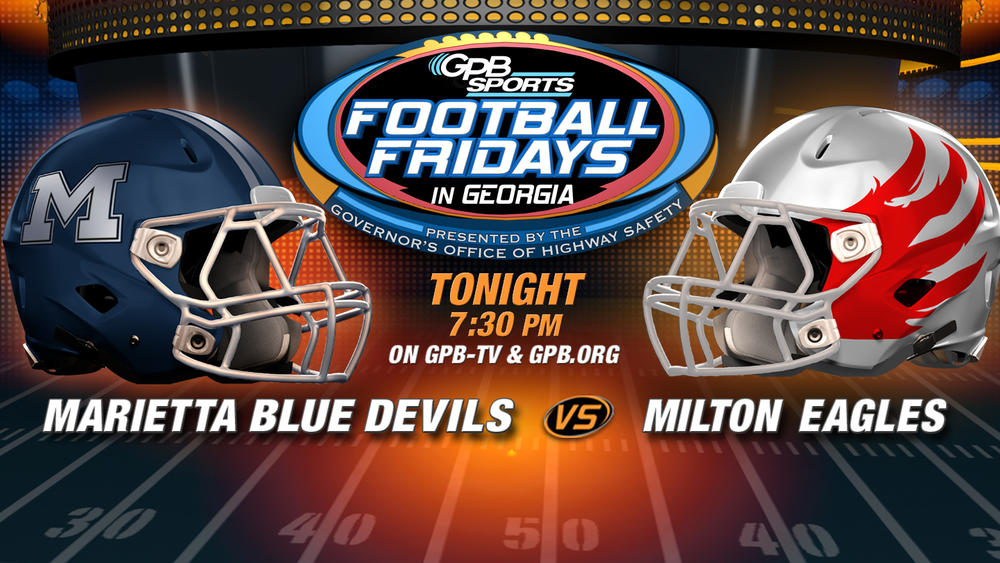 The Eagles will be seeking their second straight quarterfinal berth and are three years removed from their 2018 title, the only state championship in the program's 72-season history. The ascension of the Milton program has come under sixth-year Coach Adam Clack who has gone 51-11 since his arrival.
Before Clack came on the scene, the Eagles had advanced beyond the first round of the state playoffs only once in 67 seasons and had won only two region championships. Under Clack, Milton has advanced to at least the second round every year, won four straight region titles and the aforementioned championship.
The Blue Devils are back in the second round for the first time since their 2019 team won Marietta's first state title since 1967. Led by Gatorade National Player of the Year, tight end Arik Gilbert, and four-star quarterback Harrison Bailey, the Blue Devils state championship team of two years ago was one of the most talented teams in Georgia high school history.
Marietta's resurgence has come under Coach Richard Morgan who built a national power at Oscar Smith High School in Chesapeake, Va. There his team played in three state championship games, winning two with five semifinal finishes in his last nine seasons before coming south. Morgan has led the Blue Devils to five consecutive state playoff appearances something that has not happened in 20 years. A win tonight would put Marietta in the quarterfinals for the third time in five seasons.
This will be the 10th all-time meeting between the two programs but just the second since 1997. The most recent was two years ago when Marietta beat defending state champion Milton in the second round of the playoffs 38-24 on the way to winning the 2019 state title.
So that's the preview, let's take a look at the top prospects to watch in tonight's game:
Milton Eagles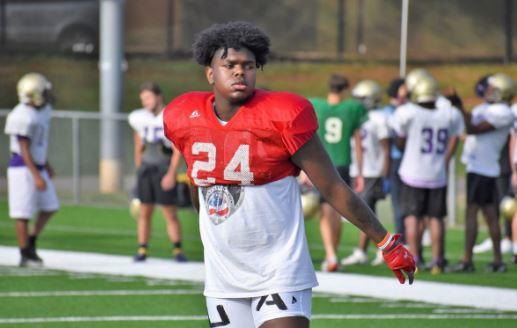 5-Star junior LT Overton - The No. 1 ranked Defensive Lineman, No. 1 prospect in Georgia for the Class of 2023 and the No. 3 overall national prospect. Warning to the state of Georgia, after being limited by a broken foot early in the season, the 6-5, 265-pound Overton is now healthy. That's the biggest reason he's dropped from the overall No. 1 to No. 3 national prospect because he's only recorded 3.5 sacks and 4 TFL this season because not until recently has he been 100 percent. But we've all seen what he can do when he is healthy. He recorded 40.5 sacks with seven forced fumbles as a freshman and sophomore. As far as recruitment, his story is just getting started. LT has 26 offers including Georgia, Alabama, Oklahoma, Texas A&M and Kentucky all of which he visited this season.
3-Star TE Jack Nickel - The 6-4, 230-pound, Senior committed to Michigan State in July after decommitting from Notre Dame. He's been starring for the Eagles varsity for four years and was a freshman on Milton's 2018 state championship team. Secure and reliable pass catcher, go-to-guy in game-winning situations. 30 catches this season for 6 touchdowns and the dude blocks, playing a huge role in Milton's running game.
3-Star RB Jordan McDonald - The 6-1, 220-pound, Senior committed to UCF in October over 26 other offers including Tennessee and South Carolina. Another reason why teams around the state should be concerned about the Eagles. The bruising back is healthy, and the coaching staff has managed his touches in anticipation of a state championship run. McDonald has 116 carries for 933 yards and 17 TDs. So, he's averaged roughly 11 carries for 93 yards per game. He has almost 100 carries fewer than he had a season ago so he should be fresh. McDonald has rushed for 2,700 yards with 51 TD in his three years as a starter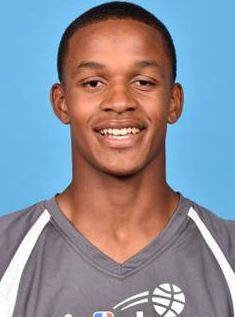 3-Star QB Devin Ferrell - The 6-0, 192-pound, Senior committed to Virginia Tech in February over 11 other offers including Georgia Tech and Wake Forest. Coach Clack says he did not seem to be impacted this week by news that the Hokies had fired Coach Justin Fuente. Ferrell has had a spectacular senior season while throwing for more than  1,700 yards with 21 TD and just two interceptions. He is also the Eagles second-leading rusher with nearly 700 yards on the ground and nine TDs. It's been a pleasure watching this young man develop. GPB was there his sophomore season the night he really took over the position and became a 3-year starter.
Mo Clipper – 6-4, 300-pound, Senior – 247 Sports Composite 3-Star OT – Committed to Tennessee in July over 17 other offers including Georgia Tech, Louisville and Virginia Tech. Probably the leader on an Eagles OL with three Power 5 conference blockers.
Brandon Best – 6-4, 293-pound, Senior – 247 Sports Composite 3-Star interior OL – Committed to Georgia Tech over 10 other offers including Kansas State. Plays opposite Clipper giving Milton a couple of impressive bookend tackles to block for Ferrell and McDonald.
Bryce Thornton – 5-10, 185-pound, Junior – 247 Sports 3-Star SAF – 10 Offers including Georgia, Oregon and Michigan State. Lock down corner that the Eagles moved to SAF because at the HS level he's more useful there. Dad Bruce played CB for Georgia and then the NFL and his 4-Star brother Bruce is the No. 6 PG in the nation committed to Ohio State.
Robert Billings – 6-1, 185-pound, Junior – 247 Sports 3-Star SAF – Five offers including Georgia, Ole Miss and Pittsburgh. Coach Clack says it took a while for college coaches to believe but Bulldogs DC Dan Lanning quickly became one of them when stopping by this season to watch.
Debron Gatling – 5-11, 180-pound, Sophomore WR – 17 Offers including Georgia, Georgia Tech, Oregon, and Michigan. Clack says quite simply the most talented WR that he's ever coached and he's still just a 10th grader. Team-leading 33 catches for 603 yards and 11 TD.
Gilles Tchio – 6-4, 280-pound, Senior OL – Nine offers including Maryland and Virginia Tech. Brother Paul starred at Milton and was one of the top offensive linemen in the country and is now at Clemson.
Tyhler Williams – 6-4, 317-pound, Senior OL – Four offers including Miami and Arkansas State.
Brayden Holmes – 6-0, 190-pound, Junior CB – Offered by Arizona State.
Kayden Richardson – 6-3, 270-pound, Senior OL – Offered by Marshall
Zyere Horton – 6-3, 205-pound, Senior SAF – Offered by Georgia Southern
Dylan Miller – 5-9, 200-pound, Senior LB – Offered by Birmingham Southern
AJ Crawford – 5-11, 215-pound, Senior ILB – Offered by Wingate
Marietta Blue Devils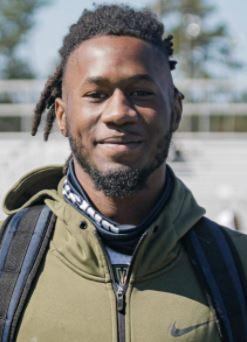 4-Star LB Daniel Martin – 6-2, 195-pound, Senior – 18 offers including Vanderbilt, Oregon and Florida State. Long and athletic, Martin is a prototypical Power 5 LB. Sophomore starter on the Blue Devils 2019 championship team. Martin has 94 tackles on the season with four sacks and a team-leading 15 TFL. So skilled and athletic that he played both ways for Marietta last year and had 51 catches for nearly 900 yards and eight TDs. Has 10 sacks and 32 TFL in his career. Will not announce his decision until the All-American Bowl in January.
4-Star CB Jace Arnold – 5-10, 168-pound, Junior – Seven offers including Georgia Tech and Georgia. Defensive stats won't blow you away – 33 tackles with 6 PBU - because teams don't typically throw to his side of the field, but he has three, 90-plus yard kick return TDs this season. Ole Miss, Tennessee, Florida, Wisconsin and Florida State have also offered. So that's seven offers, seven Power 5 offers.
2-Star QB Tyler Hughes – 6-1, 205, Senior committed to Southern in July over offers from William & Mary and Campbell. But don't let that two-star stuff fool you. Coach Morgan says he can make all the throws that 4-Star QB Harrison Bailey made while leading the Blue Devils to the state title two years ago and what Hughes gives them that Bailey didn't was a running QB. Tyler is the team's leading rusher with 480 yards on the ground and six TDs to go with his over 31-hundred yards passing and 40 TD against only seven INT.
Kamryn Perry – 5-8, 150-pound, Senior WR – Offered by Kentucky – One of three Blue Devils receivers with 50-plus catches. He has a team-leading 1,004 yards receiving with 17 TD catches – in high school!
Camden Overton – 6-4, 235-pound, Senior TE – Offered by Georgia State and Southern. Maybe you can think of him as Arik Gilbert Lite although he's a big young man out there catching passes. Team-leading 59 receptions and 7 TD.
Zeke Campbell – 6-5, 200-pound, Senior LB – Offered by Troy – Big-time playmaker on the Blue Devils DL and will hop over and help out on the OL as well. 56 tackles, 7 sacks and 14 TFL.
Milon Jones – 6-0, 175-pound, Senior ATH - Offered by Toledo – Been a two-way star for the Blue Devils at RB and SAF although injuries sidelined him earlier in the season and he's settled in on defense-only since his return.
Carlos Cervantes – 5-10, 213-pound, Senior LB – Decommitted recently from Presbyterian but receiving interest from Georgia State. Tackling machine. Team-leading 136 stops, five sacks, 10 TFL. Only thing holding him back is the one thing he can't do anything about and that's his height. But think Zac Thomas, Sam Mills or Jesse Tuggle and you get the picture.
So, it all starts with the Gabby Award-winning and Emmy-nominated Recruiting 2021 at 7 p.m. followed by Football Fridays in Georgia as the Milton Eagles host the Marietta Blue Devils at 7:30 p.m. Join Wayne Gandy, Jon Nelson, Tabitha Turner-Wilkins, Hannah Goodin and me for the call. And remember, when it's over, it isn't over! Stick around for the already-famous GPB Sports Postgame and Bracketology Show for all the big scores, interviews with the top coaches around the state and breakdown of the GHSA playoff brackets.
If you miss all the fun on TV because you're out watching another game, don't worry, we replay the entire Football Fridays in Georgia at the end of our live show. You can also watch live on the GPB Sports app or our Twitter or Facebook page from whereever you are or watch it on demand anytime at GPB.org. Enjoy your Football Friday!
Secondary Content
Bottom Content