Section Branding
Header Content
GHSA Cheerleading Championships Back For An Encore Performance in 2021
Primary Content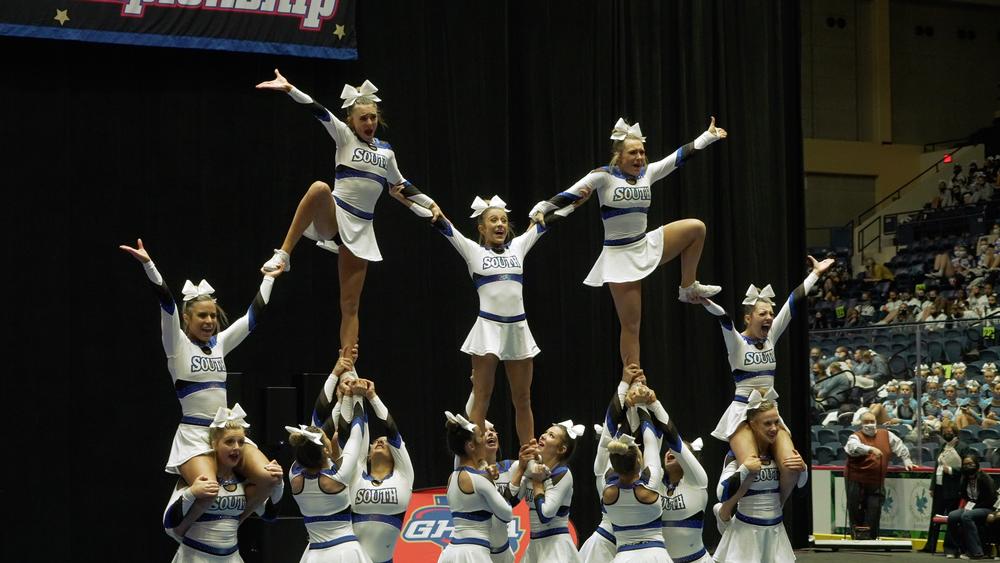 The pinnacle of Georgia High School Association (GHSA) competition cheerleading, the GHSA Cheerleading State Championships, arrives this week with a twist.
This is not the first, but second state match-up cheerleaders have faced in 2021. It follows the state competition in February—three months delayed by the pandemic. No doubt a record-maker in the annals of GHSA cheerleading history. And a year with two contests means viewers can enjoy double the mastery: the sport so nice, we get it twice.
Nine squads won titles for the 2020-2021 athletic season in February, and nine will win again at the 2021-2022 GHSA Cheerleading State Championships. Now reinstated to its former fall glory on the calendar, the sanctioned competition returns to the Macon Centreplex this Friday,  November 19 and Saturday, November 20.
Bedecked in school colors and bedazzled with sparkles, cheerleading devotees for schools in A through Coed will for hours inhabit the fan sections, dutifully awaiting their team's turn on the 42' x 42' blue mat. And for good reason. In no sport other than cheer does "fever pitch" so perfectly describe the duration of competition.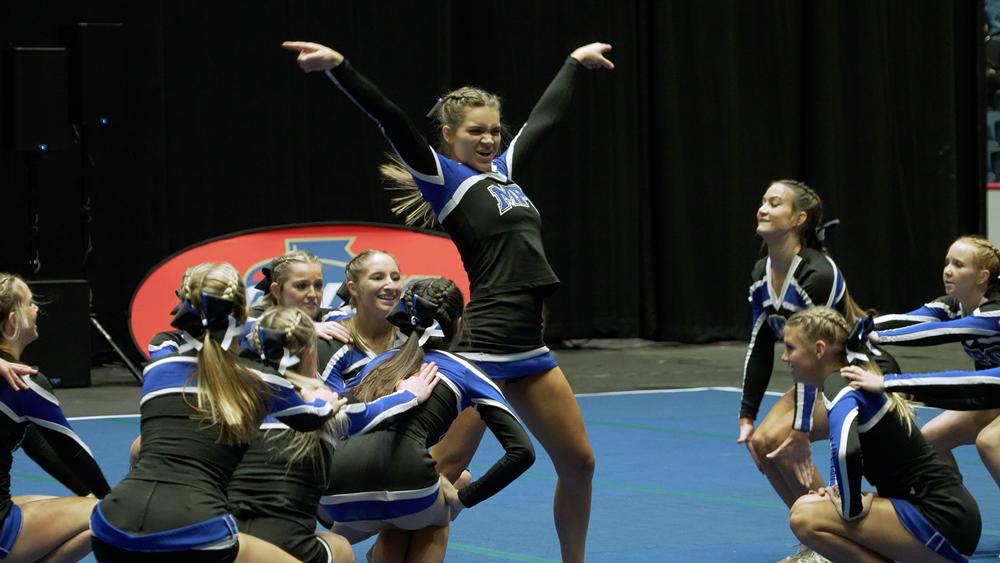 GHSA competitive cheerleading is less subjective art, more exact science, with dozens of technical and presentation skills to combine flawlessly in a whirling two-and-a-half-minutes. Three judging panels observe and score performances on a range of techniques, as squads seek the elusive perfect score of 107. 
Panel A scores jumps, cheer, dance, and overall routine composition.
Panel B presides over standing and running tumbling.
Panel C judges, partner stunts and pyramids.
To spectators, the action seems to defy gravity, but cheer athletes know: it's strategically crafted physics, propelled by strength and training. With a heap of high-difficulty skills, and sparing any deductions for performance violations or safety infractions, the teams who put their best foot forward will take home titles. They may arrive as Hawks or Bulldogs…Trojans or Raiders. But they'll leave as state champions.
The GHSA rotation schedule is divided across two days with two performance sessions each day and 32 teams slotted in each session. And event organizers don't miss a beat.
Watch all 128 performances of the 2021-2022 GHSA Cheerleading State Championships LIVE on GPB.org starting at 10 AM Friday.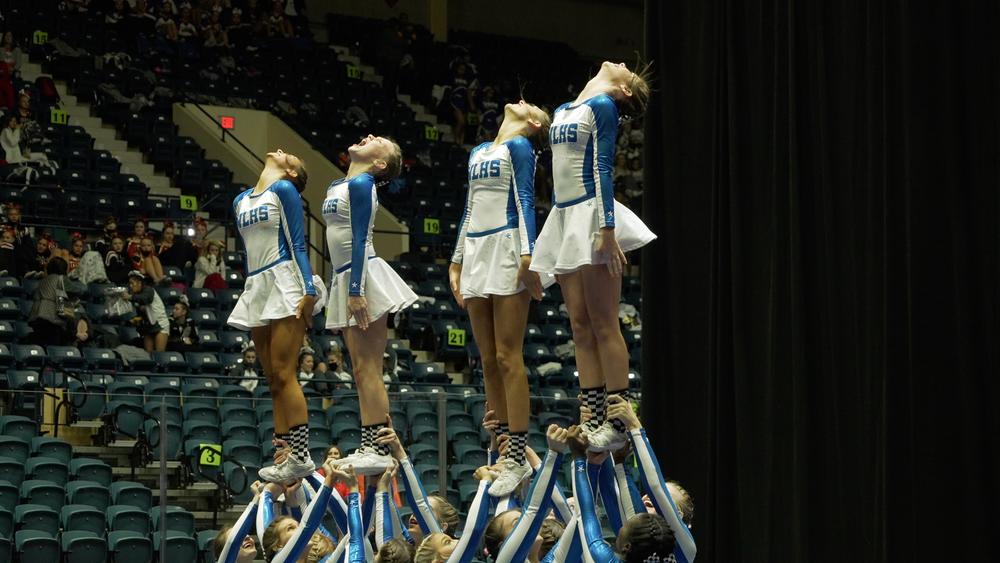 COMPETITION SCHEDULE 
FRIDAY, NOVEMBER 19
2A & 4A Finals - Live at 10:00 AM  
3A & 6A Finals - Live at 3:00 PM
 
SATURDAY, NOVEMBER 20
A Private/A Public & 5A -  Live at 10:00 AM
Coed & 7A Finals - Live at 3:00 PM
And on Thanksgiving Thursday, November 25 at 7 PM, join Chelsea Tafoya and me for a one-hour special airing on GPBTV and GPB.org featuring the top squads in all nine classifications. It's turkey…with a side of cheer! Except we think this rare, holiday cheer premiere tastes more like dessert.
2020-2021 Defending Champions
A Private: Mt. Paran Christian
A Public: Gordon Lee
2A: Dodge County
3A: Mary Persons
4A: West Laurens
5A: McIntosh
6A: Carrollton
7A: South Forsyth
Coed: Mill Creek
Enjoy the show!
Secondary Content
Bottom Content