Section Branding
Header Content
Recruiting 2021: Buford at Dacula
Primary Content
The region 8-6A championship will be decided tonight on GPB as the top-ranked Buford Wolves (8-1, 5-0) take on the Dacula Falcons (6-3, 5-0) at Barron Stadium. Coverage starts at 7 p.m. with Recruiting 2021 followed by the Football Friday in Georgia Game of the Week at 7:30.
This is the final Friday night of the GHSA regular season, and the winner of this game will take a No. 1 seed into the first round of the state playoffs next week and host the No. 4 seed out of Region 6. The loser will be a No. 2 seed and host the No. 3 seed out of that same region. Those teams will be determined tonight as well.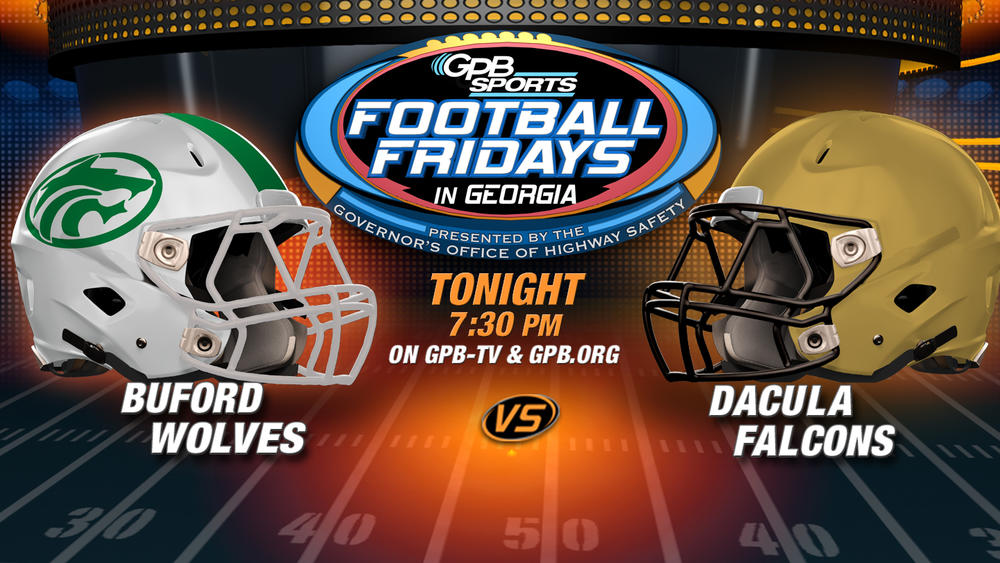 For the Wolves, this game sets the stage for their quest to three-peat as state champions and pursue the program's 14th state title, having won back-to-back crowns both in overtime in 2019 and 2020. A region title would be the program's 31st. Twelve of Buford's state championships and 17 of those region titles have come in the last 20 years.
Pound-for-pound they have been the strongest program in the state in the 2000s having won a title in every classification. Next year they'll get to try their hand in 7A as the Wolves are being promoted to the state's highest classification in 2022.
The Wolves lone loss this season came in game four when Hollywood, Florida's Chaminade-Madonna beat them 7-0 at Buford. The Lions are ranked No. 1 in Florida 3A. The Wolves have won five straight games since, outscoring their opponents 230-2.
The Wolves are led by third-year head coach Bryant Appling who is 35-3 since being promoted to the position after 15 seasons as an assistant coach at Buford.
Dacula is gunning for the program's 13th region championship and sixth in eight seasons. The Falcons have been one of the top teams in 6A over the last couple of seasons and reached the semifinals back-to-back in 2018 and 2019 before getting stopped in the second round of the playoffs last season.
Dacula has rebounded from a rough start under first-year coach Casey Vogt and have bounced back from a 1-3 record winning five straight. After dropping games to 7A Top 10 opponents Brookwood and Mill Creek and losing by a field goal to 7A Mountain Creek, the Falcons have steamrolled their region competition. In fact, the Falcons are 6-0 against 6A teams having outscored them 226-66.
Vogt is in his second season as a high school coach coming to Dacula to replace Clint Jenkins (31-8 in three seasons) who moved on to Morgan County. Vogt was at Northside-Warner Robins last season after spending the previous 18 seasons coaching in FCS football, seven seasons as an assistant at Mercer.
This will be 34th all-time meeting between these two teams dating back to 1964 but just the second time they've played since 1995 with the Wolves defeating the Falcons 35-0 last season. Buford leads the series 25-8.
So that's the preview, let's take a look at the top prospects to watch in tonight's game:
Dacula Falcons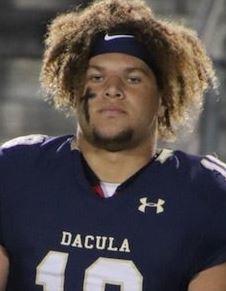 3-Star LB/RB Kyle Efford – The 6-2, 225-pound, senior committed to Georgia Tech in July over 10 other offers including Maryland. Not going to lie, he has been one of my favorite players to see play over the last four years. He's been a starter for Dacula since his freshman year and just as much a beast running the ball as he is playing linebacker, if not even more so. When Coach Vogt showed up for his first day of work back in March, Kyle was the guy who met him at 6 a.m., offering to help him move boxes out of his truck into his new office. Special kid. Special player.
Junior LB Jayden Bethea – The 6-0, 220-pounder has been offered by Ole Miss, Maryland and UCF. In fact, Bethea just received the offer from the Terrapins Thursday. One of the reasons Coach Vogt was excited to have this game on television tonight was he really believes some of his guys are being overlooked and underrecruited and Jayden is one of those. He says when you watch the game tonight and ask, "Who made the tackle?" the strong chance it's either Jayden or Kyle and credits those two guys for enabling the Falcons defense to play fast in route to scoring nine defensive touchdowns this season.
Senior LB Festus Davies – The 6-3, 220-pounder has been offered by Tennessee Tech, Gardner-Webb and Wofford. Reflecting on his FCS coaching days, Coach Vogt says the only time he saw players with Davies's talent at the FCS level was when they had transferred from FBS. Davies has 7 QB sacks with 8 more QB pressures. He also starts at TE for the Falcons.
Buford Wolves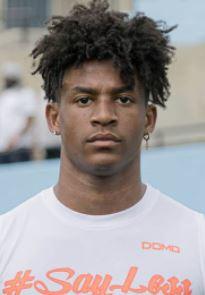 4-Star WR/CB Isaiah Bond – The 5-10, 175-pound, senior is the 247 Sports No. 1 athlete in the country. He committed to Florida in May over 24 other offers including Alabama, Texas and Miami. As great as the 13-time state championship program has been, it would be hard to argue that Buford has ever had a more dynamic playmaker than Bond. Coach Appling believes Bond could play either offense or defense in the SEC, so just stop and comprehend the magnitude of that statement. Bond is the highest-rated prospect in Florida's Class of 2022 and has plans to visit the Gators again for the Florida State game later this month.
4-Star Sophomore WR/SAF K.J. Bolden - So remember what I just wrote about Bond and the same applies, if not perhaps one-day even more so, for Bolden. The 6-0, 180-pounder is the 247 Sports No. 1 sophomore athlete in the nation. He has 15 offers including Georgia, Alabama, Tennessee, Florida, North Carolina, and Florida State. He'll be at Georgia Saturday for the Missouri game. When you ask Coach App about Bolden, who plays WR and SAF for the Wolves, you have to remind yourself that he's talking about a 10th grader and not a senior. His level of preparation, maturity and development, especially on the defensive side maybe puts him ahead of Bond at that stage of his career.
4-Star Senior Safety Jake Pope – The 6-1, 190-pounder committed to Alabama in August over 35 other offers including Georgia, Ohio State, Notre Dame and North Carolina. He plays both sides for the Wolves as a WR and SAF and elicits the same kind of questions for Coach App and the same kind of answers. He could play either side at the next level. Pope took official visits to Alabama, Ohio State, Notre Dame and North Carolina before committing to the Crimson Tide but has also taken a number of unofficial game-day visits to Georgia since committing to Bama.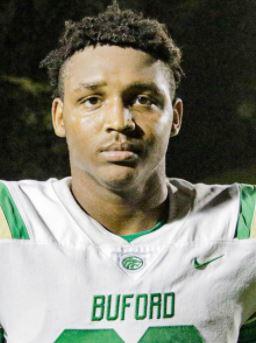 4-Star Sophomore DL Eddrick Houston – The 6-5, 235-pounder is the 247 Sports No. 5 edge rusher in the country. He has nine offers including Georgia, Georgia Tech, Alabama and Ole Miss. Keep your eye on Houston. He will be one of the top defensive players in the country by the time he reaches his senior season. Eddrick competes on the track and field team and throws the discus but Coach App says he wants to run the 400. Absorb that for a moment. Houston is listed at 6-5, 235 and wants to run the 400. His recruitment is really just getting started but for him to already be on the national radar tells you about this young man's upside.
Malik Spencer – 6-2, 193-pound, Senior – 247 Sports 3-Star SAF – Committed to Michigan State in March over 19 other offers including Miami.
Aubrey Smith - 6-2, 220, Senior – 247 Sports 3-Star LB – Committed to Colorado in October over 13 other offers including Florida State.
Victor Venn – 5-9, 175, Senior – 247 Sports 3-Star RB – Committed to Colorado in March over 23 other offers including Georgia Tech and Michigan State.
Ryland Gandy – 6-0, 170, Senior – 247 Sports 3-Star CB – Committed to Pittsburgh in June over 20 other offers including West Virginia.
Ashton Daniels – 6-3, 200, Senior – 247 Sports 3-Star QB – Committed to Stanford in June over 15 other offers including North Dakota State.
V.J. Payne – 6-2, 180, Senior – 247 Sports 3-Star LB – Committed to Kansas State over 16 other offers including Boston College, Florida State and Vanderbilt.
C.J. Clinkscales – 5-9, 180, Senior – 247 Sports 3-Star ATH – Committed to Boston College in March over 14 offers including Michigan State.
Josiah Wyatt – 6-4, 220, Senior – 247 Sports 3-Star DL – Committed to Appalachian State over 5 other offers including Army and Eastern Kentucky.
Tobi Olawole – 6-1, 185, Senior – 247 Sports 3-Star WR – Committed to Furman over Eastern Kentucky and Wingate.
River Wilson – 6-0, 245, Senior – Rivals 2-Star DE – Committed to Navy over South Alabama and Eastern Michigan. Unfortunately, he is injured and will not play tonight.
So that's the four four-stars and list of the 10 committed seniors. The Wolves have 11 more players – seniors down through freshmen – who have offers but are not yet committed. You see why folks called them the University of Buford. Here's the players who are uncommitted:
Paul Mubenga – 6-4, 280, Junior OT – Seven offers including Tennessee, West Virginia, and Georgia State.
Tyshun White – 5-10, 160, Sophomore CB – Seven offers including Kentucky, Arkansas, and West Virginia.
Dylan Wittke – 6-2, 185, Junior QB – Six offers including Appalachian State, Florida Atlantic and East Carolina.
Ryan McKinnis – 6-2, 200, Junior RB – Five offers including Arkansas, West Virginia, and Charlotte.
Jadon Perlotte – 6-3, 200, Freshman LB – Offered by Arkansas, West Virginia, and Charlotte.
Jaylen Neal – 6-0, 175, Sophomore CB – Offered by Michigan State and Charlotte.
Bryson Banks – 5-9, 204, Sophomore RB – Offered by UCF and Middle Tennessee.
Devin Forrester – 6-4, 280, Sophomore OT – Offered by Florida State.
Sho Mitchell – 6-2, 280, Senior DT – Offered by Eastern Kentucky.
Joe Miller – 6-0, 200, Senior LS – Offered by East Tennessee State and receiving interest from Baylor and Vanderbilt.
Nate Norys – 6-1, 250, Senior LB – Offered by Valparaiso.
So, it all starts with the Gabby Award-winning and Emmy-nominated Recruiting 2021 at 7 p.m. followed by Football Fridays in Georgia as the Dacula Falcons host the Buford Wolves at 7:30 p.m. Join Wayne Gandy, Jon Nelson, Tabitha Turner and me for the call. And remember, when it's over, it isn't over! Stick around for the already-famous GPB Sports Post-Game and Bracketology Show for all the big scores, interviews with the top coaches around the state and breakdown of the GHSA playoff brackets.
If you miss all the fun on TV because you're out watching another game, don't worry, we replay the entire Football Fridays in Georgia at the end of our live show. You can also watch live on the GPB.org or the GPB Sports app or our Twitter or Facebook page from wherever you are or watch it on demand anytime at GPB.org.
Enjoy your Football Friday!
Secondary Content
Bottom Content