Section Branding
Header Content
Recruiting 2021: Calhoun at Cartersville
Primary Content
The Region 7-5A Championship will be decided tonight on GPB as the fourth-ranked Calhoun Yellow Jackets (8-1, 4-0) take on the top-ranked Cartersville Purple Hurricanes (8-0, 4-0) at Weinman Stadium. Coverage starts at 7 p.m. ET with Recruiting 2021 followed by the Football Friday in Georgia Game of the Week at 7:30.
This game is huge in so many ways. Not only will a region championship be won but the course of the 5A playoffs hangs in the balance. In reality, tonight's regular season finale for these two teams is the start of the playoffs.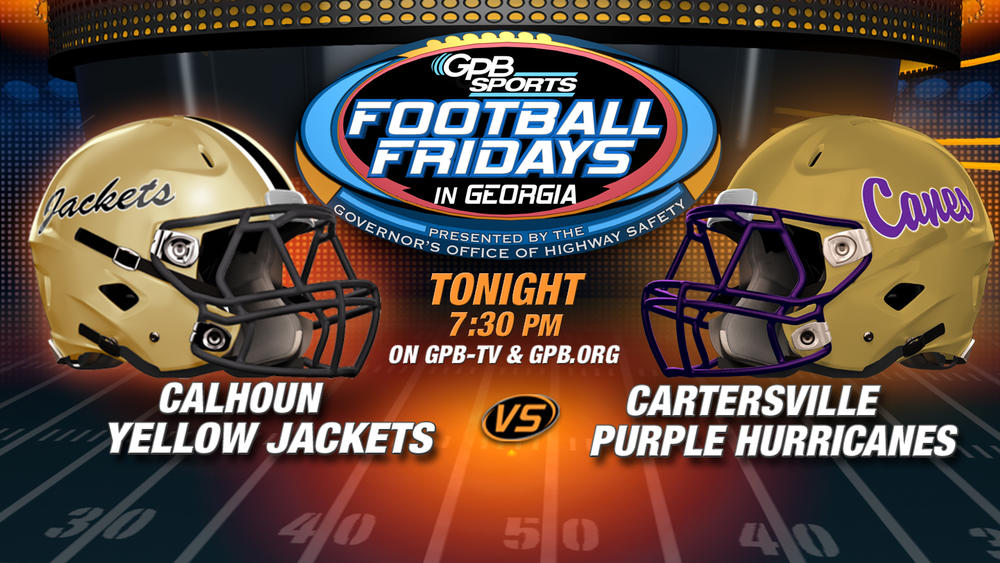 The winner of this game could end-up playing the entire playoffs at home and that includes a potential second-round home game against defending state champion and until-a-couple-of-weeks-ago seemingly untouchable Warner Robins, then ranked No. 1. The loser of this game will likely be on the road in the second round against No. 2 Ware County, the team that beat the now-No. 3 Demons two weeks ago.
Neither of those scenarios are enticing but if you had to choose, you certainly would rather be at home than on the road against those two Central and South Georgia juggernauts.
The trophy is important, too. The Purple Hurricanes will be going for their 10th straight region title, after finishing as co-champions with Blessed Trinity last year, and their 23rd overall. The Yellow Jackets are seeking their 24th region crown but first in 5A and first in two years since their streak of 18 straight was ended in 2019 after moving up from 3A.
This is a big rivalry game too. When you think about high school powerhouses north of Atlanta, these two spring to the front of your mind. They are so similar and that's what makes this a rivalry game, even though they don't play every year.
Calhoun has won four state championships and been a state finalist 10 times since the program began playing every year in 1943. Three of those state titles have come in the last 10 seasons, most recently in 2017, and eight of those 10 state finals appearances have come since 2005
Cartersville has also won four state championships and been a state finalist six times since the program began playing continuously in 1916. The most recent of those four state championships came back-to-back in 2015-16 with Trevor Lawrence at quarterback and four of the six state finals appearances have come in the last six years, including 2020 when the 'Canes lost to the aforementioned Warner Robins.
Both programs are led by young head coaches that followed in the footsteps of legendary coaches -- Clay Stephenson at Calhoun who replaced the retired Hal Lamb in 2019 and Conor Foster at Cartersville who took over for Joey King who left for the college ranks after the 2018 season but is now back at Carrollton.
This will be the 38th all-time meeting with Cartersville leading the series 30-6-1 after beating the Jackets 31-14 last season. But this is just the fourth meeting in the series over the last 12 years and just the eighth in the last 32 years. Yet, when you think Calhoun vs. Cartersville, you think rivalry and once again a lot will be riding on the outcome tonight as it usually does.
So that's the preview, let's take a look at the top prospects to watch in tonight's game:
Calhoun Yellow Jackets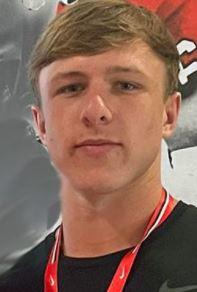 3-Star WR Cole Speer - The 6-1, 185-pound, senior committed to Georgia in August over nine other offers including Memphis, Army and East Carolina. Speer is one of three wide receivers currently committed to the Bulldogs in the Class of 2022 and convinced the Georgia staff to offer him, when he reportedly ran the 40 in sub-4.5 seconds consistently at camp over the summer. His speed will be evident when you watch him play tonight. He is a three-way starter, also lining-up at corner and returning kicks.
2-Star OL Kendrick Kirby - The 6-3, 270-pound, senior committed to Army in June over offers from Marshall, Memphis and Arkansas State and is one of the three Yellow Jackets committed to one of the U.S. Military Academies. Likely an offensive guard at West Point, Kirby is Calhoun's starting left tackle but can play every position on the line. He is a three-year starter on the Jackets offensive line and Coach Clay Stephenson calls him the leader of that unit. Kirby was offered by the Black Knights back in February and became the fifth GHSA player to commit to Army this season.
Other Yellow Jackets Top Prospects to Watch
Senior WR/CB Quin Smith – The 6-1, 190-pounder is committed to Air Force. Smith has 19 catches for 411 yards and 6 TD and 3 interceptions while starting at corner.
Senior RB/SAF Gage Leonard – The 5-8, 185-pounder is committed to Navy. Coach Stephenson says that Leonard is 100 perceent full throttle all the time.
Senior QB Christian Lewis – The 5-9, 155-pounder has been offered by Reinhardt, Shorter and Berry. Christian has completed 72 percent of his passes for more than 1,800 yards 20 TD and just 2 INT
And the same offers for his twin brother – 5-9, 190-pound senior FB/LB Christopher Lewis. Coach Stephenson says Christopher is to the defense what Christian is to the offense.
Cartersville Purple Hurricanes
Senior OT Shadre Hurst – The 6-2, 250-pound, senior offensive tackle has been offered by Washington State, UMass, Chattanooga and Southeast Missouri State. The three-year starter is coming off a 100 percent grade in the win over Woodland last week. Coach Foster says Hurst is a quiet kid, but his leadership is unquestioned. He's the hardest worker in the weight room and a 400-pound bench presser. Foster adds there are times when the weight room stops in awe of him while he is lifting.

Junior OT Johnathan Cline – The 6-3, 260-pounder has been offered by UCF, Memphis and Charlotte and Coach Foster says that was all just a matter of time. After not starting last year, once Cline was able to get his tape out this year, the offers have started to come because he fits the mold and hits all the measurables for an offensive lineman. Cline took an unofficial visit to UCF earlier this month.
Other Purple Hurricanes Top Prospects to Watch
Senior WR/CB JaQualyn Mayhall – The 5-8, 145-pounder has been offered by Mount Union. He has a 38-yard pick-six this season.
Senior WR Brynen Wilkins – The 5-11, 160-pounder has been offered by Reinhardt where his brother Bryce already plays. He has 13 catches for 3 TD this season.
Senior WR/SAF Jacob Ray – The 5-10, 180-pounder has been offered by Berry. Ray has nine catches for a team-leading 234 yards and three TD. On defense, he's got more than 40 tackles and a team-leading five PBU.
So, it all starts with the Gabby Award-winning and Emmy-nominated Recruiting 2021 at 7 p.m. followed by Football Fridays in Georgia as the Cartersville Purple Hurricanes host the Calhoun Yellow Jackets at 7:30 p.m. Join Wayne Gandy, Jon Nelson, Hannah Goodin and me for the call. And remember, when it's over, it isn't over! Stick around for the already-famous GPB Sports Post-Game Show for all the big scores and interviews with the top coaches around the state!
If you miss all the fun on TV because you're out watching another game, don't worry, we replay the entire Football Fridays in Georgia at the end of our live show. You can also watch live on the GPB Sports app or our Twitter or Facebook page from wherever you are or watch it on demand anytime at GPB.org. Enjoy your Football Friday!
Secondary Content
Bottom Content