Section Branding
Header Content
Recruiting 2021: Brookwood at Grayson
Primary Content
First place in Region 4-7A will be on the line tonight on GPB as the eighth-ranked Brookwood Broncos (5-2, 1-0) take on the ninth-ranked Grayson Rams (6-2, 2-0) at Britt-Moody Field at Grayson Community Stadium. Coverage starts at 7 p.m. ET with Recruiting 2021 followed by the Football Friday in Georgia Game of the Week at 7:30.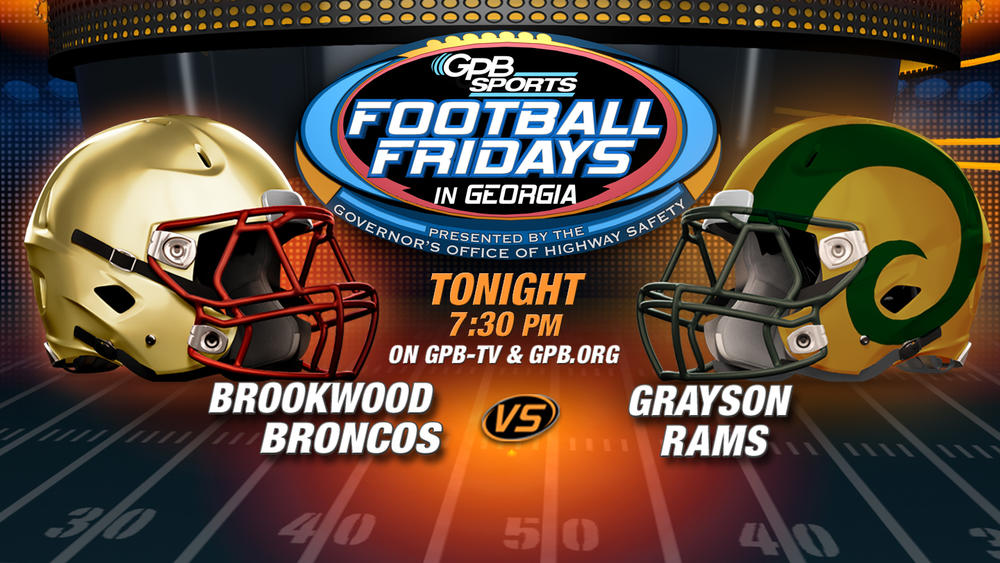 The tables are turned a little bit from this time a year ago when Grayson came into the game with one of the top-rated quarterbacks in the nation in Jake Garcia, who led the Rams to a 58-17 rout against a Brookwood team that only weeks earlier had been ranked No. 3 in the state. Garcia is gone, now a freshman at Miami, and so are most of the stars that helped Grayson go 14-0 and win it's third state championship, all of them in the last 10 years.
This year it's the Broncos that enter the game with one of the nation's top-rated quarterbacks, junior Dylan Lonergan. He was injured and did not play when these two Gwinnett County rivals met last season. But this is not the same Brookwood team either. Gone are four highly recruited prospects, three of them four-star athletes who transferred to North Cobb. No matter. The Broncos have won three straight, outscoring their opponents 93-32 during the winning streak and with a victory this evening will be in the driver's seat to win their first region title under Coach Philip Jones since 2017 when Brookwood reached the state semifinals.
Now even with the loss of 25 college football signees from last year's team, Grayson still boasts 18 players who have college offers with a sophomore and freshman class whose talent may just rival last year's 2020 state championship team. Just don't expect to see the same kind of team you saw a year ago. With Garcia gone, Coach Adam Carter is playing one of the nation's top sophomore athletes at quarterback in JoJo Carter and this Rams team will rely heavily on him in their running game. He is 6-0 as their starting QB.
So that's the preview, let's take a look at the top prospects to watch in tonight's game:
Brookwood Broncos
4-Star Dylan Lonergan - The 6-2, 215-pound, junior is the 247 Sports Composite No. 6 QB in Class of 2023 and the highest-rated prospect in tonight's game. Lonergan has 23 offers including Georgia, Georgia Tech, Penn State, North Carolina and Alabama. He's had a spectacular season averaging nearly 300 yards passing per game with over 2,000 yards total, 17 TD and just two INT. He just took an unofficial visit to Georgia last weekend but don't count out the Nittany Lions, where his dad was a back-up quarterback to Todd Blackledge in the Joe Pa glory days. Dylan is also an outstanding baseball prospect who might be chosen very high in the 2023 MLB Draft. (You can see his interview with Hannah Goodin on tonight's Recruiting 2021.)
Stone Bonner – 6-5, 220-pound, senior tight end who's been offered by Air Force. Great name for a TE not to mention a private investigator. Uber talented, Bonner has 29 catches for 477 receiving yards this season. The Broncos will attach him to the line, flex him out as a solo WR and/or play him at the sniffer position (another name for H-back). Bonner is also getting looks from Arkansas State, Lehigh, Bucknell and New Hampshire.
Alex Diggs – Senior running back who may be one of the most underrated players in the state. The 5-9, 197-pounder has an offer from Davidson. But in the words of Coach Jones, college coaches might consider him an inch too short or a step too slow, but all he has done for the Broncos is produce. Through seven games, Diggs is averaging nearly 160 yards total offense per game. Not only is he Brookwood's leading rusher with 439 yards on the ground and five touchdowns, he's also the Broncos leading receiver with 39 catches for 635 yards and three touchdowns.
Some of the other top Broncos Prospects to Watch:
Senior DB Niles Prince – The 5-11, 180-pound, senior CB/SAF has an offer from Air Force.
Senior safety Patrick Campbell – The 6-0, 185-pounder has been offered by Davidson and is also considered a baseball prospect.
Senior DL Tyler Washington has an offer from Akron. The 6-1, 235-pounder actually started his career at Grayson.
Grayson Rams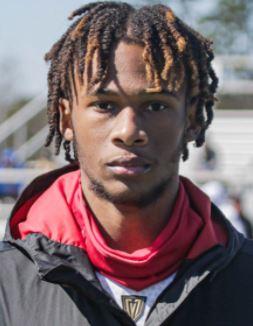 4-Star Michael Daugherty - The 6-1, 180-pound, junior is the 247 Sports No. 5 Safety in the Class of 2023. He has 33 offers including Georgia, LSU, Tennessee, Clemson and Mississippi State. Daugherty has taken unofficial visits to UCF and Auburn this season and camped at Florida State this summer. Even though he'll likely be a safety at the next level, he's playing SAM linebacker for the Rams right now out of necessity and is so versatile that he's also played some corner.
4-Star Waltclaire Flynn - The 6-1, 290-pound, sophomore is the 247 Sports No. 2 interior offensive lineman in the Class of 2024. Flynn has 12 offers including Georgia, Georgia Tech and Florida State. He took an unofficial visit to Tennessee early in the season and took in the Alabama-Miami game at Mercedes-Benz Stadium. Flynn also took an unofficial to Florida State this summer as well as camped there in Tallahassee. You'll see Flynn start tonight for the Rams at right guard.
4-Star JoJo Stone - The 5-11, 180-pound, sophomore is the 247 Sports No. 12 athlete in the Class of 2024. Stone already has 17 offers including Georgia, Georgia Tech, Penn State and Michigan. Stone is playing QB, but Coach Carter will be the first to tell you, he isn't a QB. He's a safety, or a wide receiver, or a running back; but following the graduation of Garcia, Stone at QB has given the Rams the best chance to win this season.
Some of the Rams other Top Prospects to Watch:
Mumu Bin-Wahad – 5-11, 175, Senior – 3-Star CB – Committed to West Virginia over 28 other offers including Nebraska, Michigan and Georgia Tech. He'll play safety for the Rams tonight.
Griffin Scroggs – 6-5, 320, Senior 3-Star interior OL – Committed to Georgia in August after decommitting from Georgia Tech (his dad's alma mater). But UGA is his "dream school." He'll line up at center.
Derrell Farrar – 6-1, 205, Senior 3-Star LB – Committed to App State over 12 other offers. He's been the Rams leading tackler but unfortunately won't play tonight because of injury.
A.J. Lopez – 6-0, 170, Senior 3-Star Safety – Committed to Harvard. Unfortunately, he's another one of the Rams' stars who won't be able to play tonight because of injury. The loss of Lopez and Farrar will be a big obstacle for Grayson to overcome.
Jalen Smith – 6-1, 190, Junior OLB who has six offers. With Farrar and Lopez out, a lot falls on his shoulders on defense. Smith has been offered by Pitt, West Virginia, Boston College, Georgia State, Charlotte and Arkansas State.
Jaylen Bell – 5-11, 150, Freshman CB – Seven offers including Georgia, Florida State and Ole Miss.
Kylan Fox – 6-4, 200. Sophomore TE – Offered by Ole Miss and Tennessee.
Keyon Woods – 5-11, 160, Sophomore WR – Offered by Minnesota.
Ma'khi Jones – 5-10, 182, Freshman SAF – Offered by Ole Miss.
Tyler Rowe – 5-11, 175, Senior WR – Offered by Army, Kent State and Akron.
Mason Humphrey – 6-3, 185, Junior WR – Offered by Charlotte.
Tyler Washington – 6-1, 235, Senior DT – Offered by Akron
Kai Banks – 5-10, 175, Senior WR – Offered by Presbyterian
O'Neal Madom – 6-0, 275, Senior OL – Offered by Presbyterian.
So, it all starts with the Emmy-nominated Recruiting 2021 at 7 p.m. followed by Football Fridays in Georgia as the Grayson Rams host the Brookwood Broncos at 7:30 p.m. Join Wayne Gandy, Jon Nelson, Hannah Goodin and me for the call. And remember, when it's over, it isn't over! Stick around for the already-famous GPB Sports Post-Game Show for all the big scores and interviews with the top coaches around the state!
If you miss all the fun on TV because you're out watching another game, don't worry, we replay the entire Football Fridays in Georgia at the end of our live show. You can also watch live on the GPB Sports app or our Twitter or Facebook page from wherever you are or watch it on demand anytime at GPB.org.
Enjoy your Football Friday!
Secondary Content
Bottom Content