Section Branding
Header Content
Gates Chooses Gators; Other Top Prospects Narrow Their Lists
Primary Content
We are two weeks from the launch of another Football Fridays in Georgia on GPB. I'm looking forward to calling the play-by-play for my eighth consecutive season and my 24th straight season calling high school football here at GPB.
In the meantime, let's take a look at the top recruiting news in the state this week:
Trinity Christian junior star Aaron Gates commits to Florida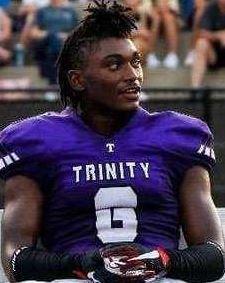 The 6-0, 180-pound athlete dropped his Top 10 earlier in the week and then Thursday announced that he had committed to the Gators. Gates chose Florida over 20 other offers including Georgia, Georgia Tech and Vandy.
Those are the four teams he had visited this summer.
The Lions star already has six career interceptions with five of them coming in his sophomore season as Trinity Christian reached the Class A Private championship game.
LT. names his Top 12
No measly Top 10 for the No. 1 junior prospect in the country, Milton 5-Star DE Lebbeus "L.T." Overton announced his Top 12 this past week.
Teams that made the Dirty Dozen – Georgia, Alabama, Clemson, Texas A&M, Kentucky, Tennessee, North Carolina, LSU, USC, Oklahoma, Florida and Ohio State.
Couple of things to consider as Overton's much publicized recruitment plays out over the next couple of years. L.T.'s dad Milton, who is now the AD at Kennesaw State, was a 4-year starting OL for the Sooners. His dad has also worked in the Bama and A&M athletic departments and his mom was a volleyball standout at Kentucky.
Overton told 247 Sports the coaches he's talking to the most right now are the Buckeyes, Sooners, and Aggies.
Carver-Columbus 4-Star OT Elijah Pritchett announces his Final 4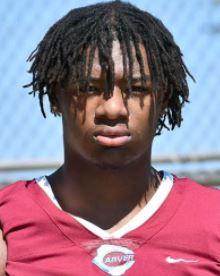 The 247 Sports Composite No. 9 offensive tackle in the nation picked Georgia, Alabama, Florida State and Southern Cal. The 6-6, 280-pound senior has taken official visits to Bama, USC, and FSU. In fact, Pritchett has visited the Seminoles several times.
If you're thinking I sure am hearing the Trojans name a lot in Georgia high school recruiting, you're not imagining things. Columbus Hardaway 4-Star DL Mykel Williams is already committed to Southern Cal and USC is very much in the mix for Cedar Grove 4-Star DL Christen Miller as well.
No timetable for his announcement but he did tell 247 Sports he'd like to do it several weeks into the season, which of course would be soon.
Buford 4-Star Isaiah Bond has no plans to make more visits.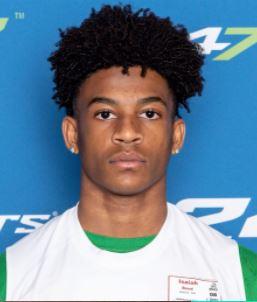 Bond committed to the Florida Gators in May over 24 other offers including Georgia and Alabama. When the NCAA lifted the dead period in June, the Wolves star visited Gainesville, Tuscaloosa, Miami, and Texas.
The 247 Sports Composite No. 7 athlete in the nation, Bond had a big senior debut in Buford's 35-27 win over North Cobb in the Corky Kell with four catches for 96 yards and on defense had a couple of tackles and one for loss.
The 5-10, 175-pound senior will play either side of the ball in college. He's the reigning 6A State Champion in the 100 and 200 meters. Bond has been clocked at 10.48 in the 100.
Buford LB Aubrey Smith plans visit to Colorado
The 6-2, 220-pound senior will check out the Buffaloes on Sept. 17. That will be an official visit. The three-year Buford starter has already taken an unofficial visit to Florida State.
Smith has 14 offers including the Seminoles, Georgia, Georgia Tech, Alabama and Auburn.
Smith had a couple of tackles for the Wolves including 1.5 TFL in their Corky Kell win over North Cobb.
Harrison 3-Star safety Nathan Vail commits to Duke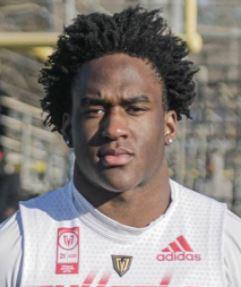 The 6-2, 195-pound senior chose the Blue Devils over 14 other offers including Georgia Tech, Nebraska, and Boston College.
Vail becomes the 16th commitment in Duke's Class of 2022 but the first safety. He joins fellow Georgia High School stars – Marist OL Steven Nahmias and Kennesaw Mountain ATH Savion Riley.
Vail helped lead Harrison to a big season-opening win over rival Allatoona last Friday night. Vail and the Hoyas play their home opener tonight against North Forsyth.
He was a sophomore on Harrison's 2019 6A Championship team.
Newton 3-Star CB Audavion Collins commits to Mississippi State
The 6-0, 195-pound senior chose the Bulldogs over Michigan State, Tennessee and 16 other offers.
Collins becomes the third Georgia HS star to join Mississippi State along with 3-Star Ola OT Jackson Cannon and 3-Star Cedar Grove SAF Donovan Johnson.
Collins took an unofficial visit to Starkville back in June and has an official planned for September. Collins also took an official to visit the Spartans in East Lansing.
He had three interceptions last season as a junior including a pick-six and you got a chance to see him here on GPB when he and his Rams teammates played Parkview.
Collins as clocked at 4.4 in the 40 at Tennessee camp.
Don't forget …
Remember you can stay up to date on all the state's big recruiting news by reading this blog every Friday and by watching our GPB Sports Recruiting 2021 show every Friday at 7 p.m. Our next two shows will be available online and through our social media platforms. Our first TV show will air Sept. 10 when GPB Sports kicks off another season of Football Fridays in Georgia.
Looking forward to it!
Secondary Content
Bottom Content