Section Branding
Header Content
Make That Kid An Offer Nominees: Week of August 23
Primary Content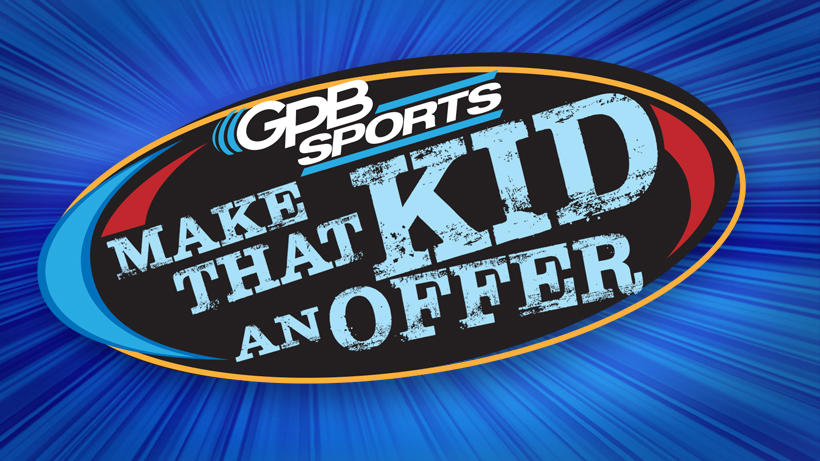 GPB Sports is looking for Georgia high school football players who are having a great season and career but who may need a little help getting noticed by recruiters. If you, or someone you know, doesn't have an offer or may just be looking for a bigger offer, tell us your story. Send the details on what you've done over your career, along with your video highlights to GPBSports@gpb.org. If you're selected we may feature you on our Recruiting 2021 show Fridays at 7 pm on GPB.org
Here are our nominees this week.
Max Nunnally, Decatur, S, SR
Nunnally is a 6"2 190 LBS Safety at Decatur High School. Before his time at Decatur, he played at Druid Hills where he had great success during his Sophomore year. Nunnally was top two in the state in stats and was offered his first D1 visit with Georgia State. During the spring season of sophomore year, he tore his ACL while playing baseball. Despite suffering an ACL injury and sitting out during his junior year, he has been able to bounce back in time for his Senior season. Nunnally has been able to play at 7v7 and attend the Rivals Camp, where he gained a 3-star rating. He says with only 10 games left, he is "gonna make sure to make the most of them and help my team win at all costs."
Check out his 7v7 highlights below.
Dylan Mullins, Eagle's Landing Christian, ATH, SR
Mullins is a 5"11 167 LBS Athlete at Eagle's Landing Christian. He is very versatile and can play multiple spots on the field. Mullins is physical and has great ball hawking skills, recording 2 interceptions in a game versus Trinity Christian last season. He is a very integral part of what the ELCA Chargers are trying to accomplish this season.
Check out his highlights below.
https://www.hudl.com/video/3/11426887/5fd7d046d45e7b0c50159454
Isaac Hubert, Creekview, DE/ OLB, JR
Hubert is a 6"3 230 LBS Defensive End and Offensive Linebacker at Creekview High School. He has a 4.25 GPA and has been rewarded all-region his Freshman and Sophomore years. Hubert is also listed as a '23 Max Preps All-American. He currently has an offer from Jacksonville State.
Check out his highlights below.
https://www.hudl.com/profile/13394890/Isaac-Hubert
Jackson Head, River Ridge, TE/WR, JR
Head is a 6"3 220 LBS Tight End and Wide Receiver at River Ridge High School. He has 6657 yards, 7 TD's, and averaged 18.3 yards per catch. As a Sophomore, he was first team All-County, second team All-Region and HM All-State. This year, Head is moving to TE for a 6-A elite 8 River Ridge Knights team. In the off-season, he grew an inch and put on 10 pounds.
Check out his highlights below.
Luke Eichner, Hiram, C/TE, JR
Eichner is a 6"0 255 LBS Center and Tight End at Hiram High School. As a sophomore, he played guard and tackle before moving to center. At the age of 16, Eichner hit the 1,000lb club with a squat of 460, bench of 315, and a power clean of 275. Along with football, he is a dually enrolled student at Kennesaw State. Eichner says it doesn't matter the offer, he will always work hard in the class, in the weight room and on the field.
Check out his highlights below.
Brandon Moss, Fayette County, SS/LB, SR
Moss is a 6"0 190 LBS Defensive Back and Strong Safety at Fayette County High School. He has been playing football since the age 7. Last season, he led the the team in tackles for loss with 10. Moss made first-team all-region at LB, and was also selected as second team defense all-county. He participated in the SHOW at IMG Academy (weekend of testing and 7 on 7 all star teams). Moss is also on the varsity track team and has a 2.60 GPA and was selected to attend the Student-Athlete Leadership Conference in Macon. Only one male and female student is selected to represent the school. In college, he would like to play LB or Hybrid SS.
Check out his highlights below.
Peyton Streko, West Forsyth, ATH, JR
Streko is 5"10 185 LBS Athlete at West Forsyth High School. He plays several positions including, running back, safety and kick returner for the Wolverines. Streko is the definition of a team player with an extremely high football IQ. Off the field, he maintains a 4.00 GPA. During his freshman and sophomore years, Streko was recognized as an all-region and all-county performer, where he excelled as a safety, defensive, running back and kicker returner.
Check out his highlights below.
Secondary Content
Bottom Content