Section Branding
Header Content
2021 GHSA Cheerleading Championship Preview
Primary Content
A lot can happen in two and a half minutes.
For Georgia's high school competitive cheerleading squads, that's the amount of time it takes for cheerleading competitors to establish themselves as cheerleading champions. How do they do it? In a carefully coordinated flourish of dancing, stunting, and tumbling.
Like many Georgia High School Association sports, GHSA cheerleading has a large and passionate following. Fans of the sports from every corner of the state will converge on the Macon Centreplex on February 15 and 16, 2021, for the long-awaited 2020-2021 GHSA Cheerleading State Championships.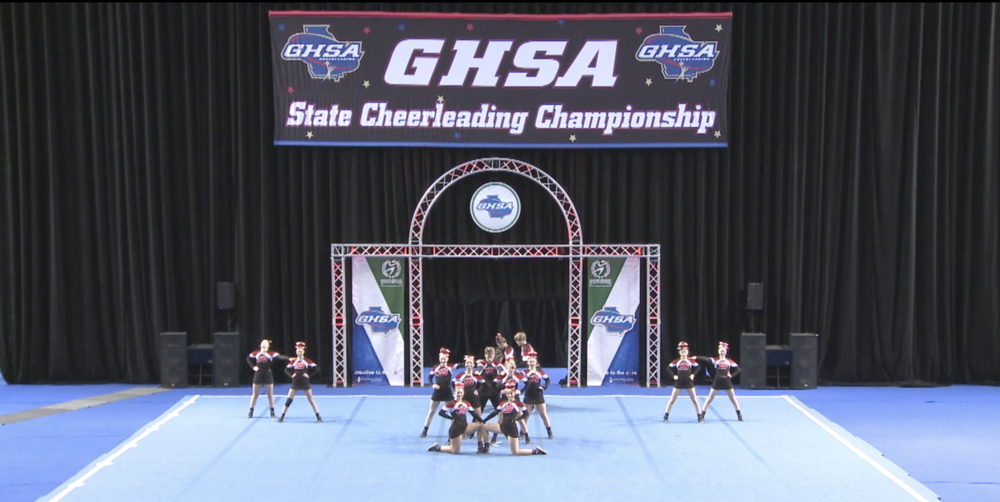 Poised to perform, the top 128 squads will distill every ounce of strength, stamina, and athleticism during their two-and-a-half-minute routines. Yet, only nine championship titles are awarded, one in every classification: A Private, A Public, 2A, 3A, 4A, 5A, 6A, 7A, and Coed.
Routines are rigorously judged by three judging panels based upon the execution and degree of difficulty demonstrated by various skills. Teams with the strongest jumps, running and standing tumbling, partner stunts, pyramid, cheer, and dance will achieve the highest overall points totals. But it's clear to all who watch that outstanding athletic skill alone can't clinch a GHSA competitive cheerleading title. Judges are also looking for excellence in cheerleading's trademark intangibles: showmanship, energy, and crowd appeal.
2019-2020 Season Defending Champions:
A Private: Mt. Paran
A Public: Gordon Lee
2A: Vidalia
3A: Pierce County
4A: Denmark
5A: McIntosh
6A: Creekview
7A: Lambert
Coed: Mill Creek
GPB will stream all the dynamic performances from the 2020-2021 GHSA Cheerleading State Championships LIVE on GPB.org Monday, February 15 and Tuesday, February 16 beginning at 10a both days.  WATCH HERE
2021 GHSA Cheerleading Championship Schedule 
Feb. 15th at 10am:
A & Coed
Feb. 15th at 4pm:
2A & 5A 
Feb. 16th at 11am:
4A & 7A 
Feb. 16th at 4pm:
3A & 6A 
I hope you'll also join me as I host a one-hour special featuring highlights from the top 6 teams in each classification will air on GPB TV Monday, February 22 at 8 PM. 
Secondary Content
Bottom Content