Section Branding
Header Content
Recruiting 2020: No. 2 Jefferson at No. 7 Flowery Branch
Primary Content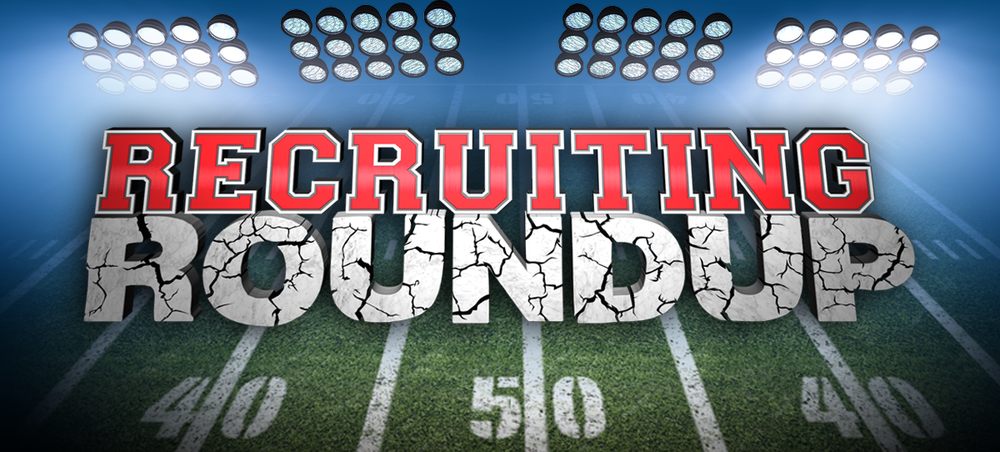 It's way too early to call it a region championship game but in essence that's exactly what it could be as GPB Sports brings you the second-ranked Jefferson Dragons at the seventh-ranked Flowery Branch Falcons tonight on GPB Sports' Football Fridays in Georgia. This is the Region 8 4A opener for these two "rivals" who appear to be the top two teams in this region. This will also be Jefferson's first-ever regular season appearance on GPB.
Now I call these two teams "rivals" although this will be just the third all-time meeting. Truth is the rivalry is more about the two head coaches, who also happen to be long-time friends dating back  20 years ago when they were on college coaching staffs. That would be Flowery Branch Coach Ben Hall and Jefferson Coach Gene Cathcart.
For Hall, this is a reunion of sorts. He spent eight years on the coaching staff at Jefferson before returning to Flowery Branch, this time as the Falcons head coach. During his first four years he worked as the offensive coordinator for the legendary T. McFerrin and was part of the Dragons first and only state championship team in 2012. McFerrin retired and Hall became Jefferson's head coach for the next four seasons, leading the Dragons to the 2016 state semifinals.
That is where we bring in Cathcart. Continuing their friendship from their days when Hall was on staff at his alma mater Furman and Cathcart was the OC at nearby Presbyterian, Hall hired Cathcart to run his offense at Jefferson. When Hall left for Flowery Branch in 2017, Cathcart took over the Dragons program and has gone 32-8 through three-plus seasons with two quarterfinal finishes. Hall was 44-8 in four full seasons there.
So that's one-story line.
The other is the quarterbacks, and they could not be more different. Jefferson runs the triple-option offense and the Dragons QB is Malaki Starks, who is one of the highest rated junior athletes in the country. Flowery Branch is led by junior David Renard who has unexpectedly emerged as the state's passing leader through the first month of the season. 
These two are among the top prospects to watch in tonight's game: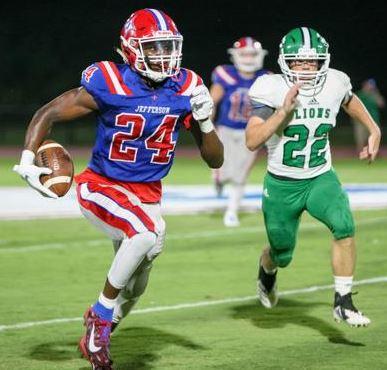 Jefferson
Malaki Starks – 6-1, 196-pound, Junior. 247 Sports Composite 5-star, No. 4 junior athlete nationally and No. 4 overall prospect in Georgia in the Class of 2022. He has 14 offers including Georgia, Georgia Tech, Clemson and Alabama. This is Starks' first season at quarterback, and it is very unlikely the position he will play in college. Some schools are recruiting him to play safety (a position he also plays for the Dragons), some as a hybrid "Thomas Davis" type linebacker/safety, some running back, some a slot receiver or flex-tight end. And Cathcart says, "Some just want to get him on campus and they'll figure out the best place to use him once he gets there." But there is no doubt he is a highlight reel waiting to happen. As Cathcart points out, "everybody in the stadium knows he's going to touch the ball on every play." Starks has rushed for 513 yards and scored seven touchdowns on the ground in Jefferson's first four games and has passed for 225 yards. Although he has completed only 7of 24 passes, four have gone for scores. On defense, Starks is second on the team with 19 tackles. Oh yeah, he returns punts, too. I cannot wait to see him.
Kadin Bailey – 6-2, 190, Junior OLB. He's been offered by Tennessee but do not be surprised if he ends up at Georgia. How could he not? His dad and uncle are among the best to every play for the Bulldogs. Dad Boss was a star linebacker for Georgia and uncle Champ was one of the most spectacular multi-dimensional players to ever wear the Red and Black and is now in the Pro Football Hall of Fame. Cathcart says "Bailey is always around our big plays." He starts at Will linebacker although a preseason knee injury has kept Cathcart from playing him at RB so far this season. But he can do that too.
Jordan Perry – 6-3, 175, Junior RB/OLB. Offers include Eastern Michigan and Miami-Ohio.
Paxton Corkery – 6-1, 220, Senior DE. Has Southern Conference offers.
Colton Steele – 6-2, 300, Senior OL. NCAA Division II offers.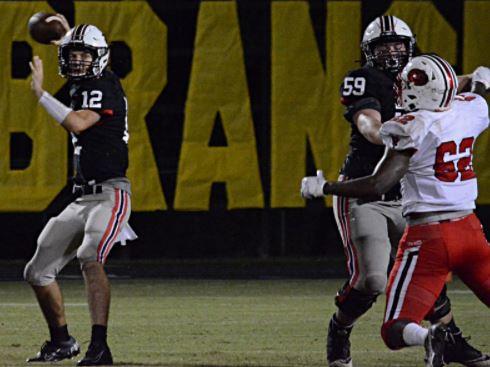 Flowery Branch
David Renard – 6-1, 165, Junior QB. No college offers yet but that will change soon enough. Through the first month of the season, Renard has been the state's passing leader with 1,290 yards through the air in his first four games for an average of 322 passing yards with eight touchdowns. His transformation has been remarkable. Renard was thrust into a starting role last season as a sophomore when starter and now South Alabama freshman Elijah Gainey suffered a season-ending knee injury. Renard was a 135-pound tenth grader. Now he is a 165-pound junior who exudes confidence. The contrast in quarterbacks tonight will be one of the great things to watch in our game.
Jaizen Ellingham – 6-0, 225, Senior RB. Offered by Gardner Webb and UT-Martin. Unfortunately, Ellingham is not 100-percent after being injured in the Falcons 45-42 win over Dawson County in Week 2, but he will play. In the words of Hall, "He's the best looking player on the team, who certainly looks the part of a college prospect." Ellingham rushed for more than 1,000 yards and scored 18 touchdowns last year as a junior in a season in which defenses keyed on him every game. Despite his injury, Ellingham has rushed for 232 yards this season and scored eight touchdowns.
Daniel Tulk – 6-4, 250, Senior OT. Offered by Gardner Webb.
Connor Larson – 5-10, 180, Senior WR. Committed to Wofford in baseball.
Cody Bradford – 6-3, 270, Senior OL. Has FCS offers, including Army Prep School.
So, this should be a great game and we look forward to you joining us! Remember our coverage starts at 7 p.m. with our brand new show "Recruiting 2020."  Among the things we will cover: Countdown to No. 1 prospect Amarius Mims' decision day. Preview tonight's Top 5 games around the state including 7A No. 2 Lowndes at 6A No. 1 Valdosta and the top prospects to watch. Hear from Athens Academy 4-star wide receiver Deion Colzie who recently re-committedt to Notre Dame and we'll look at the other Top 10 receivers in the state and reveal two more candidates in our soon-to-be-famous segment "Make That Kid an Offer."
Then it is off to Falcon Field in Flowery Branch for the Dragons vs. the Falcons beginning at 7:30 p.m. Join Wayne Gandy, Jon Nelson, Hannah Goodin and me for all the action!
Secondary Content
Bottom Content