Section Branding
Header Content
Osborne Celebrates End Of 31-Game Losing Streak
Primary Content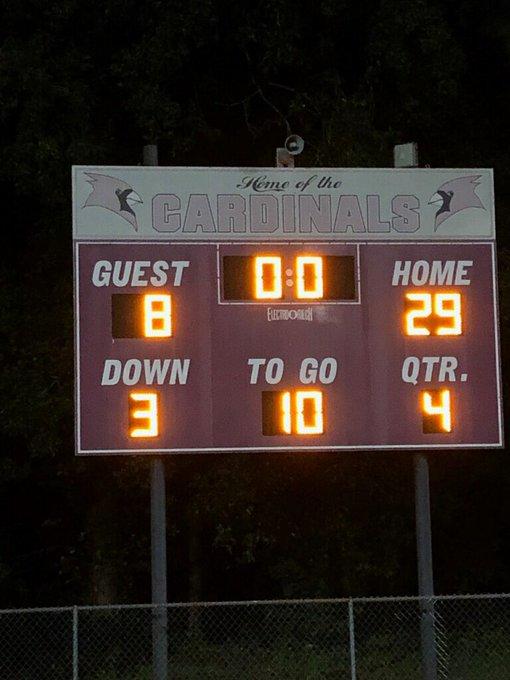 If you live in or around Cobb County and you felt the earth move a little last Friday night, it was for good reason. Something happened that had not happened in a very long time. When the evening began the Osborne Cardinals were hosting the Forest Park Panthers in a matchup of two team searching for their first victory of 2020.
But that's just half the story. The Cardinals were looking to break a losing streak of 31 in a row that went all the way back to Oct. 21, 2016..The opponent on that night, was Forest Park. Osborne took a lead into the locker room at halftime, but as we all know. you must play four quarters.
"Our kids and coaching staff deferred (the kickoff) to second half," remembers Osborne Coach Russ Isham. "We started the second half by going down and scoring. That can be the biggest series in a football game, that first series of the second half. That put us up 24-8 and that took some pressure off the kids and the staff."
In the end, the scoreboard read: 29-8. Think about it. Freshman on that team in October 2016 have graduated. Current seniors had never seen the Cardinals win a game and neither had Isham, who is in his third season as head coach.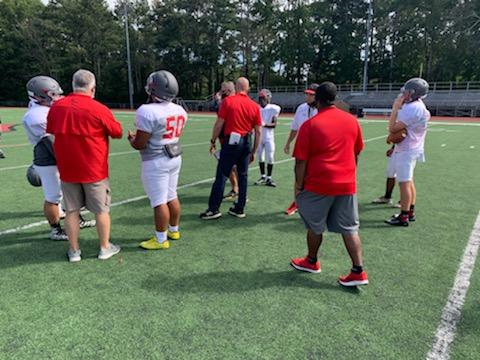 "The kids threw the ice on my back," says Isham. "They did the Gatorade shower, which is nice. We can't shake hands, which I was fine with. I didn't want to demean Forest Park, but our kids had so much pent up energy. They (Forest Park) just needed to understand that we hadn't won a game in a while."
How do you like it? In this pandemic-plagued year that many of us can't wait to see end, the Osborne students and community celebrate a victory.
"It's definitely different," says Isham, who was an assistant coach at Pebblebrook and North Cobb before taking the Osborne job. "We play in a tough region, playing Harrison and Allatoona . That has been the biggest task, just trying to get the kids where its safe enough to play. When I took over, we were so small, little and not very strong. We've kind of neutralized that now. We're not the strongest team by any means, but we have made huge gains in that side of the program."
There may have been a 31-game losing streak going on at Osborne, but there is growing enthusiasm for the program.  Participation has increased since Isham arrived and when the GHSA gave the go-ahead for summer conditioning  the coach was pleased with the response.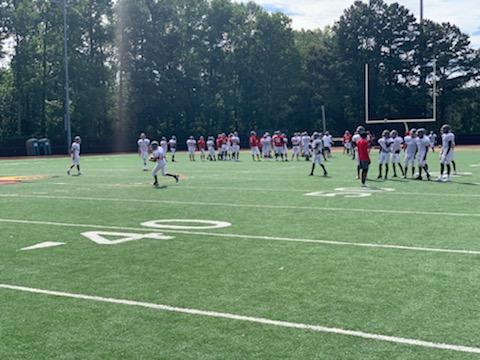 "We were blessed and the kids just came," recalls Isham.  "They were eager to be here. We were able to work three different (morning) sessions at 7:50 , 9:50 and 11:50. It was 18 kids per session and they were able to find rides and they just came. We're just trying to turn it into a real program, where it will be competitive and on every Friday night we might have a chance of winning."
No doubt the win last Friday put a smile on Isham's face, but what happened the day before that brings a twinkle to his eye. The Osborne ninth grade team beat Pope 20-8.  You may say that it's just a ninth grade game and it doesn't matter. That would only mean that you haven't spent very much time around Osborne football.
"There had been no freshman or JV teams at Osborne in years," says Isham. "My philosophy is that the easiest and fairest playing field is the ninth grade, because only  ninth graders are against ninth graders and nobody else can play. I feel that If you can win at that level, those kids become winners and because they are winners, they will buy into what you are selling."
The football victory comes at a time when Osborne is already celebrating the opening of a brand new school building. The facility costs $14.5 million and houses the Cobb Career Academy, which is an extension of the district's career, technical and agricultural educational programs. Faculty and staff moved into the new building in June.
Oh the power of brick and mortar. There are few things that get parents and students more excited about school than having a brand-new building. Isham gushes when he speaks of the new building.  He knows it will attract some new students to Osborne, and that some them might join the team.
"It is state of the art," says Isham. "It's the best school in Cobb County and I think it could be a huge recruiting tool for us. If we could produce a little on the field and now the kids, moms and dads see that beautiful facility … I would want my child to go to school there."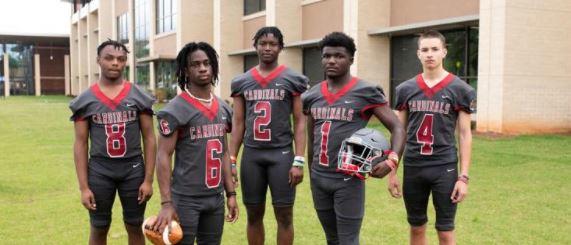 That is just what Isham has done. His son, Lawrence Isham, is an 11th grader and the team's starting quarterback. He is one of a number of players on the Osborne squad who have  not been playing football very long .
"He never played football before until last June, a year ago, " remembers Isham. "He never showed interest in football. He was always a baseball, basketball kid, and when I got this job he came with me here. He loves it. He's having a ball. He's a high IQ kind of kid --  unlike his dad. He gives us some stability at that position."
Stability is a good word to use when speaking of the Osborne football program. A program that has had its struggles due to economics. There are students who have trouble paying team fees. Isham doesn't want to turn any student away and hopes that success on the field will result in more community support.
For now the top priority is a date with Wheeler this Friday night.
 "We are not looking down the season," says Isham. "We are just looking at the opportunity that Friday night brings. It's a great opportunity for us to tackle a Cobb County school. We want to be competitive , and we are trying to improve. Wheeler has some tradition and Coach (Bryan) Love does a great job. We just hope that we can continue the success from (last) Friday night."
Stay tuned for Football Fridays in Georgia coming soon on the great GPB!
Secondary Content
Bottom Content