Section Branding
Header Content
From State Champion to Prized Recruit, Paul Tchio Left Indelible Mark at Milton
Primary Content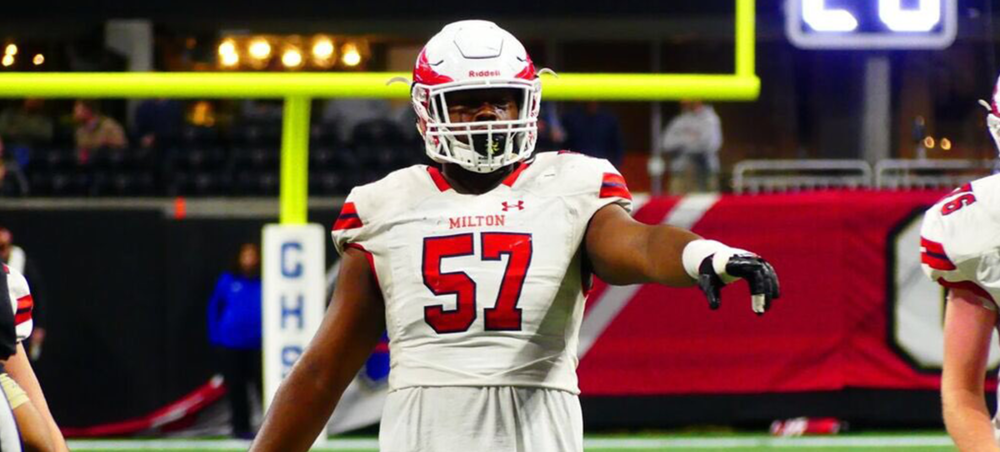 When you think about team leaders in football the first position that likely pops into your head is… quarterback. Then maybe running back, perhaps a linebacker, but an offensive lineman?
"Paul Tchio was the heart of our offense last year," Milton rising junior quarterback Devin Farrell said.
"When you look at Paul, he had every reason to check out (his senior year) but he didn't," Eagles offensive coordinator Ben Reaves said. "He had already won a state championship. He already knew he was going to Clemson.
"But he never thought 'maybe I shouldn't play because I might get hurt.' That never crossed his mind. 
"Anytime you have got a big Power 5 guy like that on your offensive line, it helps an 'OC' sleep better at night," Reaves mused. 
So just who is Paul Tchio? The 247 Sports Composite Rankings had the 6-5, 299-pound lineman rated as the No. 3 offensive guard in the country when he signed with the Tigers in December. Tchio (pronounced TEE-oh) enrolled in January and had already completed 10 spring practices when the coronavirus pandemic brought the world to a standstill. 
"You could really tell he had been on that Clemson meal plan and been in the weight room," Milton Head Coach Adam Clack said. "He talked about how fast practice was. But within those 10 practices, it had already started to 'slow down' for him and he felt good about the way he was competing."
When contacted about this story, Tchio politely declined to comment. Clemson Coach Dabo Swinney has a policy that incoming freshmen cannot do interviews until they have played in their first game. The Tigers should be pleased to know that Tchio stuck to the rules even though he is back home now because of the virus. His decision to follow the rules is hardly surprising if Tchio is indeed the consummate team player that his former coaches and teammates say he is.
"He has this childlike wonderment about him," Clack described. "He walked around with a smile on his face and that attitude really permeated the team."
As a sophomore quarterback who was battling to become the starter, Farrell remembers, "I would go off what Paul would say in practice. That would give me the courage to say something."
Tchio easily goes down as one of the greatest players in Milton High School football history. The Eagles have had several players to experience as much, if not more, individual success. Milton alums Carl Lawson and Peyton Barber are currently in the NFL, but Tchio was one of the leaders on the 2018 team that became the first in the Eagles 70-year football history to win a state championship.
Even surrounded by talented seniors like quarterback Jordan Yates (now with Georgia Tech) and linebacker Jordan Davis, a junior Tchio took on a leadership role with that history-making team. "All the seniors recognized that and he was well respected," Reaves explained.
"We knew if there was a big play to be had, we could run behind him," Clack said. "In that state championship game (14-13 win vs. Colquitt County), Paul was on the field not only on offense but also for the final 20 snaps of the game on the defensive side of the ball."
Clack gives Tchio and former Eagles safety Joe Charleston a lot of credit. He pointed out that big time recruits usually go one of two ways. "They either develop a sense of entitlement or they become hungrier to get better.
"They didn't make it about them. It was always about the team." Now Tchio and Charleston are teammates again at Clemson.
But all that came with the state championship on the line. Easy to dig deep and play hard with the trophy at stake, right? So how about the 2019 season?
Milton was not exactly rebuilding but they were hardly reloading either. There were a lot of experienced skill position players to replace. The Eagles finished 8-4, winning the Region 5-7A championship for a second straight year before being eliminated by eventual state champion Marietta 38-24 in the second round of the playoffs.
Tchio's performance in that last game really got Reaves attention. "At the end of the Marietta game, we were down a couple of scores and it was clear we were overmatched by a great team. But Paul was playing his butt off on both sides of the ball," the Eagles offensive coordinator reminisced. 
"Even when he had every reason to say, 'okay it's been a good run,' he gave his all to the end." Coaches voted Tchio the offensive player of the game in his final night in a Milton uniform.
But while he will not wear the Eagles red, white and blue again, all indications are, he has made a lasting impact. "He taught us to never give-up or quit, to show your brothers, you always have their backs," Farrell exclaimed.
He is in that next wave of Milton talent along with fellow rising juniors running back Jordan McDonald and tight end Jack Nickel. Farrell has already been offered by Jacksonville State and Liberty as a quarterback while the Power 5 conference programs might like him more as a cornerback. 
"When I first got to school last year and was participating in spring practice," Farrell remembers, "Paul and I would turn-up the music in the locker room and dance. He welcomed me." For the record, the young quarterback admits the big fella has the better moves. 
Farrell looks forward to visiting his former 'dance partner' and watching him play at Clemson this season as he begins navigating his own recruiting process. And when the Eagles hopefully take the field this season, those lessons that Tchio taught Farrell and the rest of his former teammates, will continue to resonate even if his hulking presence is no longer there on the offensive line.
Here's Matt's full conversation with Milton coach Adam Clack to learn more about Paul Tchio, how the Eagles are handling the coronavirus shutdown and a preview of the 2020 Milton team:
Secondary Content
Bottom Content