Section Branding
Header Content
Best of the Best From GHSA Finals
Primary Content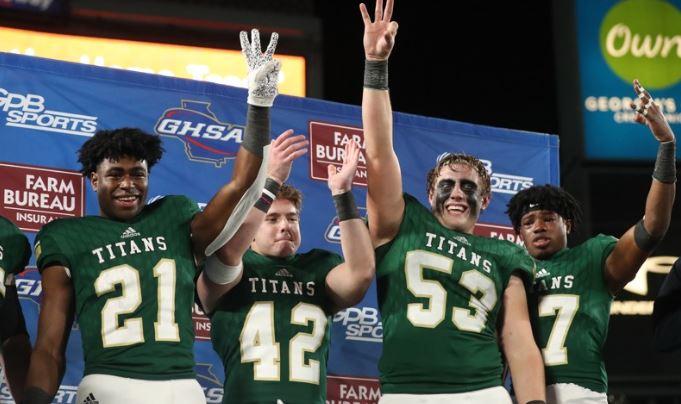 Before we head into the off-season and into National Signing Day on Wednesday, I wanted to take one final look at the GHSA State Championship Games this past weekend. On behalf of GPB Sports, I'm going to hand-out our All-Finals Awards and name our All-Finals Team.
In 3A-7A the state championship games were decided by an average of one touchdown. I found it surprising that in this day of wide-open offenses, state championships were won this year with strong ground games and smothering defenses.
The biggest surprise of the state championships was Marietta's defense. Easily their most outstanding effort of the season holding Lowndes to a mere nine points. The Vikings entered Georgia State Stadium 14-0 and averaging nearly 40 points per game.
We had long state championship droughts broken and several impressive streaks extended. Marietta won its first state championship since 1967. Irwin County it's first since 1975. Harrison won its first-ever in the 28-season history of the program.
Eagles Landing Christian won its state record fifth consecutive championship with no end to the Chargers dominance in sight. Blessed Trinity became the 12th program to win three straight titles. Cedar Grove became the third DeKalb County program with three (joining Lakeside and Avondale) and those three coming in the last four seasons. Buford won its 12th overall state title moving into second place all-time in Georgia history behind only Valdosta.
So, time now to hand out the rewards. And when you get down to the All-Finals team, you'll notice I may have multiple players at some positions. I rewarded who I felt should be rewarded.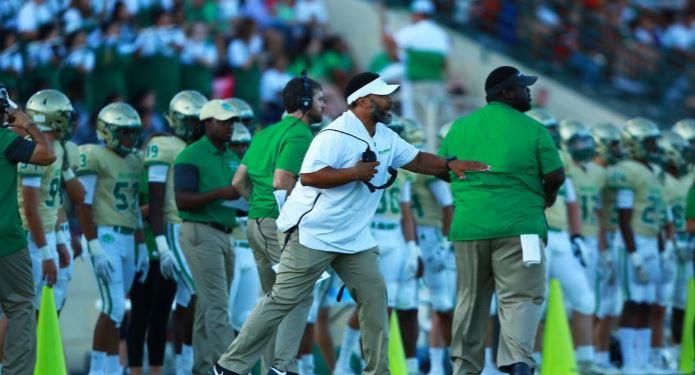 Offensive MVP - RB Elijah Green - Blessed Trinity - The North Carolina commit was 21-208 yards rushing with touchdown runs of 30- and 66-yards. Those two TDs came in the last 1:21 of the first half and turned out to provide the margin of victory for the Titans in their 17-14 Class 4A win over Oconee County.
Defensive MVP - LB Marcus Bleazard - Harrison - The Hoyas junior linebacker capped his championship season with 7.5 tackles and one QB sack in his team's 20-7 Class 6A win vs. rival Allatoona. Bleazard finished the season with 166.5 total tackles, 10 sacks and 19 TFL. Like Arnold, "He'll Be Back."
Two-Way MVP - RB/LB D.J. Lundy - Irwin County - Not even close really in my mind. The Indians 3-Star Athlete who is still uncommitted with 11 offers ran roughshod through and over Marion County in his team's 56-14 Class 1A Public championship win. Lundy was 10-174 yards rushing with one touchdown and on defense had six tackles with one sack, three TFL and one forced fumble.
Coach of the Finals - Bryant Appling - Buford - The Wolves first-year head coach had his Nick Saban moment in his team's 17-14 Class 5A overtime win over Warner Robins. With Buford's No. 1 quarterback Jarvis Evans struggling, Appling pulled him in favor of sophomore Ashton Daniels who had attempted just 14 passes all season. Daniels became Appling's Tua Tagovailoa leading the Wolves to the comeback OT win.
Best X-and-Os Decision - Tim McFarlin - Blessed Trinity - The Titans incredible clock management at the end of the first half turned a 7-3 deficit into a 17-7 lead in the last 81 seconds of the second quarter in route to BT's 17-14 Class 4A win over Oconee County. After scoring the go-ahead TD on Green's 30-yard TD run with 1:21 to go, McFarlin expertly used their timeouts to get the ball again and Green scored on a 66-yard (and ultimately game-clinching TD) with 16 seconds before halftime.
Most Unlikely Heroes - Ashton Daniels and Jamarius Issacs - Buford Wolves - Back-up quarterback Ashton Daniels fired a 22-yard TD pass to Jamarius Issacs (just his seventh reception of the season) with just 26 seconds left in regulation in the Wolves' eventual OT victory over the Demons. Daniels directed a 14-play, 78-yard game-tying drive in the final minutes of regulation after hardly playing any meaningful minutes in the 14 games prior. Minutes later Issacs would intercept a pass in overtime setting the stage for his team's 12th all-time championship on Hayden Olson's 24-yard field goal.
Most Complete Team - Blessed Trinity - I do not have any numbers to quantify this award, just the eye test. The Titans do not miss blocks. The Titans do not miss tackles. The Titans simply do not make many mistakes. They are smart, strong and fundamentally sound. By the way, the win made Coach McFarlin the 14th coach in state history to win four state titles.
Pound-for-Pound Champion - Irwin County - The Indians completed one of the most dominant seasons in recent memory -- and maybe ever--  in winning their first state title since 1975. Irwin obliterated Marion County 56-14 and the Eagles were no patsies. Marion was the No. 2 seed in Class A Public. The Indians won by an average score of 42-5 while finishing 13-0. Irwin shutout seven opponents and did not allow more than one touchdown in any regular season game.
Moment to Remember - Coach Buddy Nobles - Irwin County - A profile in courage, the Indians coach was there to lead his team while deep in the dark throes of his battle with stage four stomach cancer. His victory speech spoke of his faith in Jesus Christ and then invited the tiny town of Ocilla (population 3,414) to meet at the red light in town to celebrate. There many lumps in throats and not a dry eye to be found. Including mine.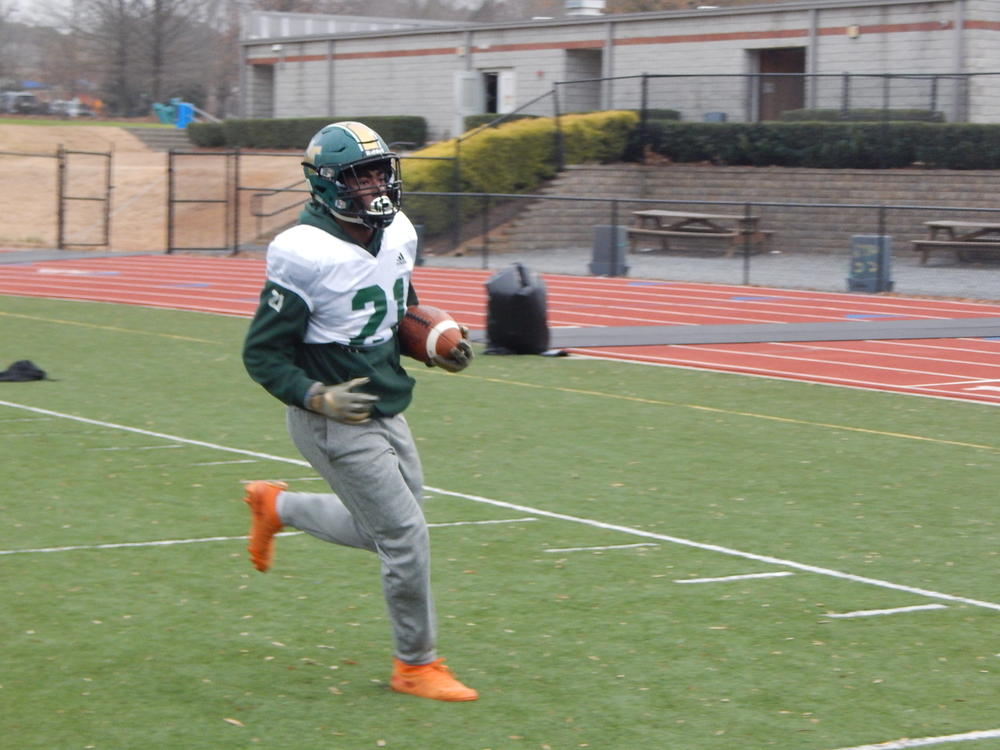 Now our All-Finals Team
Offense
QB - Harrison Bailey - Marietta
RB - Elijah Green - Blessed Trinity
RB - D.J. Lundy - Irwin County
RB - Keaton Mitchell - ELCA
RB - JaQues Evans - Dublin
WR - Arik Gilbert - Marietta
WR - Ricky White - Marietta
WR - Ghetti Brown - Lowndes
OT - Seth McLaughlin - Buford
OT - Landen Byars - Blessed Trinity
OG - Ty McRae - Dublin
OG - Austin Burns - Blessed Trinity
C - Will Pieroni - Marietta
C - Jack Filipowicz - Blessed Trinity
Defense
DE - Jacques Hunter - Lowndes
DE - B.J. Ojulari - Marietta
DT - Harrison Padgett - Oconee County
DT - Ty Furnish - Blessed Trinity
LB - Marcus Bleazard - Harrison
LB - Ahmad Walker - Warner Robins
LB - D.J. Lundy - Irwin County
LB - Chris Paul - Crisp County
CB - Brandon Carter - Harrison
CB - T. Lee - Buford
CB - Quinton Reese - Blessed Trinity
SAF - Rashad Torrence - Marietta
SAF - Peter Warrick, Junior - Marietta
Special Teams
PK - Christian Lowery - Harrison
P - Hayden Olson - Buford
RET - Omari Arnold - Brooks County
Thanks to GPB for letting me be a part of their team for the sixth consecutive season. And thanks to all of you for watching. We are already looking forward to 2020.
Secondary Content
Bottom Content