Section Branding
Header Content
Top Prospects to Watch: North Forsyth at No. 9 Milton on GPB
Primary Content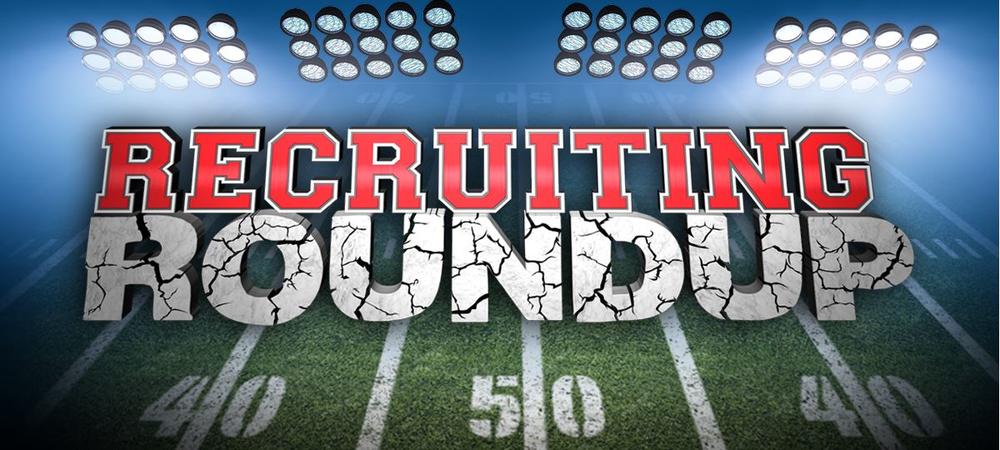 The Region 5-7A championship will be on the line tonight when the ninth-ranked and defending GHSA champion Milton Eagles play host to the North Forsyth Raiders. Milton enters the final Friday night of the regular season 6-3 overall and 4-0 in the region. North Forsyth is 6-3, 3-1 in the region.
The Eagles will be trying to make program history tonight. Despite winning the first state championship in the 70-year history of the program last season, Milton has never won back-to-back region titles and no senior class has ever won two region titles. The Eagles can do both with a win and write another page in their ever-growing record book this evening.
Meantime for North Forsyth, the Raiders have already guaranteed the program's first winning season since 2013 and just its second since 2009. North Forsyth has rebounded from a 3-7 record last season and done that by playing in four one-point games. The Raiders have gone 2-2 in such games and tonight are hoping to win just the second region championship in program history and first since 2001.
A Milton win tonight makes the Eagles the outright region champions and a No. 1 seed in the state playoffs starting next Friday night. North Forsyth needs a win and a loss by West Forsyth to be the outright champions. The Wolverines are hosting South Forsyth this evening. A Raiders win and a Wolverines win would throw the region into a three-way co-championship and a tiebreaker based on point-differential in games between the three teams would decide the region state seeding order.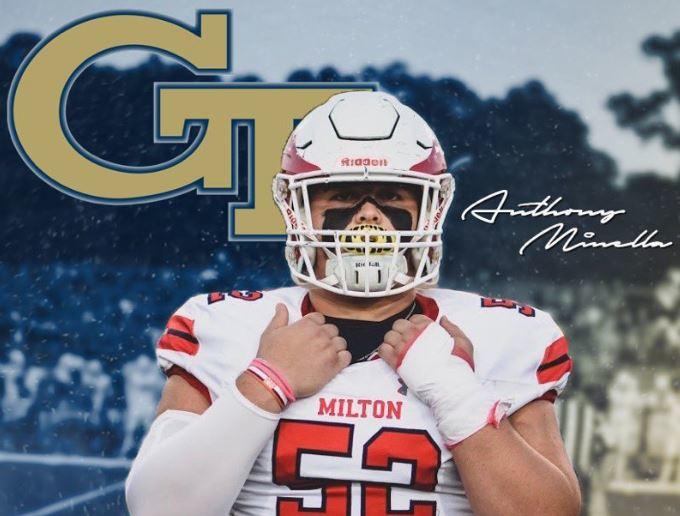 Here's the top prospects to watch starting with the defending state champion Milton Eagles:
Paul Tchio - 6-5, 300-pound, senior. 247 Sports Composite 4-star and No. 4 OG. Committed to Clemson last November over 11 other offers. Moved from left guard to left tackle in the second half of the season as the Eagles shuffled their offensive line to work to their players' strengths but as Coach Adam Clack pointed out, "you can play Paul anywhere." Also opened the door for Milton to line-up Tchio and Anthony Minella (next guy on our list) side-by-side. Tchio will be in a class by himself on the field this evening from a recruiting standpoint.
Anthony Minella - 6-2, 260-pound, senior Guard. Committed to Georgia Tech this week as a preferred walk-on over three scholarship offers. Excellent student who will be able to use the Hope Scholarship to make walking on with the Yellow Jackets a competitive option with out of state offers from Army, Bucknell and Davidson. Coach Clack says he's an explosive guard. Will join 2018 Milton stars QB Jordan Yates and TE Dylan Leonard on the Georgia Tech campus.
Jack Rhodes - 6-1, 185-pound senior SAF. Committed to Furman. Team-leading 55 total tackles with 6 TFL and 2 INT. Rhodes is incredibly versatile and can play multiple positions on the defensive side. Coach Clack compared him to a lead-off hitter in baseball in that "he isn't going to lead the team in batting average, home runs and RBI but he's going to be good at all that and have stolen bases, too."
Zander Barnett - 6-3, 225-pound senior DL. Committed to Richmond. Leads Eagles defensive linemen with 39 total tackles, has 4 sacks and is tied for the team lead with 15 TFL. Clack says in the years ahead when they reflect on the 2018 state championship team, Barnett and teammate Marcus Rangel will deserve as much praise as the much-more recognized Jordan Yates and LB Jordan Davis. That's because of the job Barnett and Rangel did in the trenches during the playoffs last season against much-bigger offensive lines from Mill Creek, Hillgrove, Lowndes and Colquitt County.
Anthony Pittman - 6-2, 260-pound, DE. Six offers including Army, Akron and Yale. Biggest surprise on the team for everybody other than Clack. Moved from the offensive line last season and leads the team with 10 sacks and tied for the team lead with 15 TFL. Clack says he's just starting to scratch the surface and would not be surprised if Pittman gets more offers.
Austin Weiner - 6-7, 235-pound, junior TE. Five offers including Kansas State, Western Kentucky and Toledo. Son of former Atlanta Falcons offensive tackle and 11-year NFL veteran Todd Weiner who starred at K-State. Imposing figure on the field. Impossible to miss and will likely end-up playing OT like his dad.
Jack Nickel - 6-4, 225-pound, sophomore TE. Eight offers including Georgia Tech, Florida State and Virginia Tech. Team-leading 18 catches for 218 yards and 2 TD despite missing 3 games with a minor knee injury. Healthy now. Will likely end-up being one of the top prospects in the state by his senior season.
Jordan McDonald - 6-1, 210-pound, sophomore ATH. Offered by Florida State, Kentucky and USF. Has seen his role increase greatly the second half of the season as the Eagles No. 2 running back. Has 61 carries for 349 yards and 5 TD. Regarded as an "athlete" by the recruiting services, Coach Clack says before the season he probably thought McDonald would play LB at the next level. But now Clack says he thinks he might end-up being an RB.
Devin Farrell - 6-1, 185-pound sophomore Dual-Threat QB. Drawing interest from Texas A&M. Won the starting job halfway through the season. Fun to watch. He will remind you of Jordan Yates and Coach Clark says the comparison is real. Has that "IT" factor. Despite not starting the entire season and actually starting at CB during non-region play, Farrell has completed over 57-percent of his passes for 714 yards and 6 TD plus has rushed for 554 yards and 6 more TD. Another sophomore that I tell you, "remember the name!"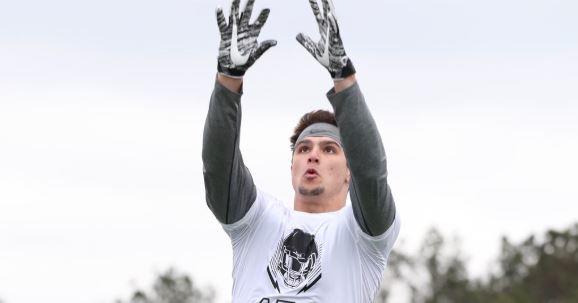 Now the top prospects for the North Forsyth Raiders:
Nicky Dalmolin - 6-4, 210-pound, senior. 247 Sports Composite 3-star WR. Committed to Duke in March 2018 over App State. Easily the top prospect for this up-and-coming North Forsyth program. Leads the team with 35 catches for 500 yards and 8 TD. Committed to the Blue Devils during his sophomore season and shut it down. Coach Robert Craft says Dalmolin could go anywhere in the country but fell in love with Duke and the idea of playing for Coach David Cutcliffe and has never stepped foot on another campus. Coach Craft believes Dalmolin doesn't really receive the recognition that he deserves because he really hasn't played the recruiting game.
Anthony Herock - 6-4, 210-pound, senior TE. Receiving interest from Navy, Samford, Furman and Tennessee Tech after not playing football last season to concentrate on lacrosse. The grandson of former Atlanta Falcons Player Personnel executive Ken Herock who spent his entire career playing and then working in NFL front offices. Anthony's dad Shaun is the Director of College Scouting for the Raiders. Now Anthony is making a name for himself with 31 receptions for 459 yards and 4 TD. Mismatch because of his size and speed. Also has 3 sacks on the defensive side of the ball and his freshman brother Chris will be another one to keep your eye on and already starts on the defensive line for North Forsyth.
Mason Butcher - 6-3, 210-pound, senior OL. Offered by Shorter. Receiving interest from WKU, App State, Austin Peay and The Citadel. Butcher played defense last year and despite being only 210 pounds right now, schools like his length and believe he could easily play at 250-260 pounds quickly.
Zach Allison - 6-6, 270-pound, senior OL. Offered by Point University. First-year starter after playing behind Jeremy James who signed with Ole Miss. Both of these tackles have huge upsides after working under legendary former Parkview 3-time state championship Head Coach Cecil Flowe, who came out of retirement to work on Coach Craft's staff as Assistant Head Coach and OL Coach.
So, make your plans to join Wayne Gandy, Jon Nelson, Hannah Goodin and me as we wrap-up the regular season with a region championship game. Our coverage starts at 7:30 pm on GPB. 
Secondary Content
Bottom Content