Section Branding
Header Content
Football Fridays In Georgia: Cartersville, Sandy Creek Prospects To Watch
Primary Content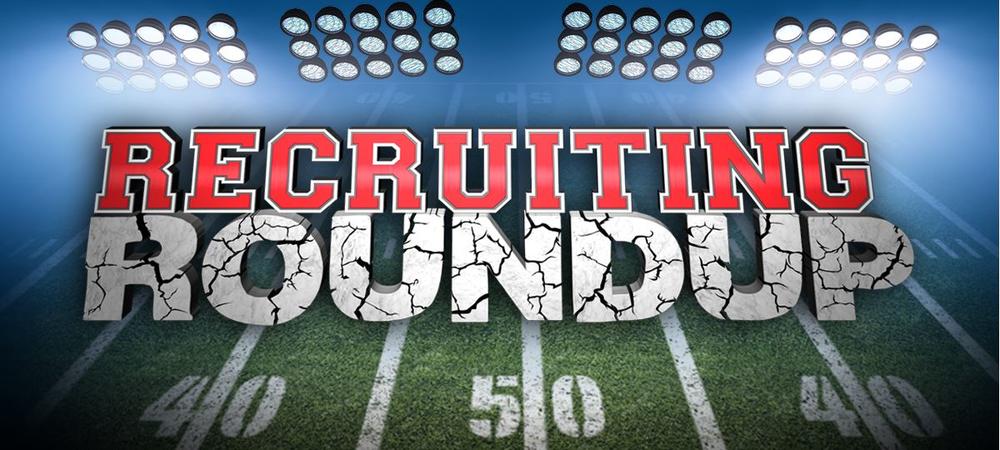 It's No. 1 vs No. 2 tonight on Football Friday in Georgia on GPB.
In fact, tonight's second-ranked Sandy Creek Fighting Patriots at top-ranked Cartersville Purple Hurricanes Region 5-4A showdown marks the first time in the six years I've had the pleasure to call the play-by-play that we've had such a game in the regular season.
Truth is, it's rare even in the playoffs. In last year's eight GHSA State Championship Games there was only one match-up pitting the two top-ranked teams in the final regular season rankings and get this … wait for it … it was in 4A as No. 1 Blessed Trinity defeated No. 2 Cartersville 23-9 to win its second straight state title.
But as big as tonight's game is in the GPB Sports 4A Top 10 Rankings, the winner will not clinch the region championship, at least not this evening, but will definitely have the inside track to the trophy and that coveted No. 1 seed in the state playoffs that start four weeks from now.
Cartersville has won seven straight region championships and 49 consecutive league games. Sandy Creek has not won a region title since 2013 when the Fighting Patriots won the last of their six in a row.
Under the direction of new Coach Conor Foster, the Purple Hurricanes have navigated a season full of injuries with big wins on the road over 6A tenth-ranked Allatoona and 7A Cherokee and enter tonight's game 7-0 overall and 3-0 in the region. Foster was promoted from defensive coordinator where had spent the last five seasons coaching that side of the ball for Coach Joey King who left to be an assistant at Coastal Carolina. 
Foster grew-up playing for the 'Canes and was a teammate of one of the program's all-time greats running back Ronnie Brown, who will be at Weinman Stadium this evening. Foster's dad Martin coached offensive and defensive lines for Head Coaches Mike Earwood and Frank Barden. 
I chuckled at Conor when he told me his team was a work in progress. After all, Cartersville has won 62 of its last 64 games over the last five seasons with their only losses to reigning back-to-back state champs Blessed Trinity. I jokingly asked, how much work could possibly be needed? But believe me, the 'Canes will have their work cut out for them this evening,
That's because Sandy Creek is back. The Patriots won three state championships in a four-year period 2009-12 going 56-2 during that run. Sounds familiar to what the Purple Hurricanes have done recently. Coach Brett Garvin says talent-wise these Patriots are just as good as those aforementioned Patriots. He should know. It's his 19th year in the program and third season as head coach after being promoted from defensive coordinator to succeed Chip Walker, who left for Newnan. Again, sounds familiar to the Cartersville story doesn't it?
All that talent is why I've had the Patriots ranked No. 1 on my 4A ballot every week. The seniors have been playing together since their sophomore season. That was 2017. That year Troup beat Sandy Creek 71-16. Those now-seniors remembered and beat the at-the-time top-ten ranked Tigers 44-7 two weeks ago.
So, this one is going to be a lot of fun. Here's the top prospects to keep your eye on this evening: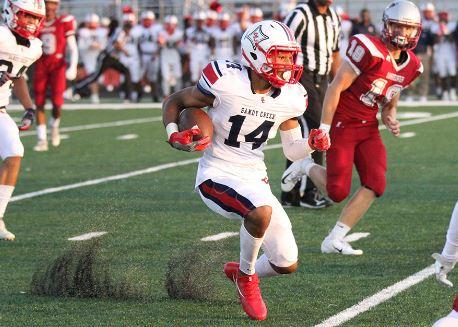 Sandy Creek
Brian Branch - 6-0, 183-pound, senior. 247 Sports Composite 4-star and seventh-ranked safety in the nation (starts at CB/WR for Sandy Creek). Committed to Alabama in April over 26 other offers.
Joey Hunter - 6-0, 182-pound, senior. 247 Sports Composite 3-star CB. Committed to South Carolina in July over 14 other offers. Unfortunately, Hunter underwent shoulder surgery on Monday and he's out for the season.
Justin Beadles - 6-5, 230-pound, senior. 247 Sports Composite 3-star DE. 16 offers including LSU, Mississippi State and Missouri.
Jordan Mitchell - 6-3, 235-pound, senior. 247 Sports Composite 3-star DE (starts at DT for Fighting Patriots). 21 offers including Georgia State, Georgia Southern, Louisville and Pittsburgh.
Ahmad Jackson - 6-3, 195, senior. 247 Sports Composite 3-star WR. Committed to Liberty in June over 12 other offers.
Rashad Amos - 5-11, 212-pound, senior. 247 Sports Composite 3-star RB. Committed to Western Kentucky over eight other offers. 
Cody Jones - 6-0, 185-pound, senior CB. Nine offers including Georgia Southern, Buffalo and Akron.
Comanche Francisco - 6-0, 176-pound, senior safety. Offered by Ball State.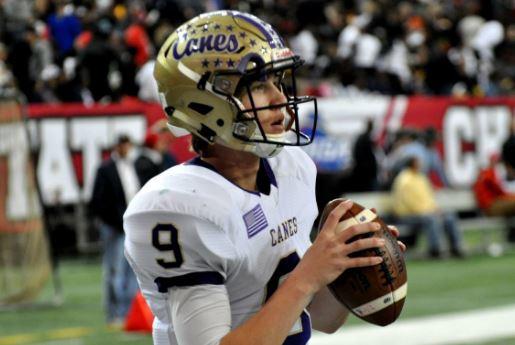 Cartersville
Tee Webb - 6-3, 180-pound, senior. 247 Sports Composite 3-star and No. 27-ranked pro style quarterback in the nation. Committed to Louisville in April over 21 other offers.
Jonah Gambill - 6-3, 280-pound, senior. 247 Sports Composite 3-star OT. Committed to Memphis in June over 18 other offers.
Marko Dudley - 5-10, 170-pound, senior safety. Six offers including Appalachian State, Troy and Kent State.
Evan Slocum - 5-10, 175-pound, junior athlete (starting safety for Cartersville). Offered by South Carolina and Wake Forest.
So be sure to join us. Our coverage starts at 7:30 p.m. on GPB with Wayne Gandy, Jon Nelson, Hannah Goodin and me bringing you all the action. 
Secondary Content
Bottom Content