Section Branding
Header Content
Football Fridays In Georgia: Archer, Buford Top Prospects
Primary Content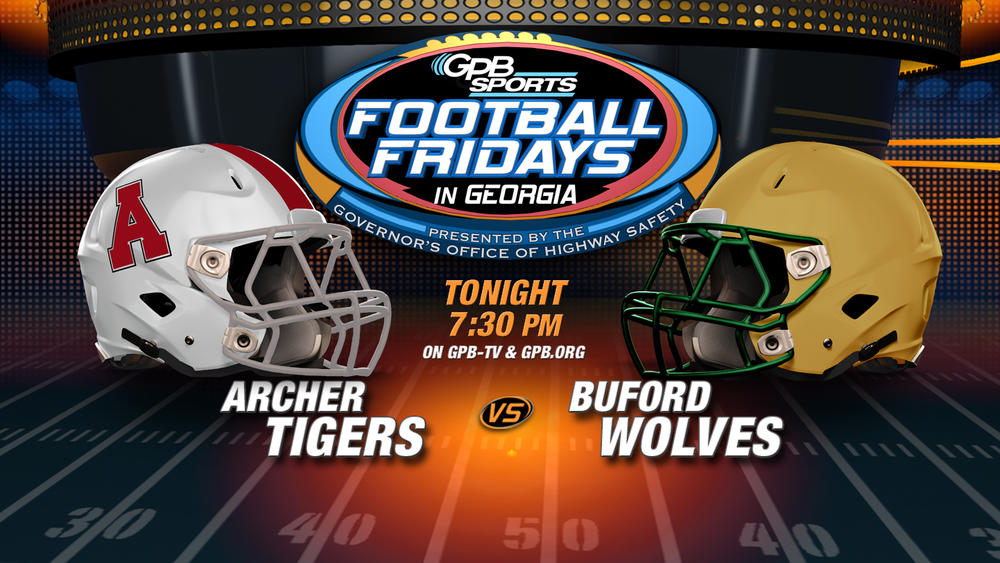 We have one of the most intriguing non-region games of the 2019 season tonight on GPB. That's when 7A's sixth-ranked Archer Tigers play at 5A's No. 1-ranked Buford Wolves. 
What makes this game so intriguing is Buford. For the last 20 years you could argue the Wolves have been the best program in the state. In fact, just a few years ago I wrote a blog in this very space proclaiming Buford as the state's "pound-for-pound" champion of the past two decades.
But for all those years, we rarely had a gauge. Rarely had a barometer. The Wolves routinely routed the competition as the program grew through the ranks from its Class A classification 18 years ago to where it stands now a burgeoning 5A program. Tonight we get that gauge when Buford "plays up" against Archer.
The Wolves won 11 state championships from 2001-2014 and only an overtime loss vs Calhoun in the 2011 Finals kept Buford from what by-far-and-away would have been a record eight straight championships. 
That's where the story takes a detour. The Wolves lost in the 2015 and 2016 State Finals. Long-time Coach Jess Simpson left for what eventually became a job with the Atlanta Falcons. Roswell Coach John Ford was hired but "only" went 21-5 in his two seasons with Buford failing to reach the championship game either year. In 2017 the Wolves were beaten by eventual state champion Rome in the semifinals and last year by eventual state champion Bainbridge in the quarterfinals.
Ford was let go and long-time assistant coach Bryant Appling was promoted to replace him. Appling has ties to the man who got this dynasty started, now-Athletics Director and former Head Coach Dexter Wood and the aforementioned Simpson. Buford's defensive coordinator the last five seasons, Appling has gotten the Wolves back to the "sledge-hammer" football that was the program's bedrock foundation during its state championship years. 
That leads us to tonight's barometer game against an Archer team that reached the 2014 state finals in just its fifth year of existence under Coach Andy Dyer. The Tigers have advanced at-least as far as the quarterfinals in four of the last five years in the state's highest classification. Archer's quest for a second trip to the state championship game was blunted by a blocked PAT in overtime at Colquitt County in the 2018 semifinals. 
Tonight, should be a FUN game! Here's the top college football prospects to watch: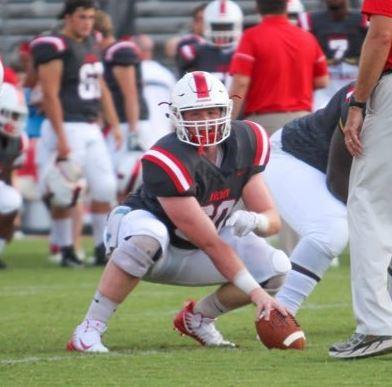 Archer Tigers
Ethan Lane - 6-3, 270-pound, senior. 247 Sports Composite 3-star and No. 14 Center in the nation. Committed to N.C. State over five other offers. Three-year starter. His dad Brian is the Tigers' offensive line coach and former college football teammate of Coach Dyer. 
Jalen Mayala - 6-6, 206-pound, senior. 247 Sports Composite 3-star weakside defensive end. Fifteen offers including Mississippi State, Virginia and Wake Forest. Former basketball player who's only been playing football for three years. Probably a rush end in college.
Jaylen Brown - 6-4, 245-pound, senior strongside defensive end. Offered by South Carolina and Troy. This game will be a big one for Brown as he goes up against Buford's powerful offensive line.
Tyler Roach - 5-11, 215-pound, senior outside linebacker. Offered by Wake Forest and Columbia. Plays the spur position for Archer and has 20 tackles, a quarterback sack and five TFL.
Carter Peevy - 6-2, 205-pound, senior quarterback. Committed to Lenoir Rhyne where he will play for former East Coweta quarterback Drew Cronic. Three-year starter who has thrown for more than 5,100 yards in his career with 53 touchdowns and only 11 interceptions.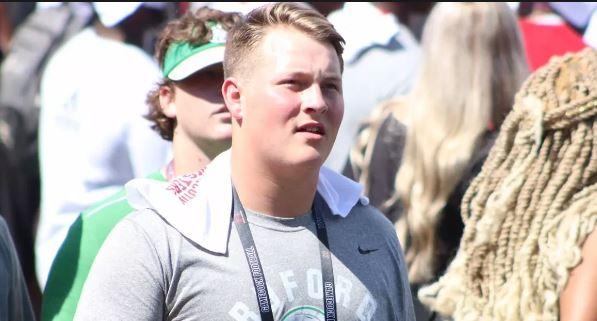 Buford Wolves
Seth McLaughlin - 6-4, 270-pound, senior. 247 Sports Composite 3-star and No. 9 Center in the nation (plays left tackle for Buford). Committed to Alabama over 19 other offers. Coach Appling says he could play any position on the offensive line but projects as a center at the next level because of his body size.
Jalen Huff - 6-1, 174-pound, senior. 247 Sports Composite 3-star cornerback. Committed to Georgia Tech over 31 other offers. A 2017 transfer from Athens Academy. Has an interception and six PBU in four games.
T. Lee - 5-11, 175-pound, senior. 247 Sports Composite 3-star CB. Committed to Arizona State over 30 other offers. Has mainly been used on kick returns so far this season as he recovers from injury in preseason camp but don't be surprise if he gets in the game on both sides of the ball tonight as a wide receiver and corner.
Elijah Turner - 5-10, 180-pound, senior. 247 Sports Composite 3-star athlete (plays running back for Buford). Nine offers including North Carolina, Maryland and Wake Forest. Part of the Wolves typical one-two punch of college prospects at RB. That coupled with an offensive line of college prospects is quintessential Buford football on offense.
Jackson Powell - 6-2, 220-pound, senior. 247 Sports Composite 3-Star WDE. Committed to Army over 15 other offers. Coach Appling refers to Powell as a once-in-a-lifetime-type player and he's referring to this young man's entire package. Football, athleticism, leadership, classroom. Compares him to former Wolves' defensive end great Thor Merrow.
Evan DiMaggio - 6-2, 220-pound, senior inside linebacker. Offered by Ball State. Been sidelined by an ankle injury but is, and will be when he returns, an integral part of Buford's defense. Finished second in last season's state wrestling championships.
Malik Williams - 6-0, 171-pound, junior CB (plays outside linebacker for Buford).Ten offers including Georgia Tech, Florida and Florida State.
Gabe Ervin - 5-11, 180-pound, junior RB. Seven offers including Florida State, Virginia Tech and Louisville. The other half of Buford's one-two punch in the offensive backfield. Actually, has more carries than Turner and averages 5.5 yards per carry.
Matthew Alexander - 6-3, 260-pound, junior defensive tackle. Offered by Maryland, Rutgers, Colorado and East Carolina. Starting to make a name for himself after flashing potential playing behind Jalar Holey last season. Holey is now at the University of Miami.
Amari Wansley - 6-0, 170-pound, junior WR (but starts at strong safety). Offered by Louisville, Syracuse and Maryland. The Wansley name is a big one in Wolves' history. Amari is the nephew of Buford legend Tim Wansley who went on to star for the Georgia Bulldogs and play for the Super Bowl Champion Tampa Bay Bucs. Amari leads the Buford secondary with 23 tackles.
Jarvis Evans - 6-4, 210-pound, junior pro-style QB. Offered by Syracuse and Maryland. Incredibly efficient in his first season as a starter having completed 68-percent of his passes for 523 yards, nine TD and just one INT. Coach Appling says the most impressive thing about Evans is his quick development as a leader and voice in the huddle.
Tommy Beuglas - 6-1, 220-pound, junior ILB. Offered by Maryland. There will be a lot more offers coming for this young man. Dad Tom is a legendary wrestling coach in the GHSA having led his teams to 16 state championships, first at Parkview, then Archer and now at Buford.
Jacob Smith - 6-4, 295-pound, junior offensive guard. Offered by Maryland. 
Aubrey Smith - 6-1, 220-pound, sophomore linebacker. Already offered by Georgia, Alabama and Baylor. So that ought to tell you all you need to know about this 10th-grade transfer from Central Gwinnett. Coach Appling says he's a very "thoughtful" that he sometimes has to remind to "just go play fast and hit somebody." He'll figure it out.
Malik Spencer - 6-0, 170-pound, sophomore safety (plays OLB for Buford). Offered by Colorado and UCF. Already beaten out upperclassmen to start for the Wolves. You'll be hearing more about him.
So, it should be another great game tonight on GPB as No. 6 Archer plays at No.1 Buford. Join Wayne Gandy, Jon Nelson, Hannah Goodin and me for all the action starting at 7:29 p.m.
Secondary Content
Bottom Content