Section Branding
Header Content
First Chance To See Tank; Recruiting Update
Primary Content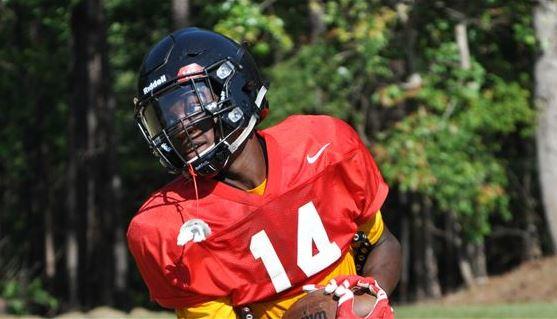 I get my first chance to see one of the top senior running backs in the entire nation when we bring you the Cross Keys Indians at Callaway Cavaliers on GPB Sports Facebook Live tonight. That would be Cartavious Bigsby. But just call him Tank. Everybody does. Four-star Bigsby is rated the seventh-best running back in the country in the 247 Sports Composite rankings. 
Bigsby is a 6-foot, 210-pound senior who committed to the Auburn Tigers Aug. 9 over 33 other offers including Georgia and Georgia Tech, plus Clemson, Alabama and LSU. So yes, he's got offers from the top four teams in the current college football rankings. He was the Atlanta Journal-Constitution's AA Player of the Year last season as a junior when he rushed for 2,221 yards and scored 22 touchdowns while leading the Cavaliers to the 2018 state semifinals.
Tank has already bulldozed his way to 296 yards on 39 carries with five touchdowns in Callaway's first two games. He visited Auburn again last Saturday when the Tigers defeated a good Tulane team 24-6 and declared to reporters that his "recruitment is over." He says he's 100 percent committed to Auburn. Tigers fans get a dream game next week at Callaway Stadium when the Cavaliers take on Troup. That game will pit Tank against another one of Auburn's top commits, Troup quarterback Kobe Hudson, who is expected to be a wide receiver when he gets on The Plains.
Should be fun to watch Tank run the ball tonight. Join Jon Nelson and me starting at 7:20 p.m. on GPB Sports Facebook Live. This is the appetizer to the start of our 20-game GPB broadcast schedule that kicks-off next Friday night with a huge rivalry game as defending GHSA 7A Champion and ninth-ranked Milton Eagles play at the 2-0 Roswell Hornets. It'll be the 65th all-time meeting between those two North Fulton County rivals dating back to 1950 when they were small country schools.
Other Callaway Prospects to Watch Tonight
3-Star Tate Johnson - 247 Sports Composite No. 14 offensive guard. 6-4, 310-pound senior who is also committed to Auburn. Johnson committed to the Tigers back in June over 21 other offers including state locals Georgia Tech and Georgia State plus Florida and Florida State.
3-Star cornerback Demetrius Coleman - 5-8, 160-pound junior who plays quarterback for the Cavaliers. He has seven offers including four from SEC programs: Alabama, Tennessee, Mississippi State and Ole Miss.
3-Star wide receiver Jacob Freeman - 5-10, 180-pound senior who has 20 offers that also include Georgia Tech and Georgia State, plus Mississippi State, Ole Miss and Vanderbilt.
CB Jalin Shepherd - 5-9, 167-pound junior who has eight offers with Auburn, Tennessee and Louisville considered his favorites.
RB Charlie Dixon - 6-2, 225-pound junior who has seven offers including Tennessee, Mississippi State and Louisville.
Will this be the year for the Callaway Cavaliers?
I think this could be the year the Cavaliers win that elusive state championship. Callaway's been knocking on the door. Three times in the last six years the Cavaliers have been stopped in the state semifinals including a 28-22 loss to Rockmart in 2018. Rockmart would then lose to Callaway's Region 6 rival Heard County in the state final. The Braves beat the Cavaliers 13-10 in the regular season to deny Callaway the region championship. 
I had Callaway ranked No. 1 on my GPB Sports AA ballot at the start of the season but dropped them back to second after the Cavaliers suffered a 10-7 season-opening loss to Opelika, the eighth-ranked team in Alabama's 6A poll. The Cavaliers bounced back for a 56-10 demolition of crosstown rival LaGrange last Friday night. 
Coach Pete Wiggins has done an incredible job with the Callaway program in what is now his 15th season. Wiggins has gone 127-46 with six region titles (but none since 2016 when the Cavaliers won their sixth in nine seasons), 10 straight playoff seasons with two quarter-final and three semi-final finishes while going 35-6 the last three years. For perspective, Callaway had never won more than eight games in a season before Coach Wiggins arrived.
So yes, with Tank paving the way for his star-studded teammates, this just might be the year the Cavaliers get that first-ever state championship.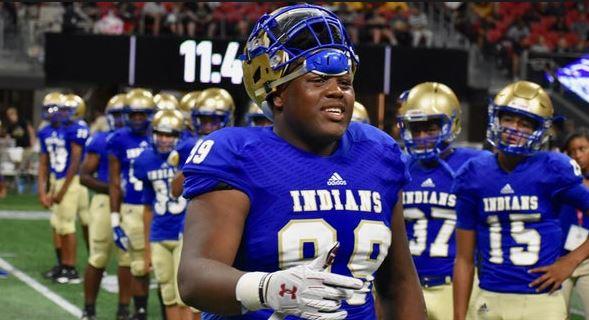 Recruiting News of the Week
So, the big news of the week actually occurred last Friday after my blog had posted. McEachern four-star Jamil Burroughs, the 247 Sports Composite No. 31 defensive tackle in the nation, decommitted from Georgia after being latched into the Bulldogs 2020 recruiting class for more than a year. Dawgs fans won't like this, but Alabama looks like the team at the top of Burroughs list. He has taken four unofficial visits to Tuscaloosa in the last eight months and as my good friend and recruiting expert Barton Simmons taught me, "follow the visits," if you want to figure out where a prospect is leaning. With Burroughs it appears to be fairly obvious, although he's got offers from pretty much every top program in the country. Look at this week's college football rankings and start going down the list and virtually all of them have offered Burroughs.
Meantime Westside-Macon 3-star Jayland Parker decommitted from Colorado after being committed to Mel Tucker's Buffaloes for a couple of months. Tucker is the former Bulldogs defensive coordinator who has taken a lot of those recruiting connections to Colorado where he is now the head coach. Parker is the 23rd-ranked inside linebacker in the 247 Sports Composite and has 25 total offers including local state programs Georgia State and Georgia Southern, Mississippi State of the SEC and seven ACC offers including Virginia.
And remember former Marietta WR Kobe Stewart? He left the Blue Devils program over the summer and went back to California. The three-star, now out of Narbonne High School in Harbor City, Calif., has committed to play for Coach Herm Edwards and Arizona State. His former team has a big one tonight when No. 3 Marietta plays at No. 2 Grayson.
So, join us tonight on GPB Sports Facebook Live. It won't be a typical game call because in addition to following the action, Jon and I will be responding to your comments on Facebook and answering your questions. Should be a fun, relaxed Football Friday in Georgia…and we get to see Tank!
Secondary Content
Bottom Content