Section Branding
Header Content
Top Five Uncommitted Senior Prospects in Georgia
Primary Content
We are closing in our big announcement and where we will open our 20-game GPB High School Football Schedule on Sept. 20. Make sure you are following GPB Sports on social media and we should have an announcement for you as early as this weekend and as late as Monday. I know that any one of the five games that we've got on our radar will be great.
In the meantime, be sure to join Jon Nelson and Hannah Goodin tonight for the first of our GPB Sports Facebook Live games. Jon and Hannah will be live at the Alexander Cougars at Newnan Cougars game starting at 7:20 p.m. They'll be talking about the game, all the big topics in high school football and interacting with you. 
Led by former Sandy Creek state-championship Coach Chip Walker, Class 7A Newnan has started the season 1-1 with a loss at Chapel Hill and win at Northgate. Class 6A Alexander is 1-0 with a season-opening home win vs Cedartown last week. 
There are some players to watch from a recruiting standpoint. Newnan boasts junior pro-style quarterback Michael Maginnis, who already has offers from App State, Troy and UAB. Junior running back Bryson Moss is also considered a college prospect. Alexander is led by senior wide receiver Jalen Morgan who also has offers from App State and Troy, plus Ball State.
Also, a new feature for my weekly blog will be the recruiting action for the week. I'll try to keep you updated on the latest commitments and decommitments of the past week. This past week, Clinch County 3-star wide receiver Jeremiah Johnson decommitted from Florida. Johnson had been committed to the Gators since March but posted on Twitter that he was reopening his recruitment and "would love to hear from more coaches" and has "chosen to wait till signing day to choose my school." Johnson currently has five more offers aside from Florida, including Tennessee, South Carolina and Arkansas.
Okay, now to the top five uncommitted senior players in Georgia and I will do this in ascending order.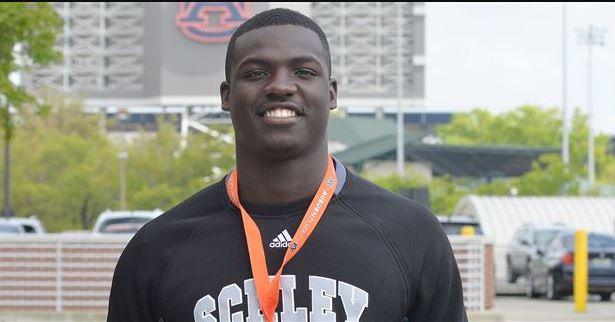 5. Stephenson 4-star Javier Morton. He is the No. 20 safety in the 247 Sports Composite and No. 22 prospect overall in the state. Morton is new to this uncommitted list, having just decommitted from Alabama eight days ago. He has plenty to choose from. In addition to the Crimson Tide, Morton has 32 other offers. He will reportedly take an unofficial visit to Georgia Tech this weekend for the South Florida game. He leads a very talented Jaguars' class and a big reason I've got Stephenson ranked No. 2 on my GPB Sports 6A poll ballot. 
4. Athens Academy 4-star Len'Neth Whitehead. He is the No. 10 inside linebacker in the 247 Sports Composite and No. 20 prospect overall in the state. Whitehead has 16 offers and could still end-up anywhere. Tennessee, Georgia, Georgia Tech, South Carolina, Texas, Texas A&M and Wisconsin all reportedly have his interested and he reportedly took an official visit to Knoxville last week and saw the Vols huge upset loss to Georgia State. You've seen Whitehead play on GPB in the last two Class A Private State Championship Games and he is an impressive young man on both sides of the ball and is also a star running back for the Spartans.
3. Schley County 4-star Zykeivous Walker. He is the No. 9 strong-side defensive end in the 247 Sports Composite and No. 16 prospect in the state. Walker has 23 offers but Alabama, Auburn, Florida and Georgia are considered his leaders. He is reportedly scheduled to take an official visit to Tuscaloosa in November for the Crimson Tide's game against LSU. The Wildcats have never won as many as 10 games in a season or gotten past the second round of the playoffs but Walker leads a talented group in Ellaville that I have ranked as the No. 5 Class A Public team.
2. Lanier 4-star Phillip Webb. He is the No. 5 outside linebacker in the 247 Sports Composite and No. 6 prospect in the state. Webb has 44 offers and LSU, Alabama and Auburn are reportedly his leaders. He reportedly took an official visit to Oklahoma this past weekend to see the Sooners start the Jalen Hurts era with a big win over Houston. We saw Webb on GPB Sports late last season at Dacula and although his Longhorns team did not play well that rainy Friday evening, his skill level was apparent. Webb is long and athletic. Just the type kid Power Fives are seeking to play OLB.
1. Marietta 5-star Arik Gilbert. He is the No. 1 tight end in the nation in the 247 Sports Composite and the No. 2 prospect in the state. Gilbert has 26 offers with Alabama, Georgia, Clemson and Tennessee his reported leaders. He visited Bama twice over the summer, one of those visits official and also took an unofficial to Clemson. No big surprise three of his top four also happen to be the top three ranked teams in college football today. Tennessee is in the mix because his Marietta teammate quarterback Harrison Bailey and lineman B.J. Ojulari are committed to the Vols and the Blue Devils 2018 top wide receiver Ramel Keyton is already on Rocky Top. But if I were to guess, I think Gilbert will end up at Alabama. 
Talking to his Marietta head coach Richard Morgan several weeks ago, he told me his counsel to Gilbert would be to go to a program that already has a proven track record of success using a player of his skill set. In two of the last three NFL Drafts, Crimson Tide TE O.J. Howard was a first-round pick in 2017 and Irv Smith was a 2019 second round pick four-plus months ago. I don't think it's a stretch of the imagination that we could see Gilbert selected in the 2023 Draft. To me, Gilbert more than any other player on that talented Marietta team, is the player than can't be stopped. There isn't a high school player, or players that can cover him. The only way to stop him, is to get to his quarterback. Once the ball is in the air and headed Gilbert's way, it's too late.
The countdown is on. We are now just two weeks away from our GPB season debut … can't wait.
Secondary Content
Bottom Content